Anoplolepis (Anoplolepis) gracilipes (F Smith)


Type locality Singapore (Formica Longipes n. s., Jerdon, 1851: 122, worker, type location India; replacement name Formica gracilipes, F Smith, 1857a: 55, worker, from Singapore; gracilipes as junior synonym of longipes, Emery 1887a: 247; Mayr, 1867a: 73, queen; in Anoplolepis Emery, 1925b: 17; replacement name designated (?) by Bolton, 1995: 67)

.
---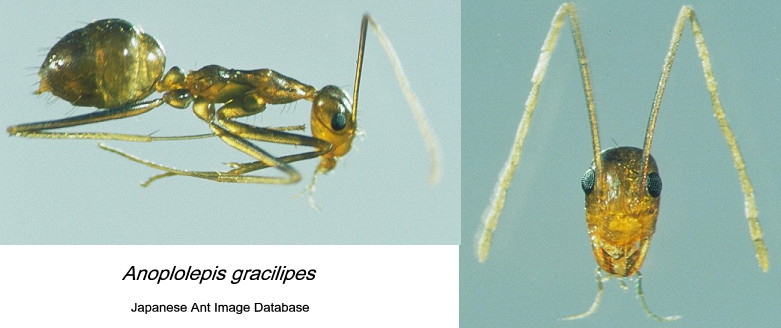 A reportedly pan-tropical and often very troublesome tramp species. Wheeler, 1922: 933, lists it from Zanzibar, Tanzania, citing Mayr (1895: 149), collector Dr Brauns, noting it as "P. longipes Jerd. (gracilipes SM.)". Earlier, it was listed by Stadelmann (1898), collected by Stuhlmann, a finding reiterated by Mayr 1893a). Mayr (1862: 698) reported gracilipes from Hong Kong.
Curiously, as it is the sole Anoplolepis described from outside Africa, there seem to be no reports from mainland Africa. Quite why Wilson & Taylor (1967: 84) should have written - "A. longipes is native to Africa and has been spread by human commerce thoughout most of the Old World tropics" - is strange, as they provided no evidence or findings to support their statement.
Further information and excellent images can be found at http://ant.edb.miyakyo-u.ac.jp/E/Taxo/F80301.html, from where the montage (right) has been compiled. Note the citation of the misinformation in Wilson & Taylor (1987) see above.