Carebara vidua F Smith

queen -


Type location South Africa (Carebara vidua, F Smith, 1858b: 179, male; Mayr, 1866b: 904, queen; Forel, 1901g: 392, worker) Port Natal - male see below
junior synonyms
colossus (Carebara Colossus n. sp., Gerstäcker, 1859: 263, queen; also Gerstäcker, 1862: 512, synonymy Mayr, 1866b: 904) from Mozambique - see https://www.antweb.org/specimenImages.do?code=focol1917
dux (Carebara dux, F. Smith, 1858b: 179, queen) from South Africa, Port Natal - see below
abdominalis (Carevara vidua Sm., var. abdominalis n. var., Santschi, 1912d: 285, queen) from Kenya, British East Africa, by Alluaud - see https://www.antweb.org/specimenImages.do?code=casent0101463
subspecies fur (Carevara vidua Sm. v. fur n. var., Santschi, 1928f: 198, queen) from Congo, Lambarene, Dr Schouteden - see http://www.antweb.org/specimenImages.do?code=casent0913488
all forms described (see Bolton, 1995)

.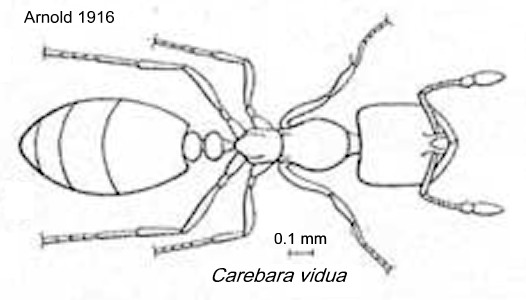 Arnold (1916: 249) gave an illustrated translation and notes, these are is at

, queen -

and, male -

.
Forel (1909b) recorded dux from Katanga by Lemaire.
---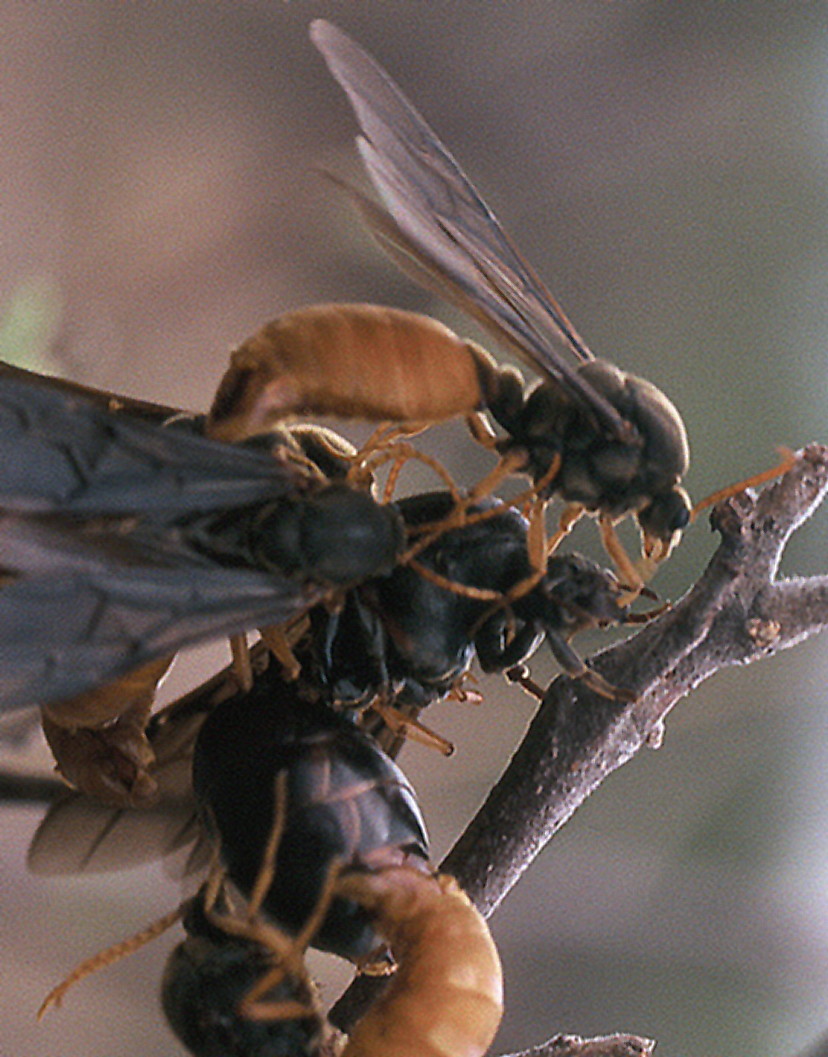 At the end of December, 2008, I received an email from Ted MacRae - "Hi Brian, I ran across another couple of photos from South Africa - the attached are of a mating cluster at Borakalalo National Park in North West Province. Photos taken 25.xi.1999. Any help with ID would be greatly appreciated. Best regards, Ted". These appear to be a good match for the descriptions (Arnold translation, 1916, links above) and Emery's Plate 4. See his website at http://beetlesinthebush.wordpress.com/
---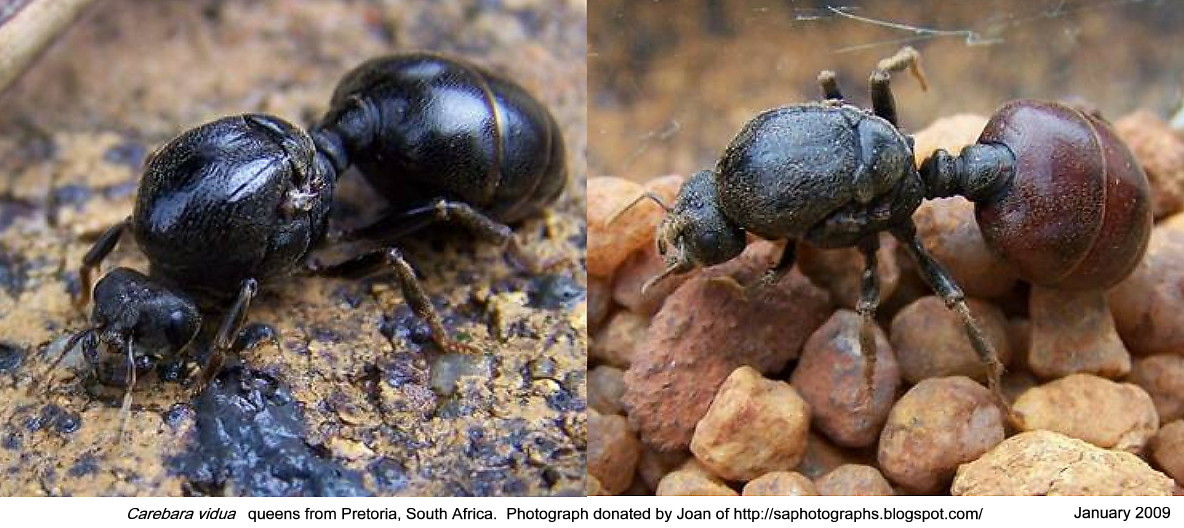 In January, 2009, I received an email from Joan Young of http://saphotographs.blogspot.com/ with this photograph of queens taken in Pretoria, South Africa. Joan described them as "about an inch long", i.e. ca 24 mm. They show the variation in gaster colour mentioned by Arnold (see "card 8" linked above).