Cataulacus erinaceus Stitz


Type location Equatorial Guinea (Cataulacus erinaceus n. sp., Stitz, 1910, illustrated; Forel, 1913h: 350, queen) collected at Alen. by Tessmann - see below
junior synonym crassispina (Cataulacus erinaceus Stitz var. crassispina n. var., 1910Santschi, 1917b, worker) from Congo, Goda, collected by P. Chaleuf - http://www.antweb.org/specimenImages.do?code=casent0912549
plus material of nomen nudum princeps (Emery, in Forel, 1909b: 71) from Cameroun - see below.
(see Bolton, 1995)

.
---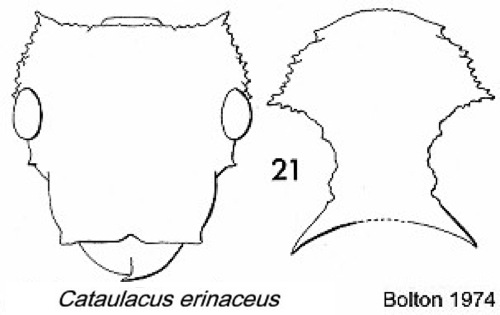 WORKER - TL 8.1-9.5 mm; diagnostic features as in key; very easily recognisable from size and sculpturation (Bolton, 1974a, illustrated full-face head and dorsal alitrunk); worker only known.
Forel (1909b) recorded the finding of Cataulacus princeps Emery, from Sankuru, Za´re, by Luja, but with no other information. Later (1915c), he recorded it from Batiamponde, Za´re, collected by Kohl, and "under bark".
In Ghana from the Atewa Forest Reserve (C.A. Collingwood; D. Leston).
Syntypes from Cameroun, at Mundame (L. Conradt, ? in Stitz, 1910); others from Meyo (C.A. Collingwood). Also collected widely from - Liberia, at Belleyella, Degain and Du River (W.M. Mann); and eastwards to Za´re (Bolton, 1974a).
Reported from Guinea, Mt. Nimba area, Mount T˘, four workers from station T 236, forest (Bernard (1952).
Apparently a deep forest species, known from large forest trees, and pictured in H÷lldobler & Wilson (1990, page 101).
---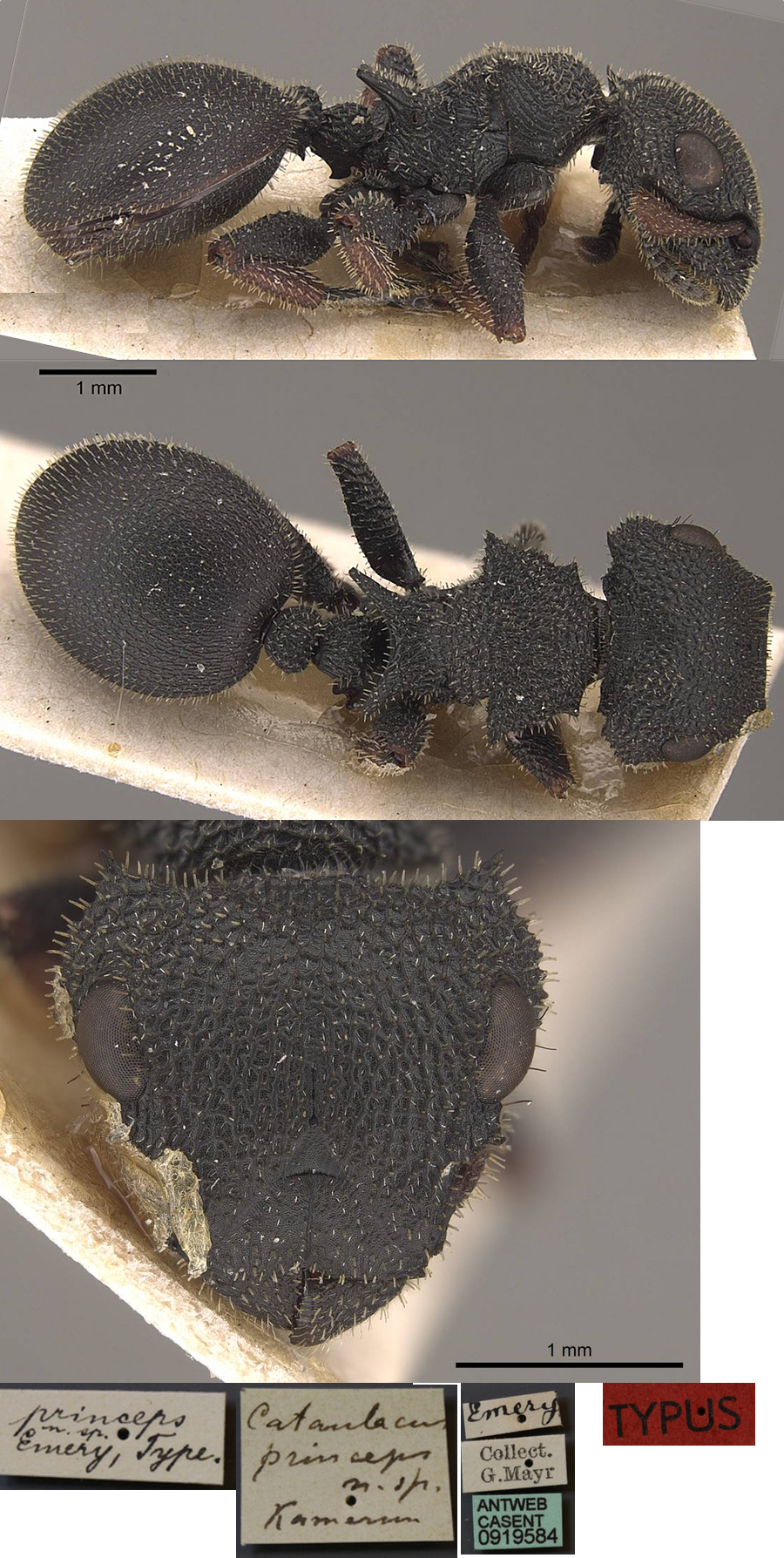 The photomontage of the worker of princeps is collated from http://www.antweb.org/specimen.do?name=casent0919584.
Note. Probably collected by L Conradt, who collected a number of species in Cameroun that were described by Emery (1899e). Forel (1909b: 71) listed by name only a finding of Cataulacus princeps Emery at Sankuru, Congo, by Luja. Emery (1922f: 296) catalogued it under C. erinaceus, as "sine descr.". The worker here is notably smaller, HW 2.11 mm, than the type form and the range given by Bolton (1974a: 52) of HW = 2.22-2.70 mm.