Cataulacus kohli Mayr


Holotype was from Sierra Leone (Cataulacus Kohli nov. spec., Mayr, 1895: 127, illustrated, worker) from N'Gamie River, Samlai Falls, collector A Mocquerys - no images on Antweb (September 2014)
junior synonyms
brazzavillensis (Cataulacus Kohli Mayr stirps brazzavillensis n. st., Santschi, 1910c: 389, illustrated, worker & male) from Congo, Brazzaville, collected by A. Weiss - see http://www.antweb.org/specimenImages.do?code=casent0912561
foveolatus (Cataulacus foveolatus n. sp., Stitz, 1910: 140) from Equatorial Guinea - see https://www.antweb.org/specimenImages.do?code=focol2130
latipes (Cataulacus latipes n. sp., Menozzi, 1933a: 106, illustrated, worker) from Uganda - see below
worker and male known (see Bolton, 1995)

.
---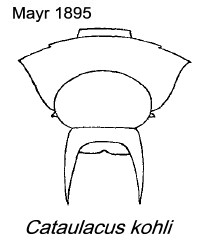 Mayr's (1895) description is at

. Santschi's (1910c) description of brazzavillensis, with illustrations, is at

. Stitz's (1910) description of foveolatus is at

. Menozzi's (1933a) description of latipes is at

; with his illustration at

.
---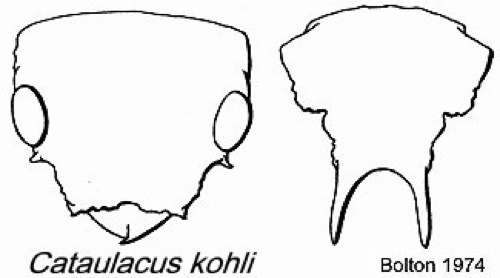 Bolton's modern description (1974a) is at

WORKER - TL 5.1-7.1 mm; distinguished as key features (Bolton, 1974a: 22, illustrated, head and dorsal alitrunk).
Described as a rain forest species, most findings being from Cameroun, Okola (C.A. Collingwood) and Nkolbisson (B. de Miré, probably nesting on cocoa) and Zaïre (numerous).