Cataulacus vorticus Bolton


Type location Nigeria (Bolton, 1974a: 38, illustrated, full-face view and dorsal alitrunk, all forms)

.
Bolton's description is at

.
---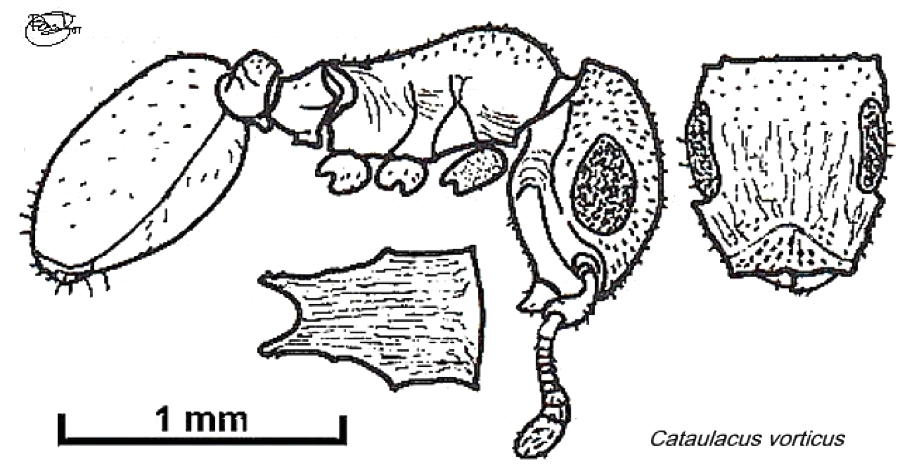 Nigeria specimen (Taylor, 1979: 15). WORKER. TL 3.4-3.5 mm, HL 0.84-0.90, HW 0.74-0.82, SL 0.40-0.44, PW 0.52-0.56
Occipital corners with a small triangular tooth and an adjacent denticle. Sides of head behind the eyes shallowly convex, with minute denticles. Dorsum of head and alitrunk rugoreticulate, with a longitudinal trend posteriorly. Hairs on clypeus and dorsum of head are strongly clavate. Remaining dorsal surfaces have numerous short, fine simple hairs. Pronotum hardly marginate but the humeral angles are acute and prominent, with a single tooth laterally close to the junction with the mesonotum. Propodeal spines moderately long but blunt. In profile the anterior and posterior faces of the petiole meet dorsally at a near right-angle. The post petiole has a convex dorsum. Subpetiolar process is simple with a sharp posteroventral angle. Subpostpetiolar process simple, short and digitiform.
The holotype and paratype workers, with males and females were collected by Bolton (30.viii.1969) from a nest under the bark of a moss-covered cocoa tree at the Cocoa Research Institute of Nigeria, Idi Ayunre. My specimens were on the trunk of a shade tree.

Bolton (1974a, Introduction) noted that it, as Cataulacus species H, probably was collected by Room (1971) from cocoa canopy and mistletoe at the Mamfe-Mampong cocoa farm in Ghana.
Also known from Zaïre (Bolton, 1974a), and Cameroun (Bolton, 1982: 356, in key), perhaps at Nko'emvon (D.A. Jackson).