Crematogaster (Sphaerocrema) hottentota Emery


Type location South Africa (C. kneri Mayr subsp hottentota n. subsp., Emery, 1899e: 482, worker; raised to species by Santschi, 1925h: 161, footnote naming bassuto) Transvaal, Simon - see below
junior synoyms (here)
bassuto (Crematogaster (Sphaerocrema) hottentota Em, var. basuto n. var., Santschi, 1925h: 161, footnote, worker; Santschi, 1926b: 224) from Lesotho, Wroughton - see http://www.antweb.org/specimenImages.do?code=casent0912801
krantziana (Cremastogaster gambiensis And. v. Krantziana n. v., Forel, 1914d: 234, worker & male; Arnold, 1920a: 530, queen; new placement) from South Africa, Krantz Kloof, nr Durban, H W B Marley - see below
worker only described (see Bolton, 1995)

.
---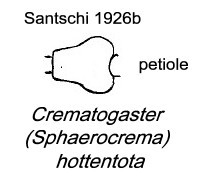 Emery's (1899e) description is at

. Arnold (1920a: 528) gave a translation (as a race of kneri), this is at

. Santschi's (1926b) illustrated description and notes on the species is at

. From the type images, bassuto appears to be rather more yellow and closer to krantziana but the morphology of bpth is near identical to the type.

---
It seems likely that krantziana (Cremastogaster gambiensis And. v. Krantziana n. v., Forel, 1914d: 234, worker & male; Arnold, 1920a: 530, queen) from South Africa is a junior synonym of hottentota and not of Crematogaster (Sphaerocrema) gambiensis.
Forel's (1914d) description of krantziana is at

. Arnold (1920a) provided a translation and description of the krantziana queen, this is at

.