Crematogaster (Crematogaster) menilekii Forel


Type location Ethiopia (Cremastogaster Menilekii, n. spec., Forel, 1894b: 97, worker), collected by Ilg - see below and http://www.antweb.org/specimenImages.do?name=casent0908538
subspecies
completa (Crematogaster (Acrocoelia) menileki For. stirps completa n. st., Santschi, 1928d: 63, worker) from Zimbabwe - see http://www.antweb.org/specimenImages.do?code=casent0912700
occidentalis (Crematogaster Menileki For. subspec. occidentalis nov. subspec., Mayr, 1902: 293, worker) from Fernando Po - see http://www.antweb.org/specimenImages.do?name=casent0908539 - darker and possibly a separate species
proserpina (Crematogaster menilekii (Forel) subspecies proserpina Santschi, new subspecies; in Wheeler, 1922: 154) from from Zaïre, Malela, by Lang & Chapin - see http://www.antweb.org/specimenImages.do?code=casent0912701
satan (Crematogaster Menileki For. r. Satan n. stirps, Forel, 1916: 407, worker) from Zaïre, collected by H Kohl - see below
spuria (Cremastogaster gallicola For. r. spuria n. stirps, Forel, 1913b: 323, worker) from Zaïre, Lumbumbashi [Elizabethville], by J. Bequaert - see http://www.antweb.org/specimenImages.do?code=casent0908533 - cf occidentalis
suddensis (Crematogaster (C.) menileki Forel, suddensis subsp. nov., Weber, 1943c: 356, worker & queen) from Sudan - no images on Antweb (December 2014)
viehmeyeri (Crematogaster(Acrocoelia) Viehmeyeri nov. sp., Santschi, 1921c: 117, worker; stirps of menilekii, Santschi, 1926b: 217) from Tanzania - http://www.antweb.org/specimenImages.do?code=casent0912703
unavailable names
pluton (Crematogaster (Crematogaster) Meneliki For. stirps proserpina Sants. var. pluton n. var., Santschi, 1919h: 87, worker) from Zaïre, Zambi, by J. Bequaert - see http://www.antweb.org/specimenImages.do?code=casent0912702
satanula (Crematogaster Menileki For. r. Satan For. v. satanula n. var., Forel, 1916: 407, worker) from Zaïre, St. Gabriel, by H Kohl - see http://www.antweb.org/specimenImages.do?name=casent0908541
atrigaster (Crematogaster Menileki For. r. occidentalis v. atrigaster n. v., Forel, 1913h: 353, worker) from Zaïre, Congo da Lemba by R Mayné - see http://www.antweb.org/specimenImages.do?code=rmcaent000017762
worker and queen described (see Bolton, 1995)

.
---
Forel's (1894b) description is at

. His (1913b) description of spuria is at

; and his (1916) descriptions of satan and satanula are at

. Mayr's (1902) description of occidentalis is at

; the variety atrigaster (Forel, 1913h) was described as primarily red with the pedicel, and gaster black, overall more slender . Santschi's (1919h) description of pluton is at

. Santschi's (1921c) description of viehmeyeri is at

. Santschi's (1928d) description of completa is at

. Weber's (1943c) description of suddensis is at

.
---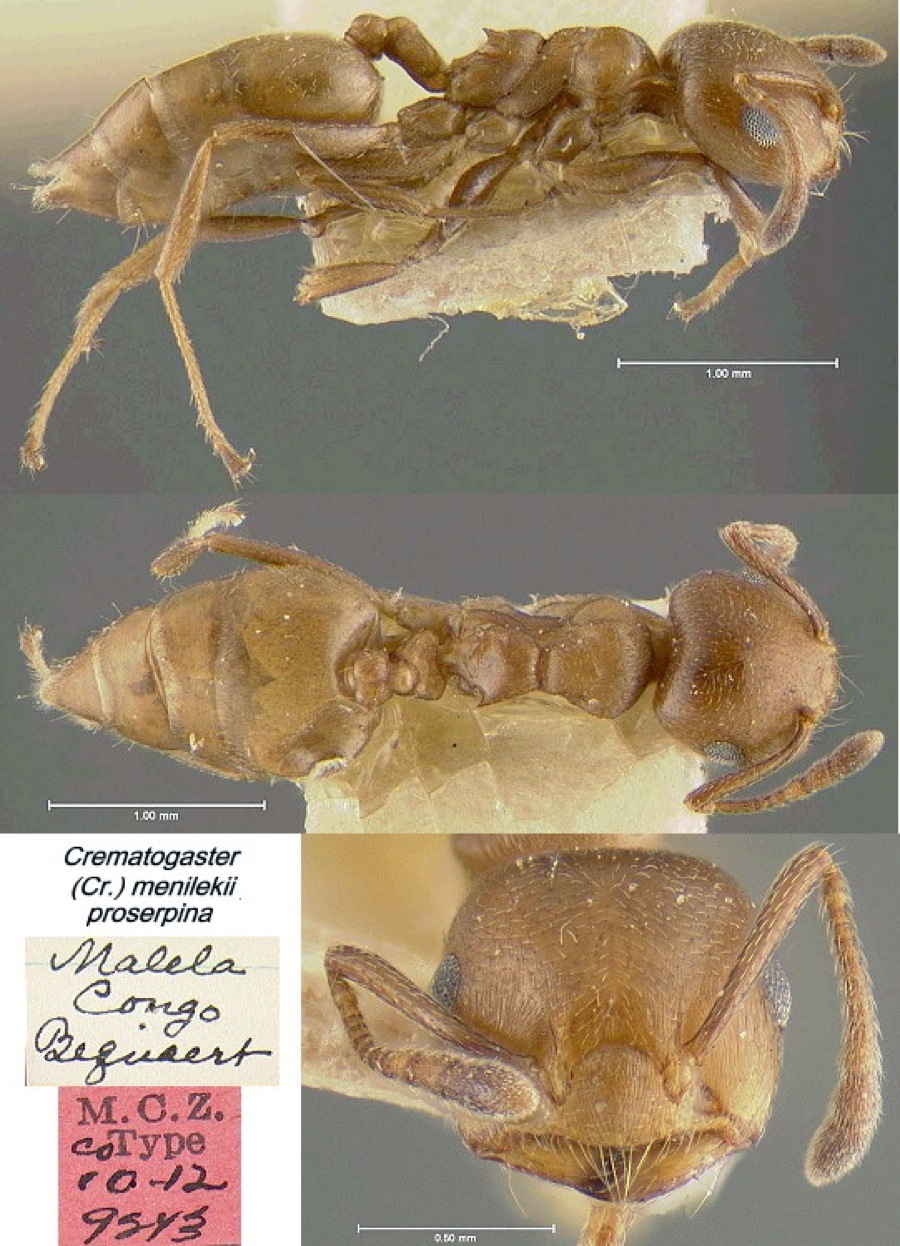 Wheeler (1922) listed occidentalis from Ghana and Benin (at Kouandé, by Desanti). He described the subspecies proserpina - TL 3.2-4 mm; pale, brownish yellow, shining, thorax and petiole near opaque, anterior border of head and corners obliquely truncated, postpetiole of two distinct ovoidal eminences. The ants were living in the stalks of Papyrus and making carton nests in their crowns, biting fiercely if disturbed.
Bequaert (1922, p 370) described finding it (as ssp spuria of Crem. gallicola), with larvae and pupae, in an old twig galls of a tree, Monotes katangensis, at Lumbumbashi (Elizabethville).
From Guinea, Bernard (1952) reported several findings of this ant common across much of the continent. The typical, brown, form was collected at Ziéla, Kéoulenta, sample areas B, F and E; variety spuria from savanna at Kéoulenta; variety satanula (yellow, Congo) from site B, Ziéla A3; an alate queen from Ravine I of Mount Tô seemed to be of this species.
The photomontage of proserpina is collated from http://mcz-28168.oeb.harvard.edu/mcz/FMPro?-DB=Image.fm&-Lay=web&-Format=images.htm&Species_ID=9243&-Find
---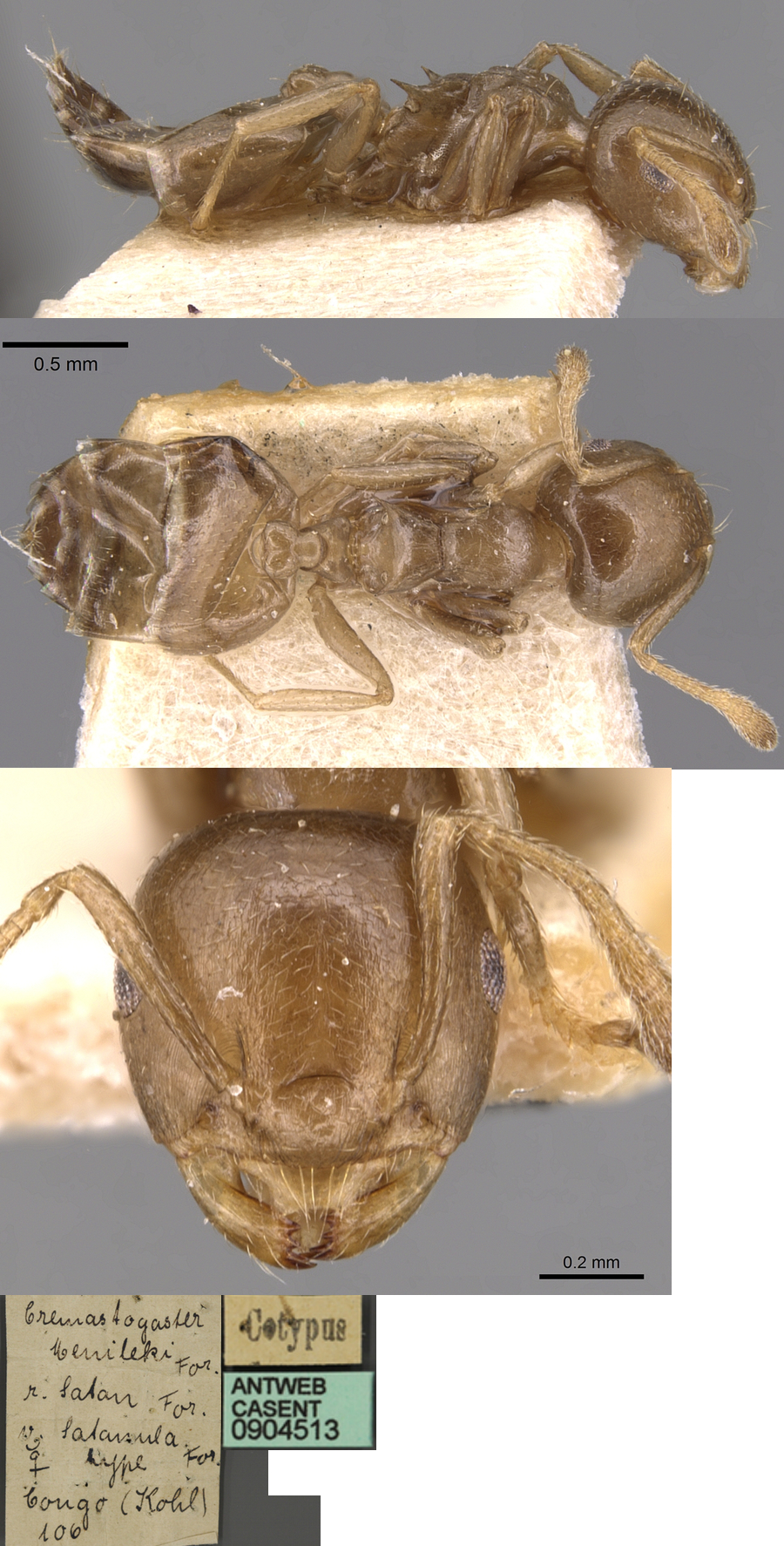 The photomontage of a worker of satan is collated from http://www.antweb.org/specimen.do?name=casent0904513. Noticeably smaller than proserpina.