---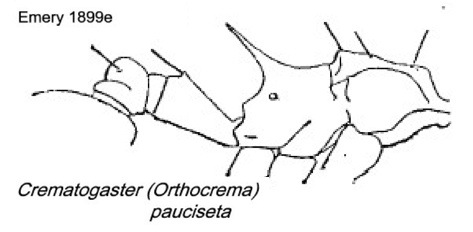 Emery's (1899e) description is at

. Forel's (1916) description of grossulior is at

.
Wheeler (1922) also had pauciseta from Kilalonga, near St Gabriel, Zaïre, by Kohl; reported by Forel (1915c) as on nectaries of an Acacia (place spelt Kilongalonga).
Bernard (1952) examined the type specimens, including queens, in Forel's collection (in Paris).
TL > 2.5 mm; colour of head and thorax yellow-orange, gaster clear brown, sometimes yellowish anteriorly. Compared with pulchella - antennal funiculus more slender and segment 2 twice as long as wide, following segments 1.5 times as long as wide; petiole similar but gaster flatter and less voluminous than the thorax, finely reticulated and only slightly shiny (after Bernard, 1952, in his notes on pulchella).