Crematogaster (Crematogaster) peringueyi Emery


Type location South Africa (Crematogaster Peringueyi n. sp., Emery, 1895h: 27, illustrated, all forms) - see below and http://www.antweb.org/specimenImages.do?name=casent0904505
junior synonyms (here)
angustior (Crematogaster Peringueyi Emery var. angustior n. v. (= race cacodaemon Forel, pars), Arnold, 1920a: 510, illustrated, all forms) from South Africa, Durban, C B Cooper - see http://www.antweb.org/specimenImages.do?code=casent0902101
cacochyma (Cremastogaster Peringueyi Em. r. cacochyma n. stirps, Forel, 1914d: 235, worker & queen) from South Africa - see http://www.antweb.org/specimenImages.do?code=casent0902100
dentulata (Cremastogaster peringueyi Em. r. dentulata n. stirps, Stitz, 1923: 156, worker) from Namibia, Okahandja, 27-28.iv.1911 - no images on Antweb (August 2016)
gedeon (Cremastogaster Peringueyi Em. r. cacodaemon For. v. Gedeon n. var., Forel, 1915c: 341, worker; Arnold, 1920a: 512) from South Africa, Pietermaritzburg - see http://www.antweb.org/specimenImages.do?code=casent0908550
All forms described (see Bolton, 1995)

.
---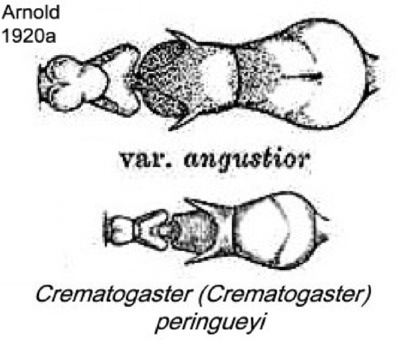 Emery's (1895h) description is at

. Forel's (1914d) description of cacochyma is at

. Forel (1915c) on gedeon wrote TL 3.7-4 mm, head and dorsal propodeum more clearly striate than the type of the race and even of the species; head wider than the type; Arnold (1920a: 509) gave an illustrated translation, this is at

; his description of angustior is at

and of other varieties at

. Note - Arnold's statement fo the colour as "black" seems wrong - Emery wrote dark - the photograph of a cotype and the fresh specimens support that. Stitz's description of dentulata is on

.