The Ants of Africa
Genus Crematogaster
Crematogaster (Oxygyne) santschii Forel
Crematogaster (Oxygyne) santschii Forel


Type location Zaïre (Cremastogaster Santschii n. sp., Forel, 1913b: 322, worker) collected at Kondué by Luja - see below and http://www.antweb.org/specimenImages.do?name=casent0908555
subspecies clymene (Cremastogaster Santschii For. var. Clymene n. var., Forel, 1915c: 337, worker) from South Africa, Durban, Natal, C B Cooper - see http://www.antweb.org/specimenImages.do?code=casent0908557.
Worker only described (Bolton, 1995)

.
---

Forel's (1913b) description is at

. Forel's (1915c) description of clymene is at

. Arnold (1920a: 540) gave a translation of clymene, this is at

.
Wheeler (1922, with the species under Oxygyne) also had records from Congo da Lemba by H. Mayné.
Very smooth and very shiny (Forel, 1913b).

---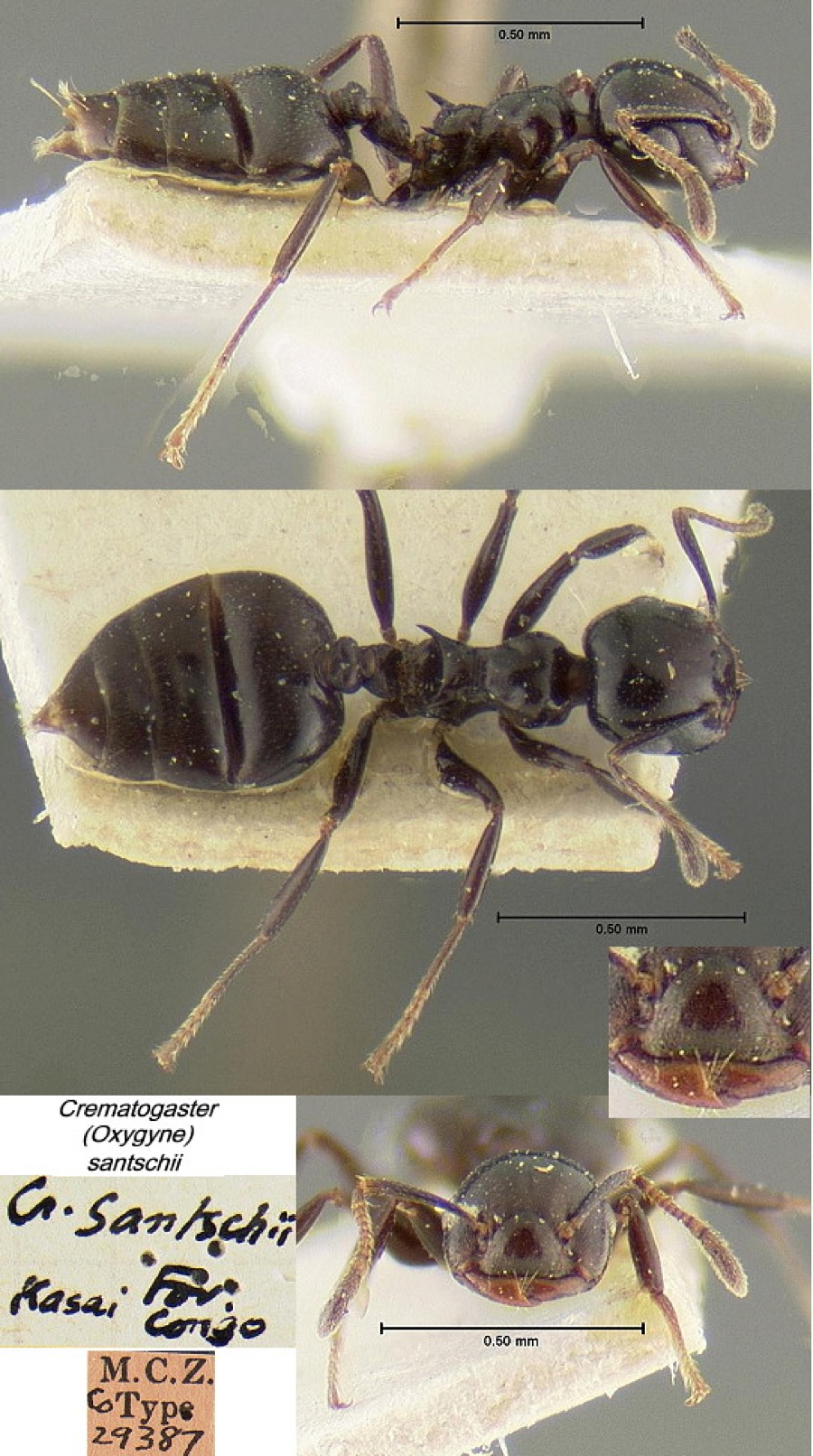 The photomontage of a cotype is collated from http://mcz-28168.oeb.harvard.edu/mcz/FMPro?-DB=Image.fm&-Lay=web&-Format=images.htm&Species_ID=29387&-Find. Note the scale line on these photos must be wrong as the TL of the type is 3.5-4.0 mm; the true scale may be 1 mm.
---
Oxford University Museum specimens
Crematogaster (Oxygyne) santschii


B Taylor det.


Congo
Yves Braet


6.viii.2008
Lesio-Louna
3°27'80.4" S
15°46'54.5" E

fine carton nest on savannah grass

4

---

The photomontage is of a worker from Congo, Lesio Louna; collector Yves Braet.
© 2007, 2008, 2011, 2015 - Brian Taylor CBiol FSB FRES
11, Grazingfield, Wilford, Nottingham, NG11 7FN, U.K.
href="crematogaster_santschii.htm"