The Ants of Africa
Genus Crematogaster
Crematogaster (Crematogaster) vulcania Santschi
Crematogaster (Crematogaster) vulcania Santschi


Type location Kenya (Cremastogaster vulcania, n.sp., Santschi, 1913a: 413 - in key; Santschi, 1914b: 94, all forms) Col du Longonot, xii.1913, 2140 m, Alluaud & Jeannel
all forms described (see Bolton, 1995)

.
---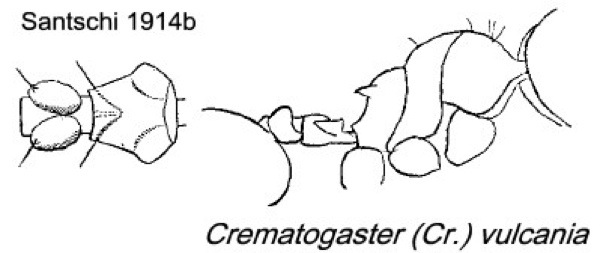 Santschi's (1914b) description is at

and

. Santschi's (1913a) key had - TL 3.0-4.0; pronotum flat and marginate; propodeum with reduced spines, no more than denticles; colour black, sometimes the gaster brownish-black; shiny; erect pilosity average.
---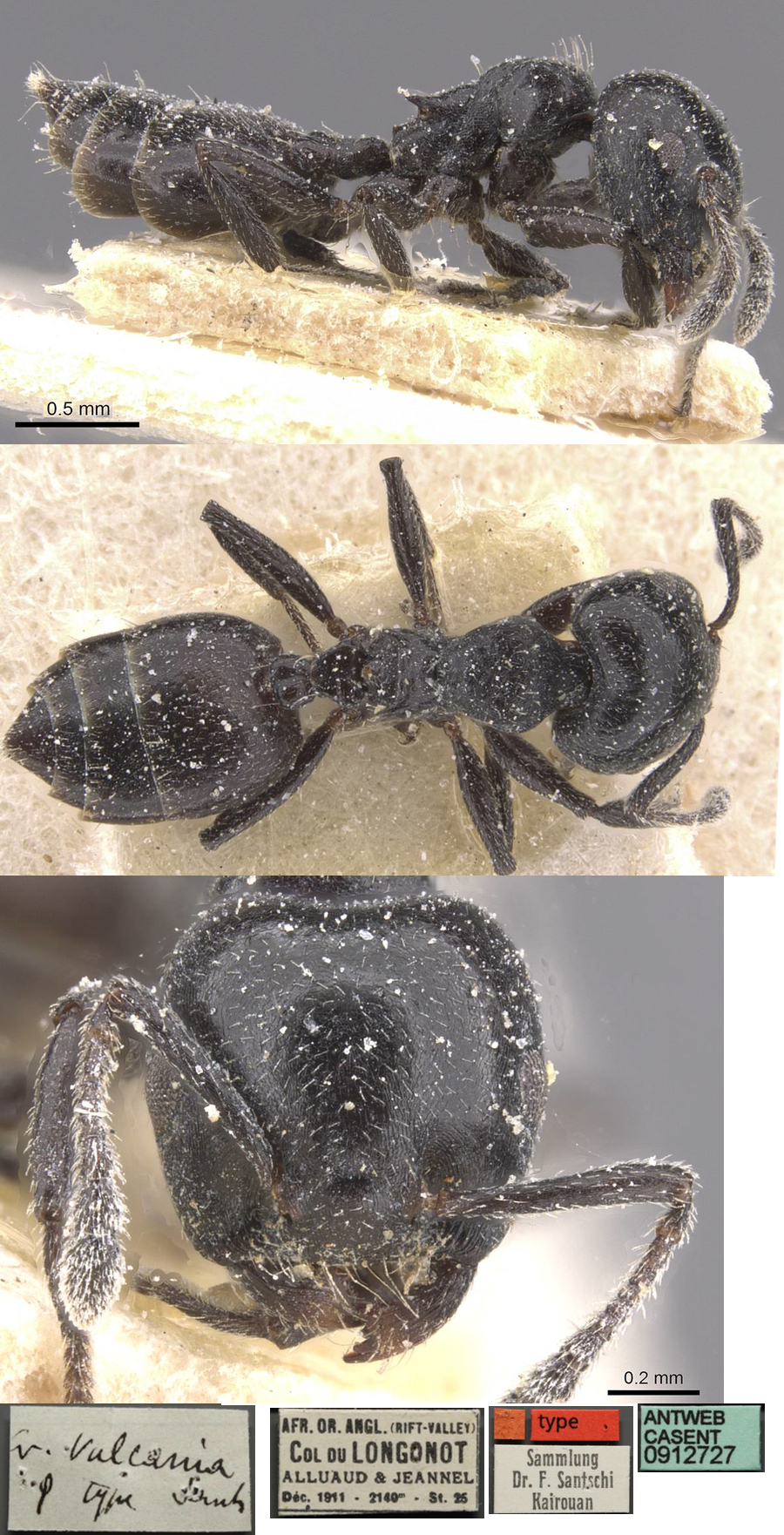 The photomontage of the type worker is collated from http://www.antweb.org/specimen.do?name=casent0912727
---
Oxford University Museum specimens
Crematogaster (Crematogaster) vulcania


B Taylor det.
Queen
Uganda
C A Wiggins
OUMNH Coll.


12.v.1912
Entebbe
0°02'40"N
32°27'57"E

3850' asl
Bussi I. (7 m w. of Entebbe)
forest


1

---

The photomontage is of a queen from Uganda; Entebbe; C A Wiggins (OUMNH collection). This appears to match the type queen, with the colour faded by age; especially the eyes set in the anterior third of the head.

© 2007, 2008, 2012, 2014 - Brian Taylor CBiol FSB FRES
11, Grazingfield, Wilford, Nottingham, NG11 7FN, U.K.
href="crematogaster_vulcania.htm"