Loboponera nasica (Santschi)


Type location Gabon [French Congo] (Pachycondyla (Bothroponera) nasica n.sp., Santschi, 1920b: 6, worker) collected at Samkita, by F. Faure - see http://www.antweb.org/specimenImages.do?code=casent0915269

Bolton (1995) has worker only described; but Wheeler (1922) noted it was the queen/female?. Bolton & Brown (2002: 7, illustrated) note that the queen is known

.
---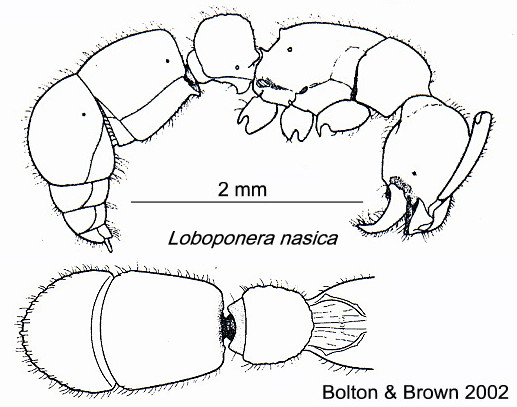 Santschi's (1920b) description is at

. Bolton & Brown's modern description (2002) is at

/
WORKER - TL 4.7-5.6 mm, HL 0.91-0.99, HW 0.86-0.95, SL 0.80-0.90; alitrunk and gaster with erect hairs
Other locations now listed by Bolton & Brown (2002) are -
Ivory Coast, at Lamto Field Station, by J. Lévieux.
Ghana, at Tafo (D. Leston), Mampong (P.Room) and Kade (R. Belshaw).
Cameroun, at Bakundu, by A. Dejean.
As usual, Bolton fails to give any indication of earlier notations as a form but this seems to be the Loboponera new species (2), a single specimen of which was collected from cocoa leaf litter at Kade in Ghana (12.ii.1992), reported in Belshaw & Bolton (1994b). Also, probably it was this species was found in Ghana in open ground under Lantana tangle and nesting in dead wood on the ground at the Mampong Cemetery farm (Room, 1971).