Loboponera politula Bolton & Brown


Type location Nigeria (Bolton & Brown, 2002: 5, illustrated, worker), IITA, Ibadan, 16.vii.1974, sample no. 62, by B. R. Critchley ; worker only known

.
---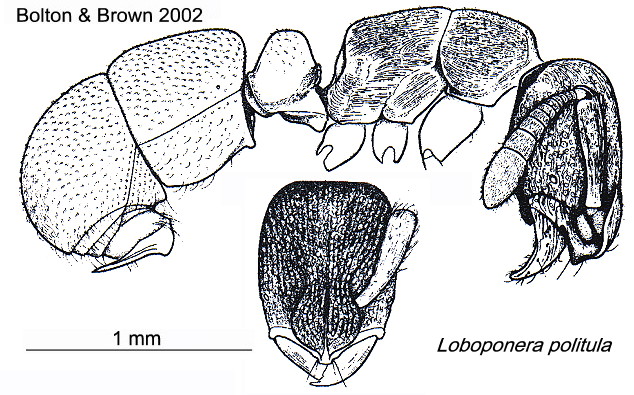 The Bolton & Brown description is at

.
WORKER - TL 3.4-3.7 mm, HL 0.70-0.73, HW 0.60-0.64, SL 0.48-0.52; distinguished by lack of erect hairs, petiole apex flattened.
Bolton & Brown (2002) also listed findings from -
Ivory Coast, Banco National Park (Forest) nr. Abidjan, 18.iii.1977, primary forest litter, I. Löbl.
Ghana, Mampong, 10.viii.1970, P. Room, and, Bunso, nr Tafo, R. Belshaw.
Nigeria, near Ibadan, 26.vii.1981, secondary forest, no. 10, A. Russell-Smith.
Presumably, the Loboponera new species (1) found in Ghana, three workers listed by Belshaw & Bolton (1994b) in leaf litter samples from secondary forest at Bunso (17.iv.1992) and cocoa at Effiduase (17.xi.1992).