Monomorium albopilosum Emery


Type location South Africa (Monomorium albopilosum n. sp., Emery, 1895h: 24, worker; as bicolor Mayr, 1901b: 7, queen) Bloemfontein, Weitzecker
junior synonyms
clarithorax (Monomorium (Xeromyrmex) albopilosum Em. var. clarithorax n. var., Santschi, 1919b: 235, worker) South Africa, Natal, Haviland - see http://www.antweb.org/specimenImages.do?code=casent0902192
fingo (Monomorium albopilosum Em. race fingo n. subsp., Arnold, 1946: 61, illustrated, worker) from Zimbabwe, Maastrict, Albany District - see http://www.antweb.org/specimenImages.do?code=casent0902193
paucipilosa (Monomorium (Xeromyrmex) albopilosum Em. stirps paucipilosa n. st., Santschi, 1919b: 235, worker) from South Africa - Natal, Haviland - see http://www.antweb.org/specimenImages.do?code=casent0913550
thales (Monomorium albopilosum Em. v. Thales n.v., Emery, 1913a: 136, worker; Arnold, 1916: 208, queen & male) from Zimbabwe, Springvale - see http://www.antweb.org/specimenImages.do?code=casent0902194


.
---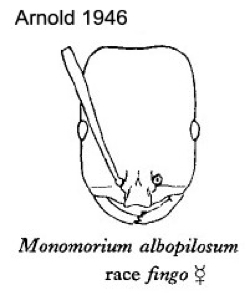 Emery's (1895h) description is at

. Mayr's (1901b) description of the queen is at

Emery's (1913a) description of thales is at

. Arnold (1916: 207) provided translations and further material on thales - this is at

,

and

. Santschi's (1919b) description of varieties paucipilosa and clarithorax is at

. Arnold's (1946) description of fingo is at

.
---

Bolton's modern description (1987) is at

.
WORKER - TL 3.4-4.4 mm; densely covered with erect hairs, unicolorous light to dark brown (Bolton, 1987, 335, illustrated). Note Arnold (1946) gave fingo as deep black.

---

The photomontage is of a specimen sent to me in February 2006 by Peter Hlavac. From the label data, it clearly is from the collection by Dr H Brauns and identified by Mayr (1901b) as bicolor, with the workers at least noted as possibly the subspecies Monomorium nitidiventre Emery. The latter is not known south of Sudan, however, is smaller and does not have an abundance of erect pale hairs.

See also http://www.antweb.org/specimen.do?name=casent0235920