The Ants of Africa
Genus Oecophylla
Oecophylla fusca Emery - revived status
fusca-group - two species - fusca & rubriceps
Oecophylla fusca Emery - revived status


Type location Cameroon (Oecophylla fusca n. sp., Emery, 1899e: 496, worker & queen; Wheeler, 1922: 229, male ) collected by Conradt

.
Also known from Liberia, Monrovia (J.Morris); Nigeria, no details; Equatorial Guinea (Tessman) and Zaïre (see below) (Wheeler, 1922).
---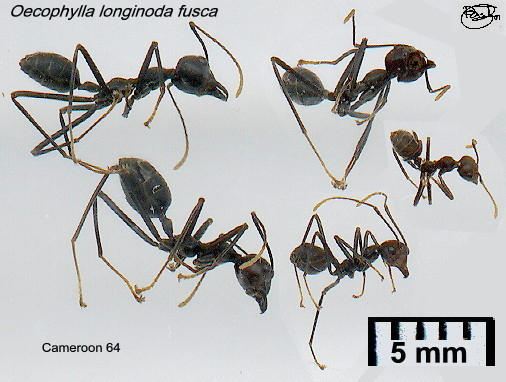 Emery's (1899e) description is at

.
Wheeler's description (1922) was -
WORKER - differing from rubriceps only in having the head entirely black or dark brown, though sometimes with a reddish tinge above. Mandibles black, with dark brown teeth. Large workers have the clypeal border very feebly sinuate in the middle and the surface just behind it with a faint longitudinal impression. The smallest workers are a little paler, with paler mandibles, but in the structure of the thorax and petiole precisely like the corresponding phase of the other forms of the species.
FEMALE - like that of rubriceps, but perhaps a shade darker.
MALE - indistinguishable from the male of rubriceps, except that the erect white hairs on the dorsal surface of the head, thorax, and gaster are distinctly longer and more abundant.
Redescribed from specimens taken at Kisangani [Stanleyville] and Garamba (Lang and Chapin). There is also a worker of this variety from Monrovia, Liberia, (J. Morris) in my collection.
---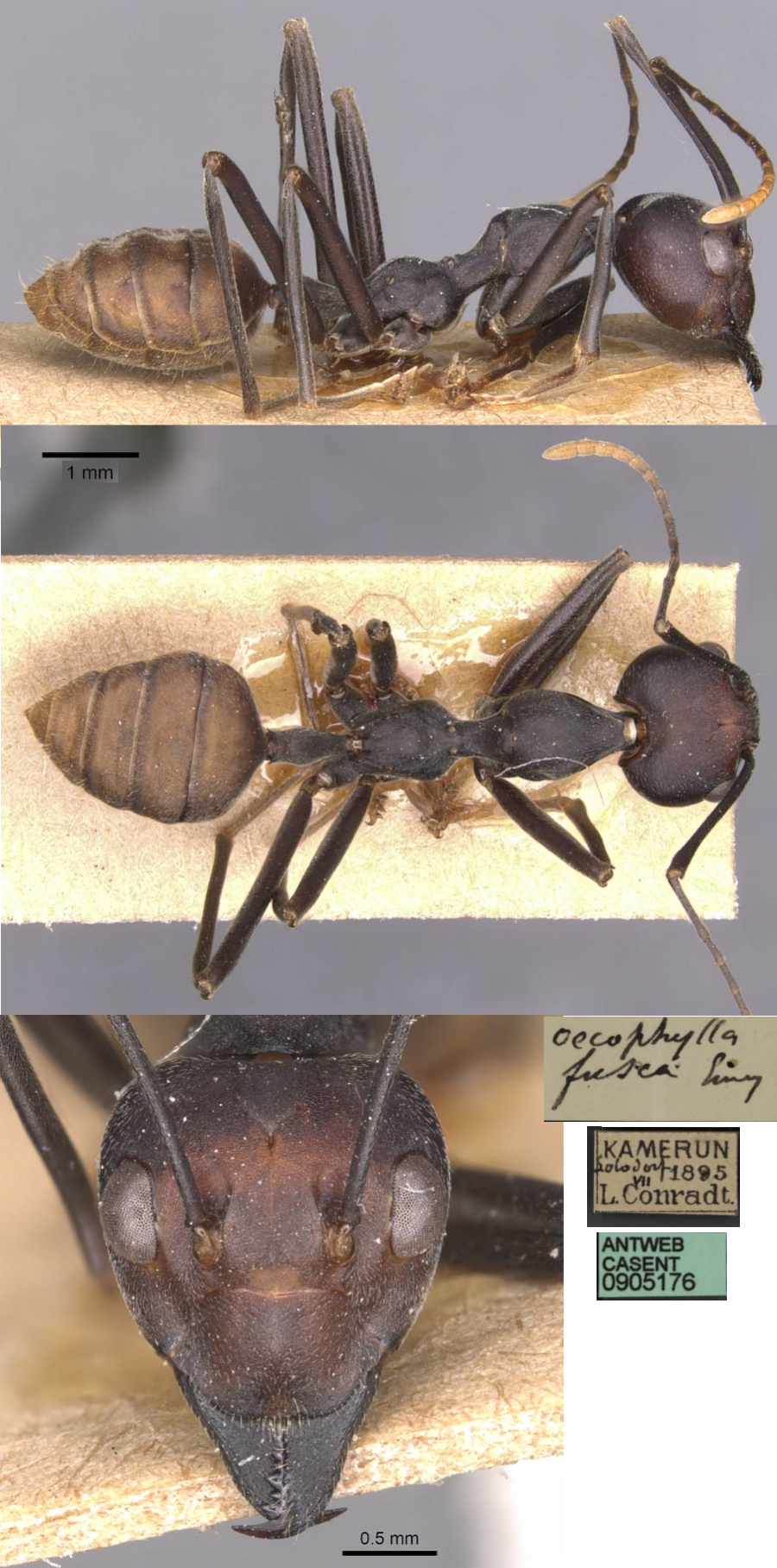 The photomontage of the type worker is collated http://www.antweb.org/specimen.do?name=casent0905176.
---
Oxford University Museum specimens
Oecophylla

species in

fusca

-gp
B Taylor det.

Ivory Coast
Erena Dupont
28.i.2014

Taï National Park
5˚45'00" N
7˚07'00" W

YSBCI 2015-31-5-2014

2


Oecophylla fusca


B Taylor det.
Cameroun
G Debout & A Dalecky
Cameroon 64


10.iv.2001
TM
2°34.04' N
9°50.64' E

on flowers of

Leonardoxa africana africana


TM = Transect Marigot

3


Oecophylla fusca


B Taylor det.
Central African Republic
P Annoyer


06.vi.1998
Dzanga-Sangha
02°53' N
16°15' E

Bayanga-Lidjombo

2


Oecophylla fusca


B Taylor det.
Liberia
E Poirier
Liabala
SLAM 2

2.iv.2013
Nimba County
07°31'06" N
08°35'34" E

SLAM trap
Secondary forest
473 m asl

1


Oecophylla fusca


B Taylor det.
Liberia
E Poirier
Yekepa
SLAM 2

29.iii.2013
Nimba County
07°33'38" N
08°32'33" E

SLAM trap
Secondary forest
473 m asl
major

2

---
The photomontage is of major workers collected in Cameroun - south-western tropical coastal forest area between Edéa and Campo (McKey Wolbachia project, Cameroon 64). The size and form are an exact match for the Emery type major (above). The only obvious difference is the paler gaster of the type (perhaps a product of ageing).

---

MINIMA
---

Major from the Central African Republic, Dzanga-Sangha; collector Philippe Annoyer
---

Major from Liberia, Liabala; collector E Poiriet (Liabala SLAM 2).
---

Major from Ivory Coast, Tai; collector Erena Dupont.
© 2007, 2009, 2013, 2015 - Brian Taylor CBiol FSB FRES
11, Grazingfield, Wilford, Nottingham, NG11 7FN, U.K.
href="oecophylla_fusca.htm"