Mesoponera elisae (Forel)


Type location Madagascar (Ponera elisae nov. sp., Forel, 1891b: 221, illustrated, worker; in Euponera (Mesoponera) Emery, 1901a: 46; in Pachycondyla Bolton, 1995: 305; new placement by Schmidt & Shattuck, 2014: 110)
subspecies
rotundata (Ponera Elisae Forel, var. rotundata n. var., Emery, 1895h: 20, worker; Arnold, 1915: 71, queen; as Euponera (Xiphopelta) elisae For. stirps rotundata For., Santschi, 1937d: 217; senior synonym of Ponera (Xiphopelta) Arnoldi n. sp., Forel, 1913a: 108, worker, from Zimbabwe, synonymy by Wheeler, 1922: 776) - see http://www.antweb.org/specimenImages.do?code=casent0915266
redbankensis (Ponera (Xiphopelta) Arnoldi v. Redbankensis n. var., Forel, 1913a: 109, worker) from Zimbabwe - no images on Antweb (June 2014)
divaricata (Euponera (Xiphopelta) elisae For. subsp. divaricata n., Emery, 1915g: 6, illustrated, worker) from Eritrea (Ethiopia in Bolton, 1995, & Schmidt & Shattuck, 2014: 110) - see http://www.antweb.org/specimenImages.do?code=casent0915261
worker and queen only described (see Bolton, 1995)

.
---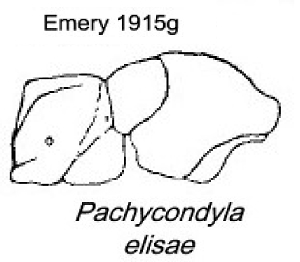 Forel's (1891b) description is at

. Forel's (1913a) description of arnoldi, with what he defined as a new subgenus Xiphopelta, and redbankensis is at

. Emery's (1915g) description of divaricata is at

. Arnold (1915: 71) gave a translation, this is at

. Emery (1895h) simply noted that rotundata differed from the type in having a shorter metanotum (propodeum) with a purely rounded profile.