The Ants of Africa
Genus Bothroponera
Bothroponera kenyensis Santschi
Bothroponera kenyensis Santschi


Type location Kenya (Bothroponera kenyensis, Santschi, 1937a: 47, illustrated, worker; in Pachycondyla, Bolton, 1995: 306; status revived Schmidt & Shattuck, 2014: 77) - no type images on Antweb (June 2014).
worker only described (see Bolton, 1995)

.
---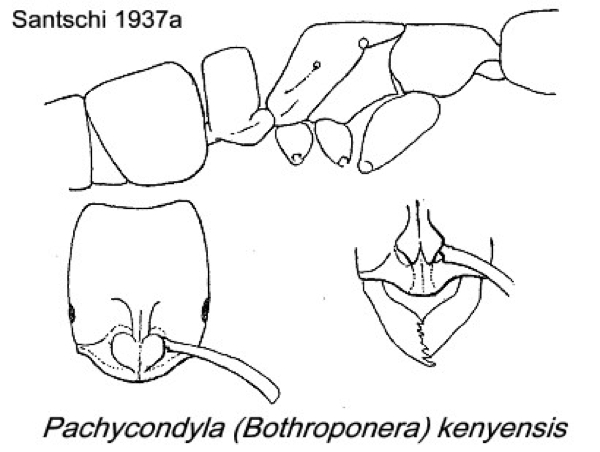 Santschi's (1937a) description is at

.
WORKER - TL 5.6 mm; close to Bothroponera silvestrii but mandibles with irregular dentition and generally more finely sculptured and with finer, shorter pubescence.
---
Oxford University Museum specimens
Bothroponera kenyensis


B Taylor det.
Tanzania
V Grebennikov



09-11.x.2002
Usambara Mts
5°05' S
38°38' E

Amani NR, Zigi Lodge, 2200 m

2

---

The photomontage is of a worker from the Usambara Mts, Tanzania, Amani NR, Zigi Lodge; collector V. Grebennikov2.
A specimen from Tanzania, Mkomazi Game Reserve, can be seen at http://www.antweb.org/specimen.do?name=sam-hym-c008626a.
© 2007, 2008, 2012, 2014 - Brian Taylor CBiol FSB FRES
11, Grazingfield, Wilford, Nottingham, NG11 7FN, U.K.
href="pachycondyla_kenyensis.htm"