Paedalgus distinctus Bolton & Belshaw


Type location Ghana (Bolton & Belshaw, 1993: 185, illustrated, profile and full-face view, worker & male) collected at CRIG, in secondary forest leaf litter (R. Belshaw, 23.xii.1991), holotype plus 11 workers (Bolton & Belshaw, 1993); worker and male only known (Bolton, 1995)

.
---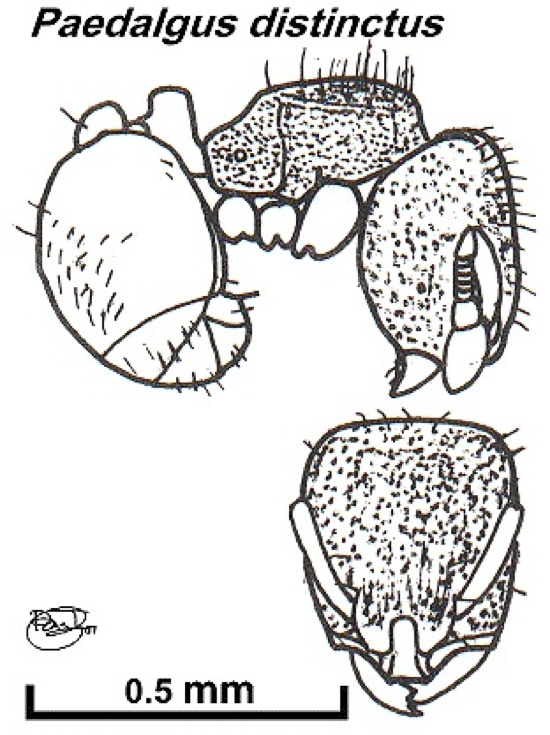 Nigeria specimen (Paedalgus termitolestes in Taylor, 1980a: 39). WORKER. TL 1.24 mm, HL 0.40, HW 0.34, SL 0.20, PW 0.26
Colour yellow-brown. Head and alitrunk densely reticulopunctate; pedicel and gaster shiny. Erect hairs sparse and relatively long on the alitrunk; pilosity sparse but all over, most obvious on the gaster. Petiole node near rectangular in profile. Workers and males collected with termites in a log at the Cocoa Research Institute of Nigeria, Idi Ayunre by B. Bolton (as Paedalgus termitolestes, in Bolton, 1969).
---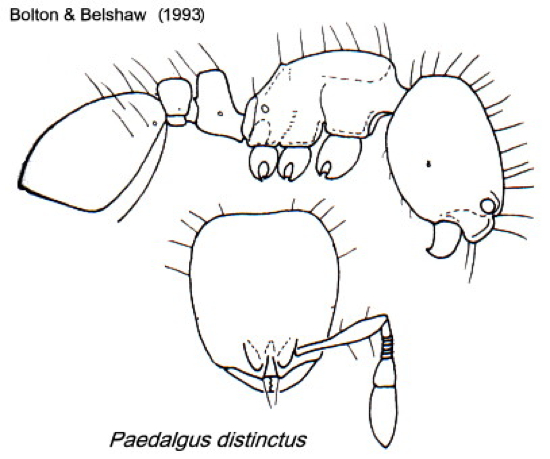 In Holotype series TL 1.4, HL 0.40, HW 0.34, SL 0.22, PW 0.26.
The type collection was among the findings which led to it being described as widespread in leaf litter (250 workers from 13 sites), including in association with termites (Belshaw & Bolton, 1994b). Much earlier it was found at CRIG, from where Strickland (1951a) noted it being found nine times on cocoa, usually on the trunk close to the ground and once in association with mealybugs, collecting honeydew (finding by H.M. Amoah?, in Bolton & Belshaw, 1993). Later found in cocoa leaf litter and nesting in dead wood at the Mampong Cemetery farm (Room, 1971). Others listed by Bolton & Belshaw (1993) were at CRIG, tending Stictococcus on cocoa pod stems (C. Campbell); and, Kibi and Bunso (D. Leston).
Nigeria, Also known from IITA, Ibadan (B. Critchley) (Bolton & Belshaw, 1993).
Other locations in Ivory Coast - Tai Forest (J. Piart; V. Mahnert & J.-L. Perret), Sassandra (I. Löbl), Adiopodoumé, Dropleu and Gregbeau (V. Mahnert & J.-L. Perret), near Abidjan and Nzi Noua (W.L. Brown).