Paratrechina waelbroecki (Emery)


Type location Zaïre (Prenolepis waelbroecki, Emery, 1899e: 496, illustrated, male genitalia, male and female described) from Kinshasa, collected by Waelbroeck, x-xi.1896 - male type see below. Forel (1911f: 280) reported "Prenolepis Waelbroeki Emery worker (??) - Congo da Lemba : MAYNÉ (Musée du Congo)"; also from Congo da Lemba by A. Weiss (Wheeler, 1922: 943).

.
---
Emery's (1899e) description is at

.

---
Oxford University Museum specimens
Paratrechina waelbroecki
B Taylor det.
Queen

Central African Republic
P Annoyer
DB

13.i.2005
Dzanga-Sangha
04°22'19.4" N
18°35'49.7" E

360 m; 18h30-7h

1

Paratrechina waelbroecki
B Taylor det.
Possible worker

Congo
E Zassi
02-t-1


4-5.ii.2008
Lésio-Louna
03°20'12.0" S
015°28'43.6" E

Village Mah; 24h pitfall trap

1

---

The photomontage is of a queen from the Central African Republic, Dzanga-Sangha NP; 13.i.2005 18h30-7h 04°22'19.4" N 18°35'49.7" E 360 m, collector Philippe Annoyer.
Emery (1899e) described the queen of P. waelbroecki as ferruginous brown, with a darker gaster; the propodeum arcing from the dorsum into a near vertical declivity. The main negative for this association is Emery's comment that the queen had a very shiny dorsum to the alitrunk. Emery noted the male approached the "new species P. longicornis".

Forel (1916: 440) suggested that the workers he described as Paratrechina grisoni actually might be the asexual form of waelbroecki. However, the grisoni worker is very shiny overall, a lot smaller (TL ca 2.0 mm), and has no pubescence.
This queen appears to be a good match to the original descriptions.
---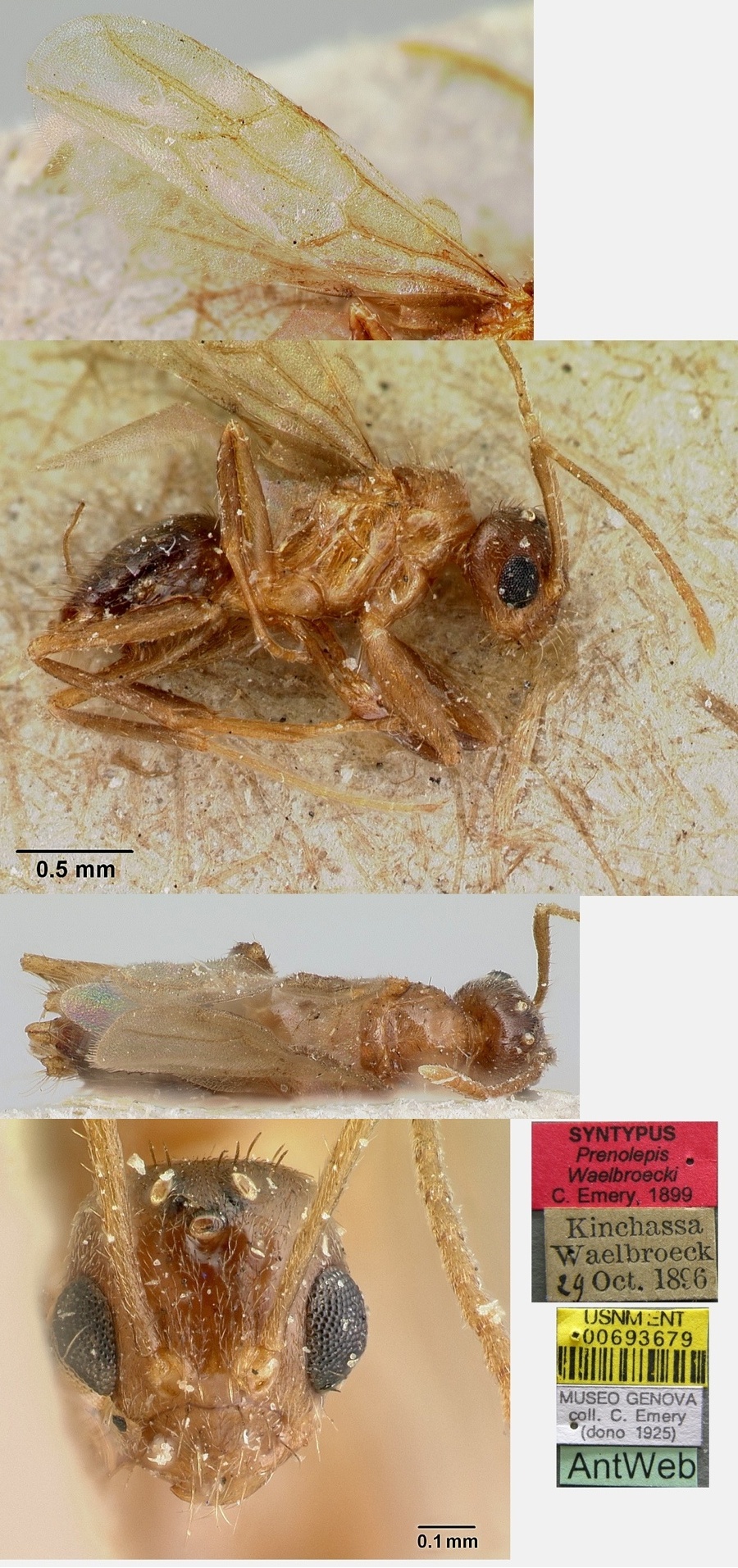 LaPolla, Hawkes & Fisher (2012: 23) write on this species but, despite giving "Emery, 1899: 496 (queen and male described), note they could not locate any worker specimens from the Forel (1911) report, and state "The queen caste is currently unknown for this species".

A male is shown from http://www.antweb.org/specimen.do?name=usnment00693679
Apart from the usual sexual differences for the genus, the male being somewhat smaller and more slender there is nothing to suggest the queen I report is not that of the species.
---

The photomontage is of a possible worker from the Congo, Lesio-Louna, collector Eric Zassi (12-t-1). The general colour, median carina on the clypeus and gaster pubescence are as on the male above but the scapes do not appear to bear any erect hairs.