The Tudgay Country of Somerset & Wiltshire
The villages in which family members are known to have lived or, at least, been married, are highlighted. The towns of Frome, or Frome Selwood, as it was known in earlier times, and Warminster, also feature in the family's history.

From 1837 the Free Births Marriages and Death index (BMD) can be searched. The villages fall into two Registration Districts.
Mere Registration District, created 1 July 1837 ran to 1 January 1978, when it became part of the Salisbury Registration District. It included East Knoyle, Fonthill Gifford, Kingston Deverill, Maiden Bradley, Mere, Monkton Deverill and West Knole. There is some difficulty in separating people of the same name, e.g. James, although some correlation wth, say, wives, is possible.
Warminster
, created 1 July 1837 ran to 1 April 2008. It included Brixton Deverill, Corsley, Kingston Deverill and Longbridge Deverill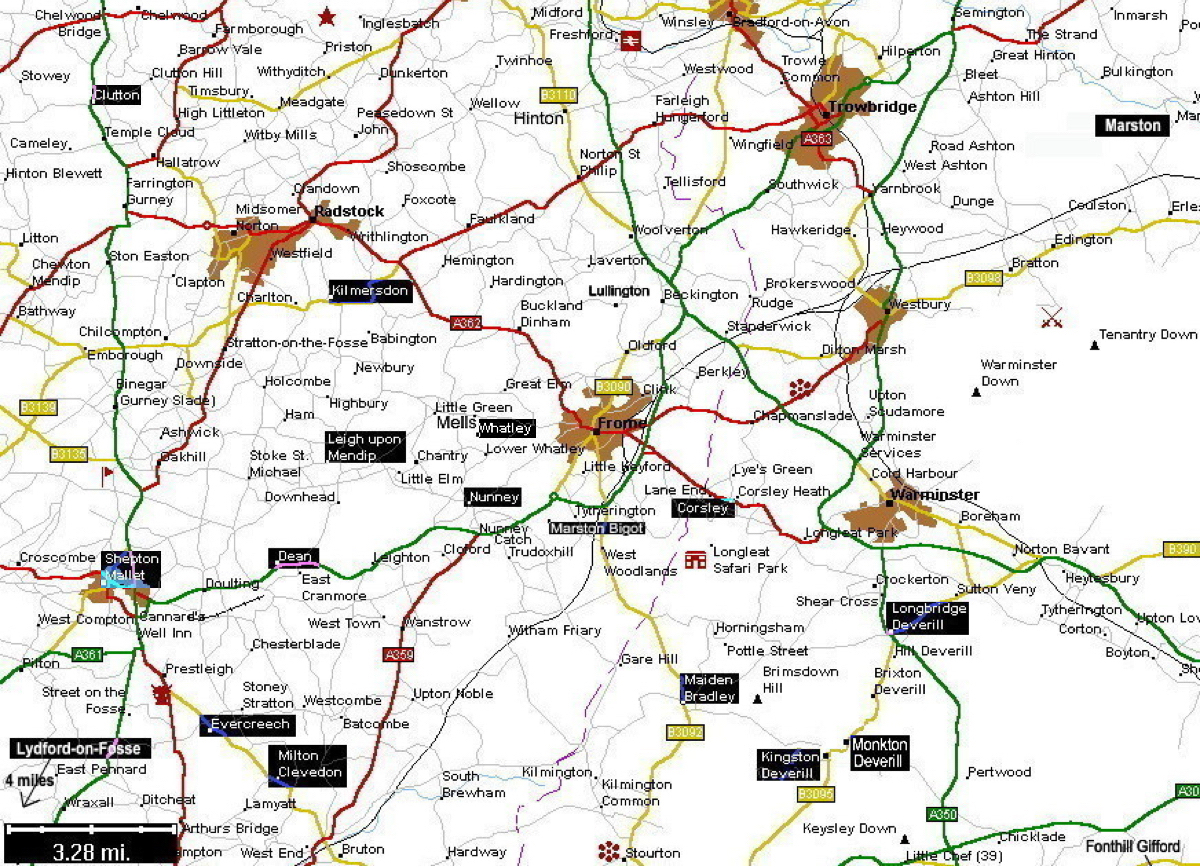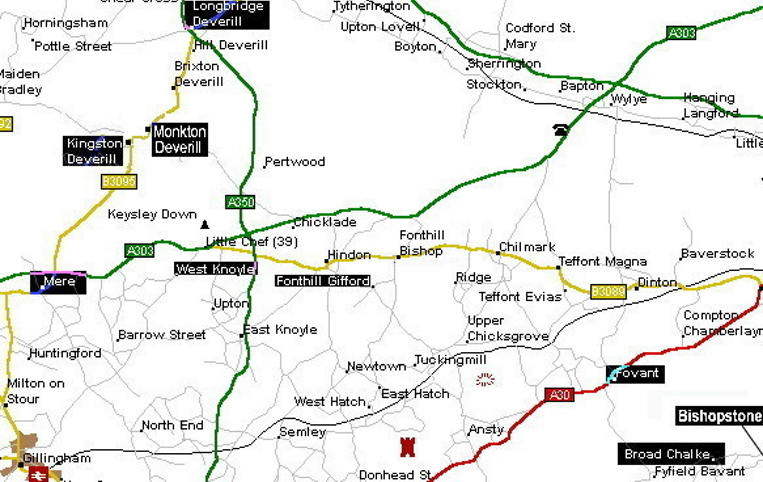 The earliest records now known (2003) are from

St John the Baptist, Frome: Burials 1558-1616: 04 May 1559, William Tudgye; 21 Nov 1560, Margaret Tudgye. Baptisms 1558-1603: 17 Nov 1566, Elinor Tudguy; 26 Sep 1568, John Tudgie; 05 Sep 1575, Barnabas Tudgie; 23 Nov 1578, Mary Tudgay
Lullingford - presently untraceable but presumably modern Lullington - Somerset; with William Tudgy, born there about 1579 and buried there on 28 Sep 1639. Marriage about 1596, name of spouse not given, but born about 1575. Katherine Tudgy, christened 02 July 1598, at Lullingford, daughter of William and Mrs William Tudgy.
Milton Clevedon, Somerset with Robert Tudgey christened 1607, and Edith Tudgey married 1623.
The early spelling of the name is usually Tudgey or Tudgay, or less often Tudguy/Tudgee. At least one example of Tudgee and a few of Tudgey can be found from the online telephone directories for England. The use of Tudgay has become the more common, perhaps suggesting that the name has always been pronounced with a hard "g", as in gay, and not the soft "g" of sergeant.
From Milton Clevedon, the next location seems to be in the Kilmersdon Hundred area of Somerset. Kilmersdon is an ancient village, which was registered as under Bishop Giso in the Domesday Survey. There were many Presbyterians and Anabaptists active in the area in 1669, and in the records collected together by the Mormon Church, there is a record of a Tudgee in 1650.
Some time in the late-seventeenth or early eighteenth century the family seems to have split into two or three branches.
One branch seems to stem from the Deverill valley, the headwaters of the River Wylye, initially in the village of Kingston Deverill, with several families in the area until the 20th Century, with the spelling Tudgey being more prevalent. From there, members spread to Dorset, Hampshire, London, and via Surrey to Worcestershire.
The branch to which my mother belonged began with William Tudgee, b 1777, in Leigh upon Mendip, Somerset. He married Sarah George, but exactly who his parents were is not clear. Now, 2010, we think that his father and grandfather, both named James were from Marston Bigot, near Frome.
William and Sarah had three sons and three daughters and the Abersychan family stems from Isaac Tudgee (born 1816, died 9 Dec 1889) who was born in Kilmersdon or nearby Coleford Green. Isaac married Eliza Smith (born 1820, died 13 Feb 1890) of Frome, at the Parish Church of St. Peter & St. Paul Church, Bath, on 19th March 1838. They moved to the then Monmouthshire, England (now Gwent, Wales) in about 1846.
From there descendants went to Pennsylvania, USA, in the mid-19th Century, and some went to London.
---
©2001, 2002, 2003, 2010, 2017 - Brian Taylor BTech PhD CBiol FRS FRES
11, Grazingfield, Wilford, Nottingham, NG11 7FN, U.K.
Comments to dr.brian.taylor@ntlworld.com