Phasmomyrmex (Phasmomyrmex) buchneri (Forel)


Type location Angola (Camponotus Buchneri, n. sp., Forel, 1886f: 183, worker) Malangé, M Buchner
subspecies griseus (Phasmomyrmex buchneri For. v. griseus n. v., Santschi, 1937b: 103, worker) from Cameroun, Mt Cameroun, Missellele, F Zumpt - see http://www.antweb.org/specimenImages.do?code=casent0912090
junior synonym sericeus (Phasmomyrmex sericeus n.sp., Stitz, 1910: 146, illustrated, worker; synonymy, Forel, 1910e: 421) collectors Conradt, from Mundame, & Thesing, from Bezirk Lomie, both from Cameroun - see below
worker only described (see Bolton, 1995)

.
---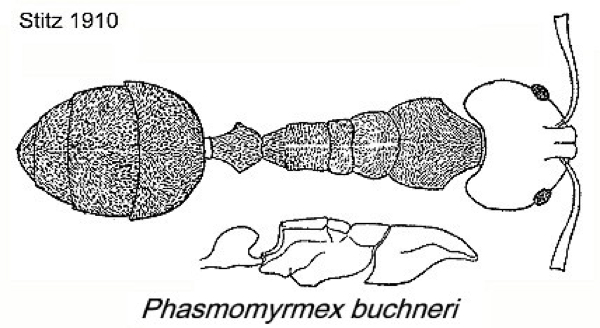 Forel's (1886f) description is at -

. Stitz's (1910) description is at -

and

.
Wheeler (1922) listed the Stitz records; also others from Congo (Lugny, by H. Brauns) and Zaïre, "found on firewood brought in from the forest", by Lang & Chapin, at Lukolela, Avakubi and Medje, also Lubutu by J. Bequaert.
Santschi (1937a) gave the differences shown by griseus as the pubescence being silvery-grey rather than yellowish, as on the type, but otherwise similar, although more slender.