The Ants of Africa
Genus Pheidole
Pheidole aeberlii Forel
variolosa-group - head with restricted frontal striations and parallel-sided
Pheidole aeberlii Forel


Type location Senegal (Pheidole Aeberlii, n. spec., Forel, 1894b: 91, major, minor & male) collected in "Upper Senegal" - see below; major, minor & male described (see Bolton, 1995)

.
---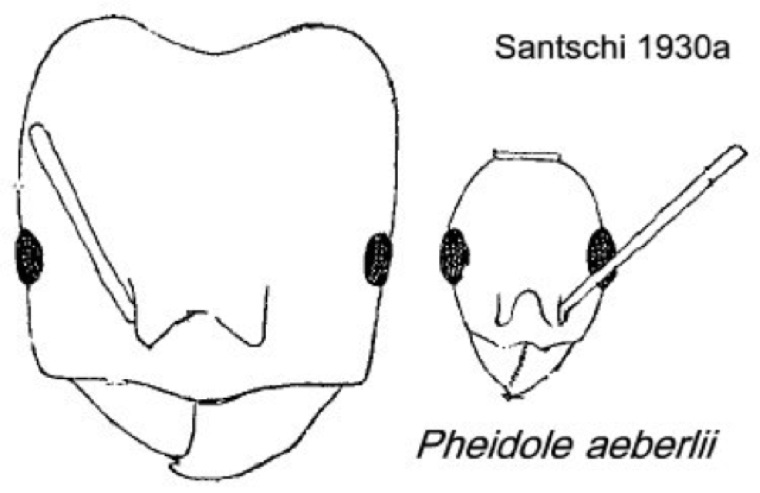 Forel's (1894b) description is at

.
Note: With fresh specimens, I have raised the former variety (subspecies of Bolton, 1995) Pheidole erythraea to full species status. For distinguishing characters see that species page and the keys.
Wheeler (1922) listed a second Senegal finding at Thiès (F. Silvestri) and noted it from Sudan (Omdurman, I Trägårdh). The latter perhaps was P. erythraea.
Clearly a savannah species.
Santschi (1930a: 61), described Pheidole andrieui by comparison with aeberlii and gave a drawing of the heads of the major and minor workers worker (right).
---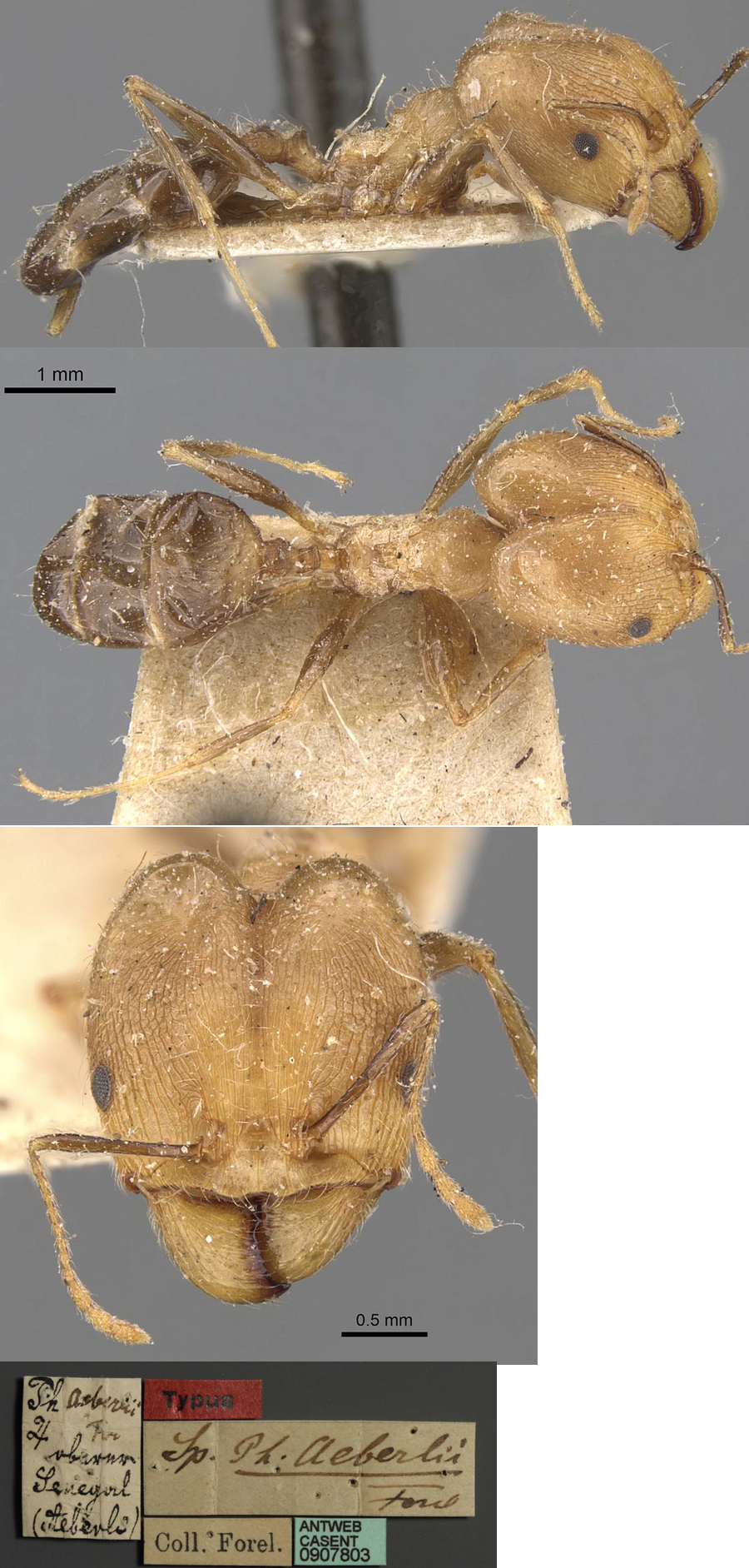 The photomontage of the type major worker is collated from http://www.antweb.org/specimen.do?name=casent0907803.
Although this and the minor below are labelled aeberlii the major head does not match the Santschi illustration, although the minor is similar. Forel gave the major colour as reddish-brown (yellowish-brownish) with the gaster, scape and femora dark brown. In his description of the smaller Pheidole aeberlii var. erythraea (which I have separated as P. erythraea), Emery (1901a: 61), noting advice from Forel, had the propodeal spines as acute (obtuse in the type).

---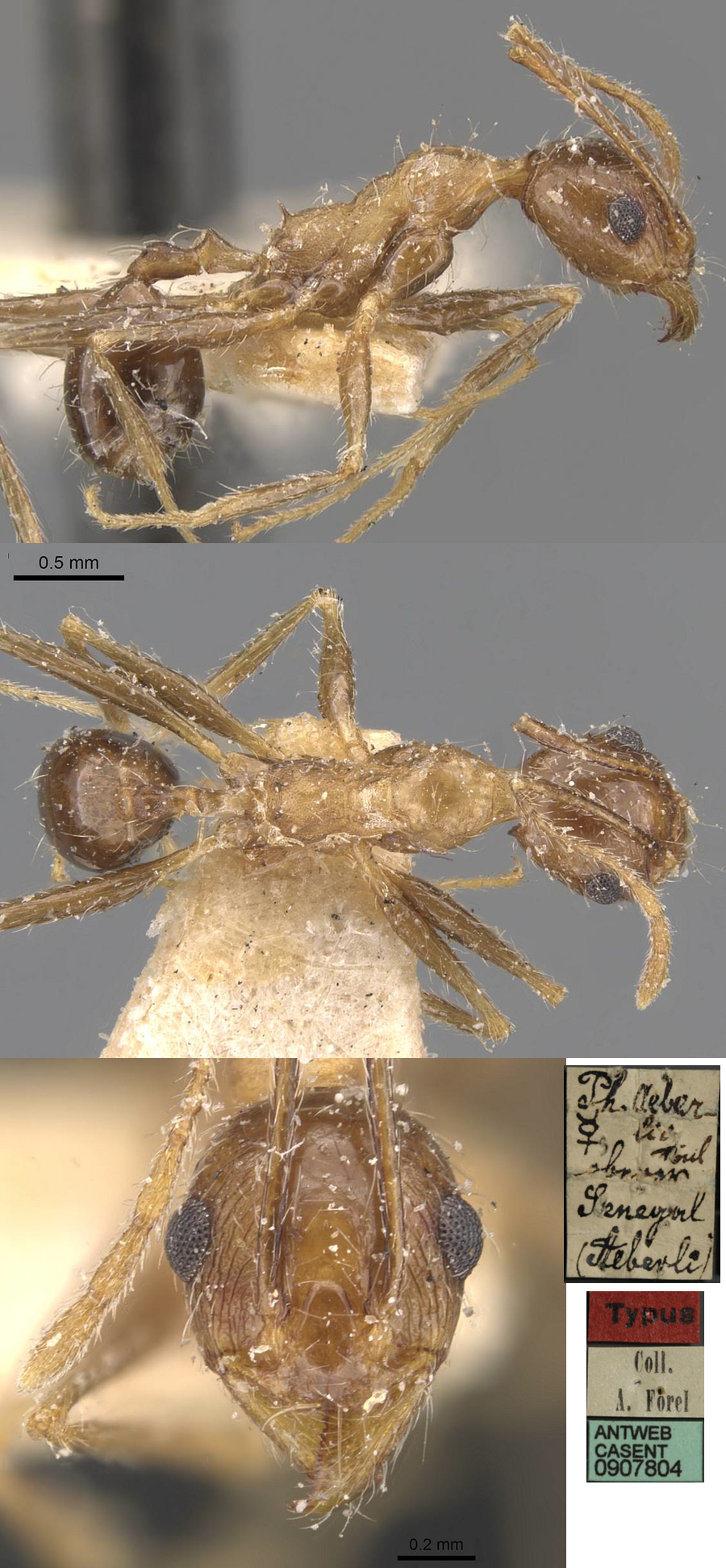 The photomontage of a syntype minor worker is collated from http://www.antweb.org/specimen.do?name=casent0907804. This appears to match the Forel description, including colour brown, alitrunk reddish brown, antennae, mandibles and legs yellowish-brown.
---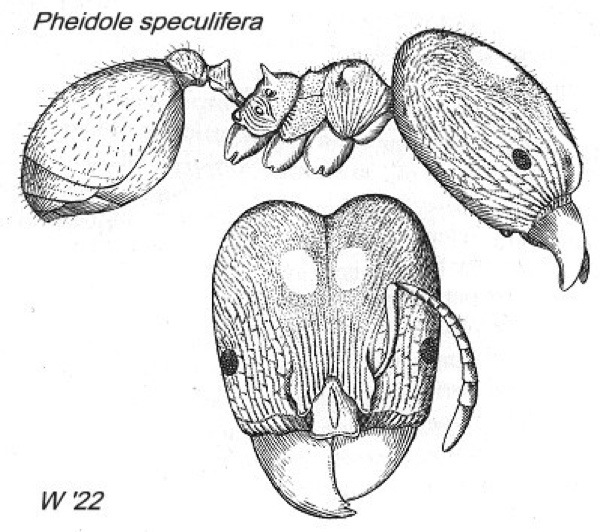 Wheeler (1922: ) gave the drawing (right) of "speculifera" but no details other than the size of the major in the drawing as being smaller (TL ca 6 mm) than cubangensis (TL 7 mm). With the type images of both aerberlii (above) and P. speculifera, the Wheeler drawing clearly is aeberlii.

---
Oxford University Museum specimens
Pheidole aeberlii
B Taylor det.

Senegal
Lamine Diamé
11

22.vi.2012
Thiés
14°58'N
17°00'W

Noto
V 40
minor worker
tube 03

1

Pheidole aeberlii
B Taylor det.

Cameroun
A Fotso Kuate
Pheidole speculifera
9.v.2007
Awae II
03°54'30" N
11°25'58" E
Tuna bait in fallow
Major
1

---

The photomontage is of a major from Cameroun; Awae II; collector A Fotso Kuate (fk pheidole speculifera). Morphologically a near exact match for the Wheeler drawing (above)
---

The photomontage is of a worker from Senegal; Thiés; 22.vi.2012; collector Lamine Diamé (11).
© 2007, 2008, 2010, 2011, 2013, 2014, 2016, 2018 - Brian Taylor CBiol FRSB FRES
11, Grazingfield, Wilford, Nottingham, NG11 7FN, U.K.
href="pheidole_aeberlii.htm"