Probolomyrmex guineensis Taylor


Type location Guinea (Taylor, 1965d: 353, illustrated, worker) collected at Nigorie, Kakoulima, by F. Silvestri, 12.viii.1912
worker only described

.
---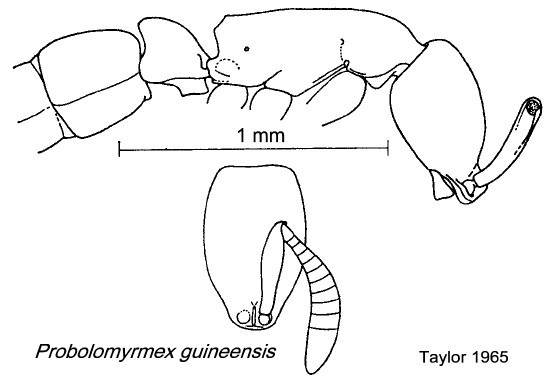 Taylor (1965d) noted that the Guinea record (from Kakoulima, by F. Silvestri) given by Wheeler (1922) as Probolomyrmex filiformis was this species. He examined three of the original seven specimens and described it as a new species -
HL 0.61, HW 0.41, SL 0.38, PW 0.30
Close to filiformis but smaller, with relatively broad head, short scapes and shorter petiolar node. Sculpturation more distinctive, shagreening on all body and appendages; head with moderately distinct puncturation, separated by about the same distance as their diameter (0.005 mm); alitrunk dorsum with similar puncturation; propodeum with concave declivity; subpetiolar process without an acute posteroventral tooth, from above no trace of median emargination on node; colour paler yellowish or reddish-brown; but with similar all over whitish, extremely fine adpressed pubescence, most abundant on gaster; very few erect hairs. Taylor's (1965d) text is at

.
Later collected in Ghana, by D Leston, 15 July 1970, at Legon, on ground (in Brown, 1975: 57) and 46 workers, from leaf litter in the semi-deciduous forest zone - under cocoa at Ofinso and Kade, under primary forest at Southern Scarp Forest Reserve and Kade, and under secondary forest at CRIG, by Belshaw & Bolton (1994b). Brown (1975) also reported specimens from Ivory Coast, Lamto Research Station, SW of Toumodi (J Lévieux).
Brown (1975) noted there were slight variations in size, length of the petiole node and in the sharpness of the posteroventral angle of the subpetiolar process.
Bolton (1973a) listed this as the sole species known from West Africa, where it nests in small pieces of rotted wood.
---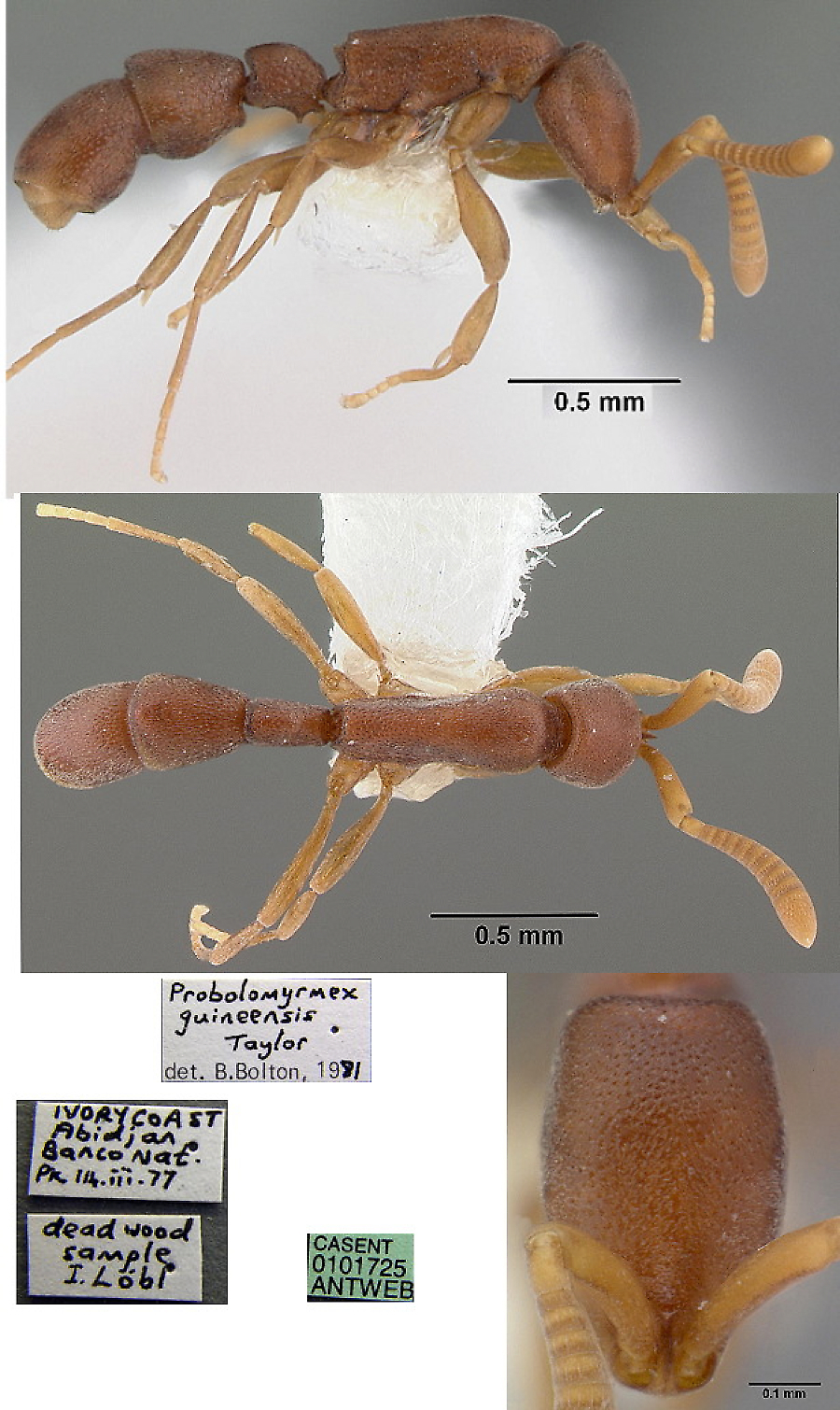 The photomontage is collated from http://www.antweb.org/specimen.do?name=casent0412773
Collection Information: Specimen Code CASENT0101725; Locality Ivory Coast: Lagunes: Abidjan Banco Nat. Pk.; Collection codes: ANTC3713; Date: 14 Mar 1977; Collected by: I. Löbl Method: dead wood sample.
A further specimen can be seen at photomontage is adapted from http://www.antweb.org/specimen.do?name=casent0412773
Collection details - Central African Republic: Prefecture Sangha-Mbaéré; Réserve Spéciale de Forêt Dense de Dzanga-Sangha, 12.7 km 326° NW Bayanga; 03°00'18"N 016°11'36"E, 420m. Collection Information: Collection codes: BLF4086. Date: 10-17 May 2001. Collected by: B.L.Fisher. Method: EC19 sifted litter. Habitat: rainforest. Transect Type: MW 50 sample transect, 5m. Transect Sample No.: L.O.
Paratype specimens can be seen at http://www.antweb.org/specimen.do?name=casent0102218
Collection Information: Specimen Code CASENT0102218; Locality Guinea: [French Guinea; Arnold Coll. B.M. 1934-354]; Collection codes: ANTC4493
and http://www.antweb.org/specimen.do?name=casent0101768
Collection Information: Specimen Code CASENT0101768; Locality Guinea: [Kokoulima]; Collection codes: ANTC3712; Date: 12 Oct 1912