Psalidomyrmex foveolatus André


Type location Sierra Leone (André, 1890: 314, worker; NOTE - Emery, 1899e: 471, queen & male was a description of P. procerus, correction by Emery 1901a) collector A. Mocquerys; all forms described

.
---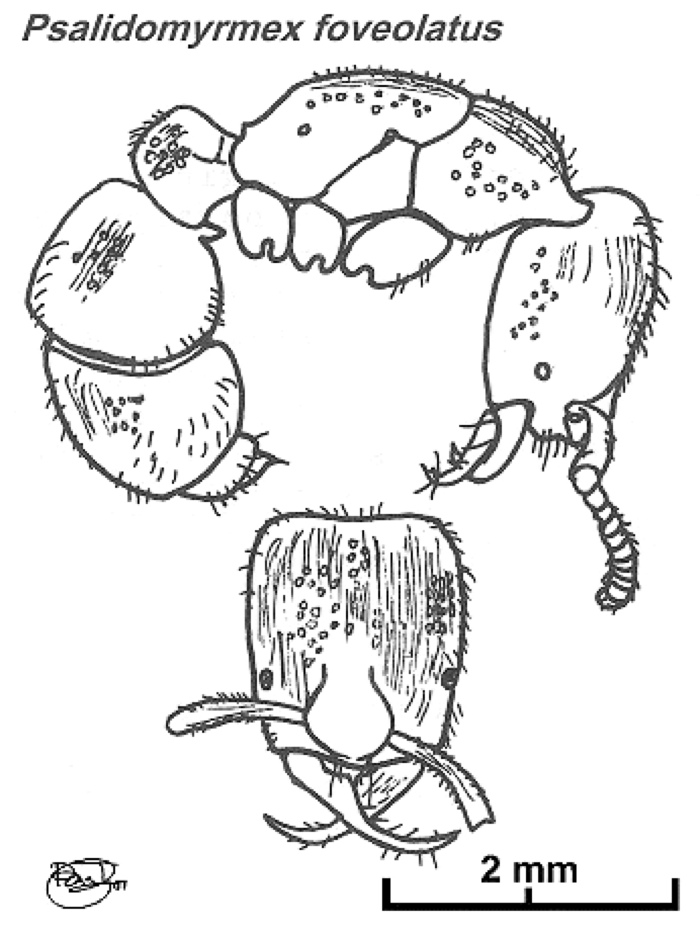 Nigeria specimen (Taylor, 1976: 31). WORKER. TL 8.42 mm, HL 1.87, HW 1.65, SL 1.24, PW 1.03
Colour dark red-brown, shiny. Sculpturation as for genus. Mandible falcate. Antennal scapes relatively short. First gastral tergite not narrowed anteriorly, the foveolae on this segment and the pronotal dorsum with a dense striation between them. Bolton (1975b: 7, illustrated, first gastral tergite and petiole in dorsal view) described generally larger specimens, TL 9.4-10.2.
Collected by me from soil at the base of a cocoa tree at the Cocoa Research Instiiute of Nigeria, Idi Ayunre. Soil nesting and foraging under the surface. Also recorded from "Ibadan" probably CRIN (R.H. Booker) (Bolton, 1975b).
---
Wheeler (1922) also listed it from Guinea (Kakoulima, F. Silvestri) and Cameroun (Conradt; Bibundi, Tessmann).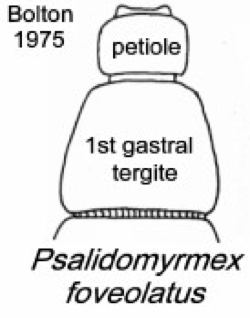 Bernard (1952) reported findings (unlisted by Bolton, 1975b) from Guinea - Kéoulenta, 500 m, sample D, 1 queen; Station T134, Ziéla, savanna, without rocks, 4 workers (2 brown and 2 orange-yellow immatures - a state in which the large Ponerines can remain for several months). He described it as similar to the types of André, characterised by the ventral border of the petiole with a sharp angle - rounded in other species.
Elsewhere, known from Ivory Coast, at Lamto, Toumodi (J. Lévieux); and Ghana, at CRIG, Kibi, Wiawso and Asamankese (D. Leston; CRIG also by B. Bolton) (Bolton, 1975b).
In Ivory Coast also in Lévieux (1972). Bolton & Brown (2002) reported findings from Ivory Coast, Palmeraie Lame, by T. Diomande, and Iringou, by F. Krell; Cameroun, Ottotomo Forest, by A. Dejean.