Strumigenys petiolata Bernard


Type location Guinea (Strumigenys petiolata n. sp., Bernard, 1952: 254, illustrated, worker; revived by Bolton from synonymy with Strumigenys rufobrunea Brown, 1954: 17), from Mt. Nimba, at 700 m, 4 workers in a termitary in the forest, collector Villiers - see below

.
---
---
---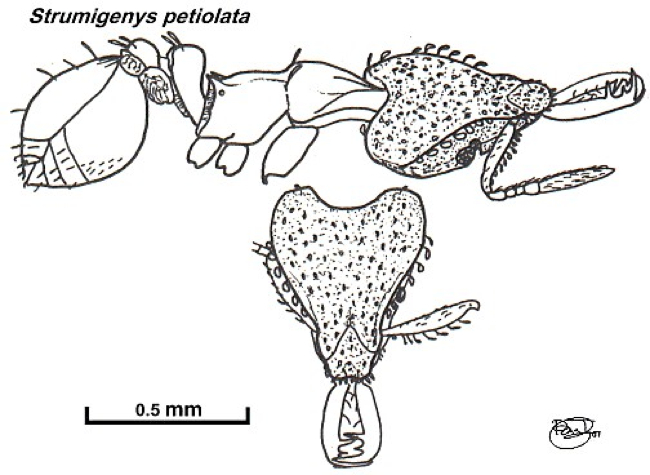 Nigeria specimen (as S. rufobrunea, Taylor, 1979: 51). WORKER. TL 2.26 mm, HL 0.62, HW 0.50, SL 0.31, PW 0.30
Others TL 2.0-2.5 mm (Bolton, 1983: 384, illustrated, full face and lateral head).
Moderately excised preocular notch, ventral only. Mandibles with first preapical tooth moderately long, second tooth well developed. Apical pair of teeth with ventral shorter than dorsal. Head reticulopunctate; alitrunk and pedicel opaque, dull and unsculptured except for a fine mid-dorsal carina on the pronotum; lateral areas of mesonotum and propodeum shiny. Dorsum of head with scattered, short, adpressed spatulate hairs and a lateral fringe of 6/7 curved, broad spatulate hairs. Erect hairs narrow and clavate on the alitrunk (one pair), pedicel and gaster. Spongiform appendages of pedicel poorly developed on the petiole, short narrow subpetiolar strip and moderate on the postpetiole. Mesonotum on a distinctly lower level than the pronotum. Colour variable from yellow to dark brown or even darker, gaster often darker than head and alitrunk.
Found by my team in a debris tent on cocoa at Apoje, near Ijebu-Igbo.
---
Brown (1954) simply noted it, as S. rufobrunea, as being from West Africa.
In Nigeria Cocoa Research Institute of Nigeria, Idi Ayunre, (B. Bolton) from soil and from a dead log. Also from IITA (A. Russell-Smith).
From Ghana, Bolton (1983) listed Enchi, Legon and CRIG (D. Leston), CRIG (B. Bolton; C.A. Collingwood), Mt. Atewa (B. Bolton), and Mampong (P.M. Room). Listed by Room (1971), as Strumigenys species 1, from open ground and leaf litter at the Mampong Cemetery farm. Described as widespread, from their leaf litter samples (1439 workers plus 31 from soil samples at 20 sites) in the semi-deciduous forest zone by Belshaw & Bolton (1994b). A single worker referred to as Strumigenys species F 584 was collected by Bigger (1981a) by pkd from Amelonado cocoa canopy at CRIG. Not such specimen was seen by Bolton (1983) but the code number suggests it is one of the species recorded as collected by D. Leston, the only one without a well-known name being petiolata.
Ivory Coast records included Issoneu, Man and Tai Forest (V. Mahnert & J.-L. Perret); Banco Forest and Sassandra (I. Löbl), Divo and Gagnoa (L. Brader) (Bolton, 1983).
From Cameroun at Nko'emvon (D.A. Jackson), near Yaoundé (G. Terron), and Batanga (G. Schwab) (Bolton, 1983).
Others Gabon (Makokou, I. Lieberburg, and W. Gotwald), Central African Republic (Haut Mbomu. N.A. Weber), Angola and Sudan.
---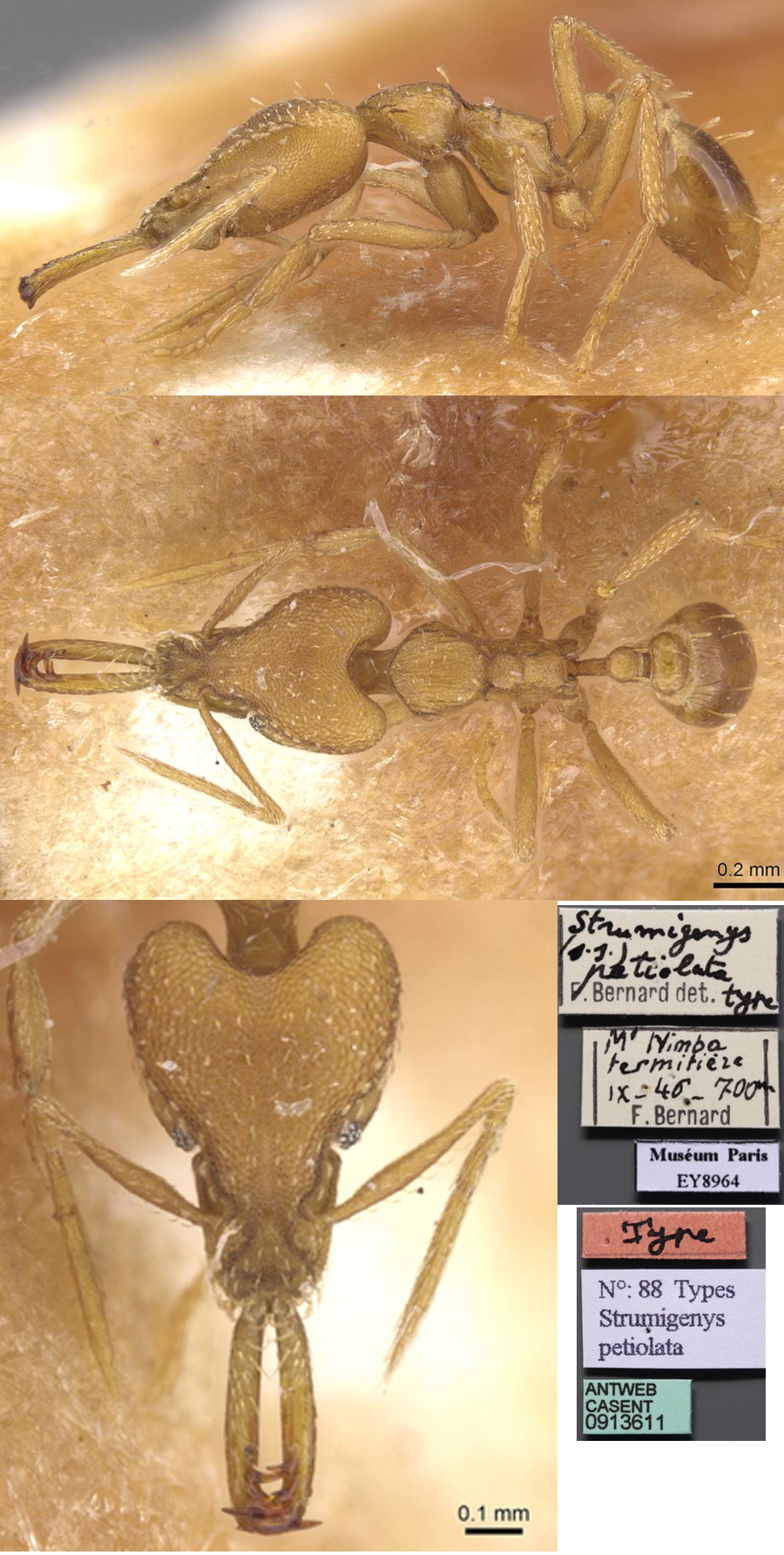 The photomontage of the type worker is collated from http://www.antweb.org/specimen.do?name=casent0913611.
---
Oxford University Museum specimens
Strumigenys petiolata


B Taylor det.



Congo
Y Braet
t-1-17


19.viii.2007
Brazzaville
4° 15' 33" S
15° 17' 5" E

24h pitfall trap; forest around the GERDIB laboratories; 317 m asl
3


Strumigenys petiolata


B Taylor det.
Congo
E Zassi
t-1-1

8-9.xi.2007
Lésio-Louna
03°16'13.9" S
015°28'21.2" E

Gallery Forest; 24h pitfall trap

1


Strumigenys petiolata


B Taylor det.
Congo
Y Braet


7.x.2007
Dzio-Dzio
3°29'33" S
15°18'33" E

Ngabe, Région de Pool
collected by sweep netting (fauchage)


1


Strumigenys petiolata


B Taylor det.
Ghana
S Sky Stephens
06G0027

2006

in personal collection of S Sky Stephens

1

---

The photomontage is of a worker from Congo, Brazzaville; collectors Yves Braet & Eric Zassi (trap t 1.17).

---

The photomontage is of a specimen from Ghana, collected by S Sky Stephens, 2006.
---
The photomontage of a worker from the Ivory Coast is collated from http://www.antweb.org/specimen.do?name=casent0102584. Collection Information: Specimen Code CASENT0102584; Locality Ivory Coast: [Issoneu]; Collection codes: ANTC4792; Date: 12 Oct 1980; Collected by: V.Mahnert J-L. Perret