Strumigenys rogeri Emery


Type location Antilles Is., St. Thomas I. (Strumigenys Rogeri n. sp., Emery, 1890b: 68, illustrated, worker; Forel, 1893g: 378, queen) - see below
junior synonyms
incisa (Strumigenys incisa Godfrey, 1907: 102, worker) from Great Britain (hothouse) - no images on Antweb (February 2015)
sulfurea (Struigenys sulfurea n. sp., Santschi, 1915c: 261, worker) from Gabon, Samkita, by F. Faure - see http://www.antweb.org/specimenImages.do?code=casent0912862
See Bolton (1995). A pan-global tramp species

.
---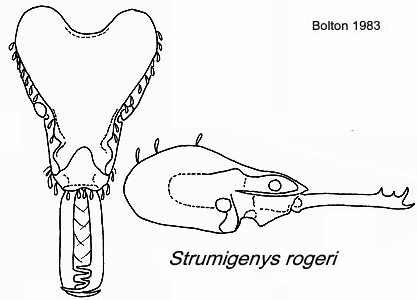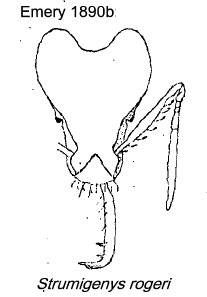 Emery's (1890b) description is at

. Santschi's (1915c) description of sulfurea, gives TL as 1.6 mm -

. Brown (1954k: 20ff) gave notes; these are at

and

. Bolton's modern description (1983) is at

.
---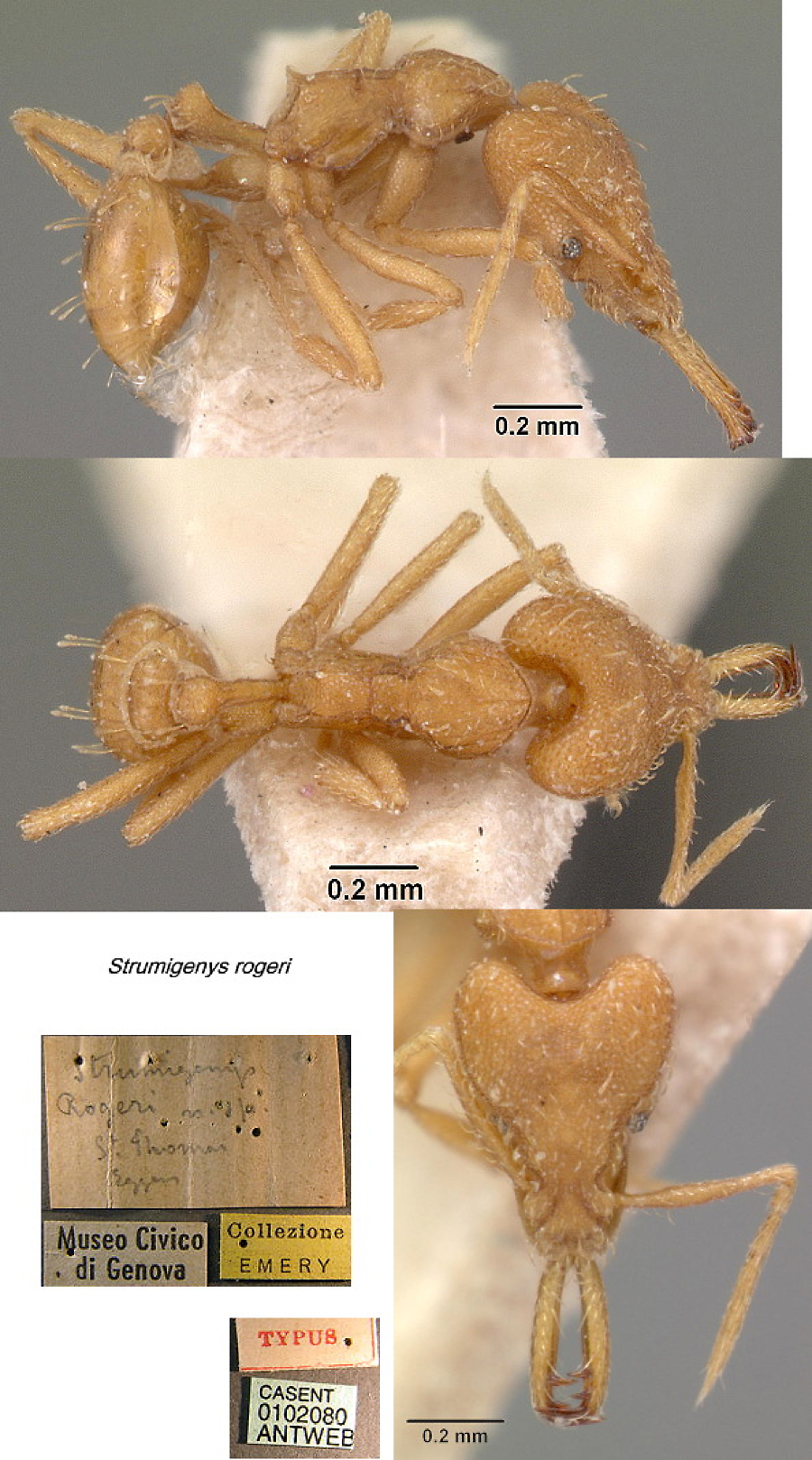 WORKER - TL 2.3-2.8 mm; strongly developed pre-ocular notch extending on to ventral surface of head; simple dentition, long straight mandibles; long antennal scapes; upper scrobe margins indented and no flange; Colour dull yellow to light medium brown (Bolton, 1983: 387, illustrated full-face view and head profile).

Note African specimens are much darker. Emery gave the colour as "testacea", testaceous = reddish-brown or brownish-yellow hue of bricks.

The photomontage of the holotype is collated from http://www.antweb.org/specimen.do?name=casent0102080.
---
From Nigeria, listed by Bolton (1983) as a species which he collected at CRIN.
Ghana records include CRIG (B. Bolton; D. Leston). Since described as widespread, from their leaf litter samples (177 workers from 6 sites) in the semi-deciduous forest zone by Belshaw & Bolton (1994b).
Ivory Coast records included Bingerville, Issoneu, Languédédou and Tai Forest (V. Mahnert & J.-L. Perret); Man, Sangouine and Sassandra (I. Löbl), Divo (L. Brader), Banco Forest and Nzi Noua (W.L. & D.E. Brown) (Bolton, 1983).
In Cameroun, at Nko'emvon (D.A. Jackson) and near Yaoundé (G. Terron); also from Gabon, Angola, and Burundi (Bolton, 1983).
---
Oxford University Museum specimens
Strumigenys rogeri


B Taylor det.
Gabon
Y Braet
Gabon 175

8.vi-20.vi.2006
Pongara
00°34' N
09°19' E

Pongara Base; winkler funnel

1


Strumigenys rogeri


B Taylor det.
Gabon
Y Braet
Gabon 223

27.vi-10.vii.2006
Pongara
00°34' N
09°19' E

Leaf litter, winkler funnel

1

---

The photomontage is of a specimen from Gabon, Pongara National Park, Camp Base; collector Yves Braet (Gabon 175), 2006.