Tetraponera latifrons (Emery)


Type location Gabon (Sima (Pachysima) latifrons n. sp., Emery, 1912b: 98, illustrated, queen; Santschi, 1914c: 288, worker & male; in Tetraponera, Ward, 1990: 688); all forms described (see Bolton, 1995)

.
---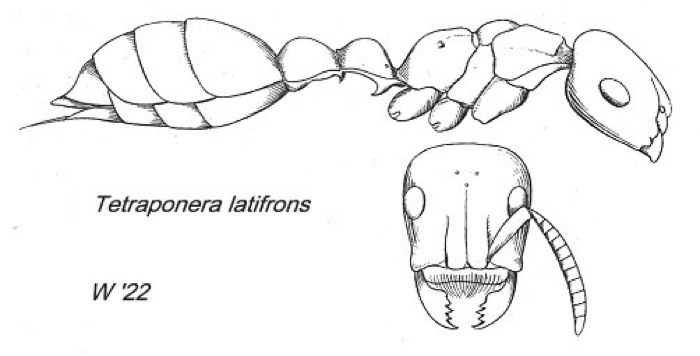 Wheeler (1922: 308) gave an illustration and notes of what he identified as latifrons from Zaïre. He listed it from Cameroun (from Tiko, near Victoria, F. Silvestri), together with Congo and Zaïre. He gave a few details, mainly of the larvae; and reported it as found in and on a Barteria. On the worker ge gave - TL 7-8.5 mm; head more typical of genus than aethiops; clypeus with a conspicuous fringe of yellow ciliary bristles; petiole and postpetiole with rearward hooked processes, quite pronounced on petiole; black and shining. The drawing of the head, however, is somewhat different from the Emery queen and the workers I show below.
In the report of the Lang-Chapin expedition there also is much information on the relation between the ant and the plant (Bequaert, 1922) and on the woody structure of the plant (by Professor Bailey) (see Ant Plants).
The specimens shown below were kindly sent to me by Rumsais Blatrix, Centre d'Ecologie Fonctionnelle et Evolutive Centre National de la Recherche Scientifique 1919 route de Mende, F-34293 Montpellier cedex 5, France; who has been studying Tetraponera colonies on Barteria fistulosa and found about 8% were T. latifrons, matching the original description. Thus, I have corrected this page and replaced the thumbnail used in the key.