Cataglyphis viaticus (Fabricius)


Bolton (1995) had - Type location Spain (Formica viatica, Fabricius, 1787: 308, worker; Mayr, 1861, queen & male) - no images on Antweb (July 2014)
junior synonyms
europaea (Formica cephalotes ssp europaea, Christ, 1791: 511, illustrated, worker; synonymy Emery, 1892b: 161) from "Europe" - no images on Antweb (July 2014)
bugnioni (Myrmecocystus viaticus F. r. adenensis Forel v. Bugnioni n. var., Forel, 1908a: 16; Santschi, 1929b: 41, worker) from Egypt, Suez - new placement here - see below.
all forms known.
Fabricius' (1787) description is at -

. Christ's (1791) description of europaea is at -

. Olivier (1792) had the description -

. Mayr (1855: 381) had the description (as Monocombus viaticus) -

. Emery (1906b) had the description -

. Forel's (1908a) description of bugnioni is at

.
Note from the description and illustration it is clear that the form listed in Bolton (1995: 137) as subspecies tonsilis (Cataglyphis (Monocombus) viatica F. st. mauritanica Em. v. tonsilis n. var., Santschi, 1929b: 32; Cataglyphis (Monocombus) viaticus For. v. tonsilis Sants., Santschi, 1936a: 209, all forms) from Morocco, is a subspecies or junior synonym of Cataglyphis mauritanicus.
---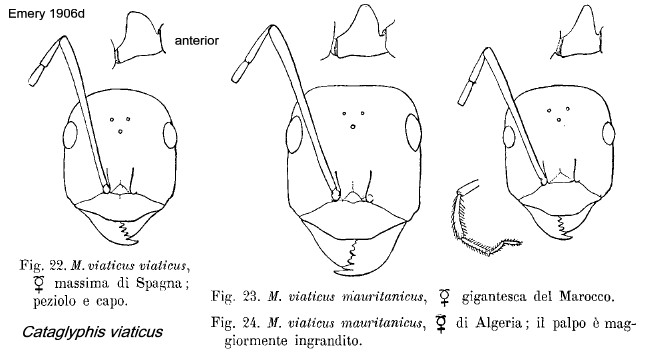 Fabricius stated specimens from the Iberian Peninsula were ferruginous with a black gaster. Mayr (1855) appears to have confused the identities as he gave the colour as blood red with a dark gaster. He listed it as found across much of southern Europe and gave Formica megalocola Foerster as a synonym. F. megalocola now is recognised as a junior synonym of Cataglyphis bicolor.
Christ, J. L. 1791. Naturgeschichte, Classification und Nomenklatur der Insecten von Bienen, Wespen, und Ameisengeschlecht; als der fuenften Klass fuenften Ordnung des Linneischen Natur-Systems von den Insecten Hymenoptera. Hermann, Frankfurt am Main. 535 pp
One of the species studied by Dahbi, Hefetz & Lenoir (2008) - http://irbi.univ-tours.fr//UIEIS/Publis%20AL/Dahbi2008-BSE.pdf
---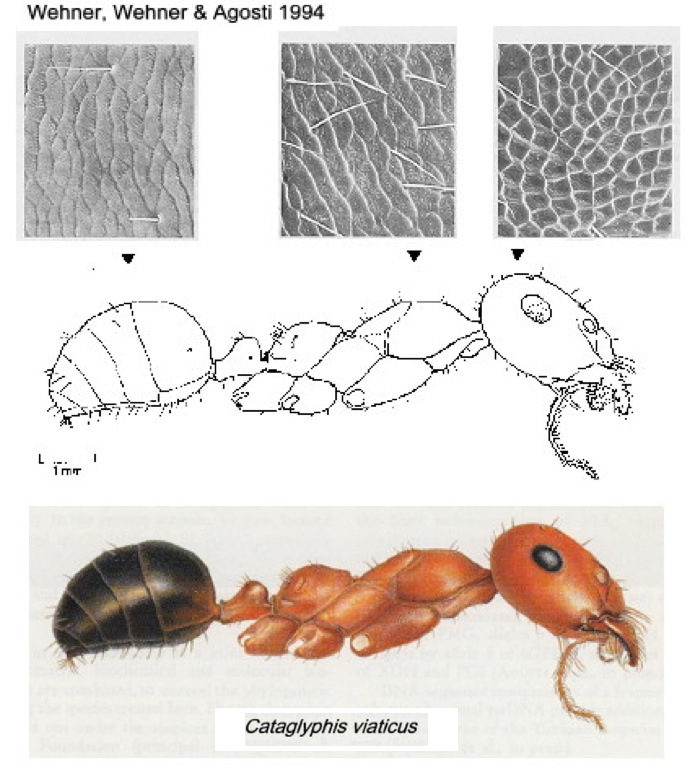 Agosti (1990a), however, separated tonsilis as a variety of mauritanicus in the altisquamis-group (see above). Some clarification comes from Wehner, Wehner & Agosti (1994), who provided the illustration (right).
I have separated off Cataglyphis desertorum, which appears to be clearly distinct, with a nodiform petiole, and not least from the geographical separation. Thus, the true distribution of viaticus appears to be western North Africa and the Iberian Peninsula