The Ants of Africa
Genus Dorylus - Subgenus Alaopone
Dorylus (Alaopone) antinorii (Emery)
Dorylus (Alaopone) antinorii (Emery)


Type locality Ethiopia (Alaopone Antinorii n. sp., Emery, 1881a: 275, illustrated, worker) from Let-Marefia, collector Antinori - see below

.
Bolton (1995: 177) listed this as a junior synonym of D. (An.) molestus; it was combined in Dorylus by Dalla Torre (1893: 10) but that is the placement of Alaopone as a subgenus of Dorylus; further confirmed by Emery (1895j: 736), who curiously appears to link it with D. (Rhogmus) fimbriatus. Bolton attributed the synonymy with molestus to Emery (1910b: 12) but there it is listed under molestus without clarification. The drawing, although of a minor is unequivocal and shows what only can be taken as an Alaopone from the overall shape and the nine-segmented antennae. I, therefore have transferred antinorii here to Dorylus (Alaopone). In his original description, Emery noted the shape of the clypeus was like that of the minors in Anomma but my review of modern specimens shows a resemblance only to the minor of Dorylus (Anomma) langi. That also has a clypeus with an anterior triangular projection and a head which is not obviously widest at the anterior margin, but langi has 11-segmented antennae with the scape reaching back beyond the mid-point of the head, like all other Anomma.
---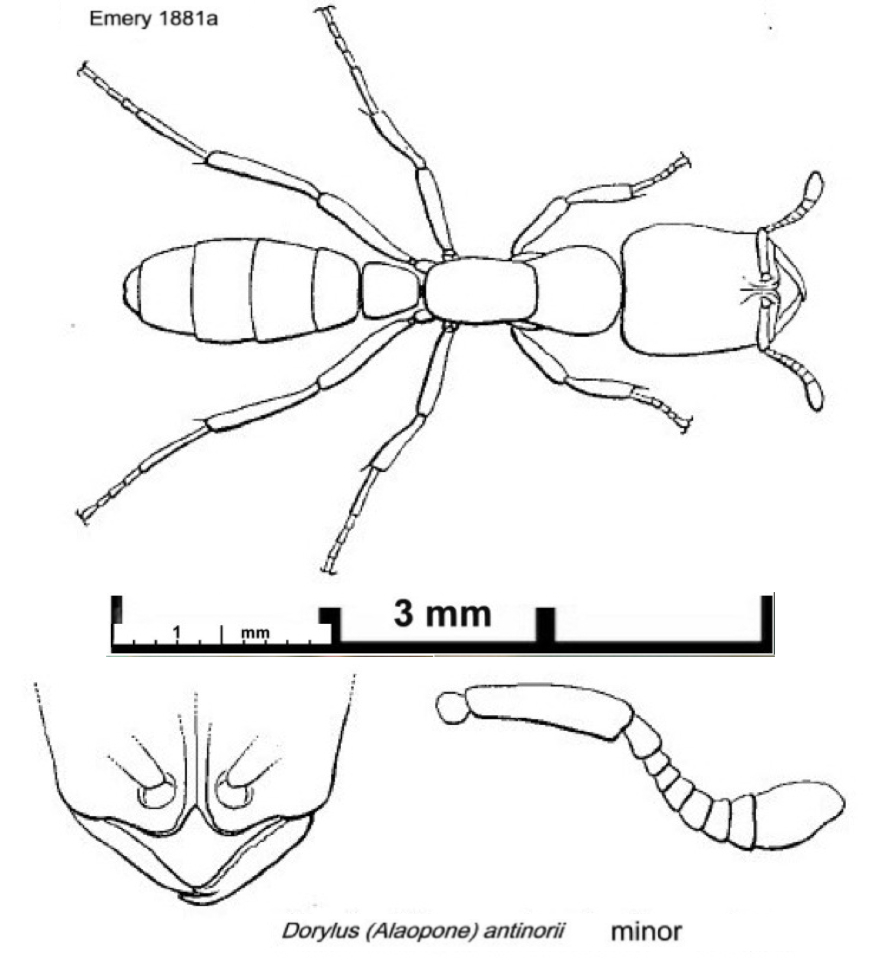 Emery's (1881a) description of the minor, as Alaopone antinorii is at

. Illustration with scale added to give approximate size, TL 3.0 mm, of Emery (1881a).
I have tentatively associated a range of media workers from Ethiopia with this probable minima worker. The general description of colour and quite dense spiculate sculpturation appears to match. It seems from those that the species actually is an Anomma.

---

The photomontage of the type media (?) worker is collated from http://www.antweb.org/specimen.do?name=casent0905796. Note that this specimen does not match the Emery description of the single worker, e.g dark fuscous, gaster piceus, or the drawing (above).

---
Oxford University Museum specimens
Dorylus (Anomma)

species

possibly

antinorii


B Taylor det.



Ethiopia
A Pauly



25.x.2011
Tarma Ber Pass
9°43' N
39°46' E
3167 m
Media & minima workers



7

---

The photomontage is of a media worker from Ethiopia; collector A Pauly.
---

The photomontage is of a media worker from Ethiopia; collector A Pauly.
---

The photomontage is of a media worker from Ethiopia; collector A Pauly.
© 2007, 2008, 2009, 2010, 2013 - Brian Taylor CBiol FSB FRES
11, Grazingfield, Wilford, Nottingham, NG11 7FN, U.K.
href="dorylus_antinorii.htm"