---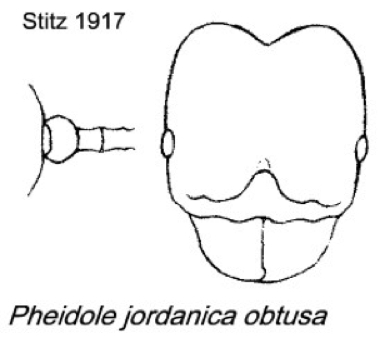 From the Forel (1911h) description of schmitzi, it appears that there is a transverse welt on the mesonotum and the postpetiole is rhomboidal; if so, the species is likely to fall into the fervens species-group. The photographs of minor workers from Iran, below, show a rhomboidal postpetiole and show longitudinal rugae on the genae similar to those on the Pheidole fervens minor. The anterior clypeal margin is distinctly produced forward with a straight margin; the clypeus also appears to be bicarinate.
Collingwood (1985: 253) separated jordanica in his key as having the "Postpetiole longer than broad,about 0.2 X HW; funiculus segment 2 scarcely longer than broad". Collingwood & Agosti (1996: 323) added - Measurements SI 0.675; HW/PPW 0.227 (PPW = postpetiole width).
Reported from Sudan but the location was Khartoum (Karavaiev, 1911), and therefore it is not a true sub-saharan species.
Egypt records - recorded from Cairo by Emery (1889a: 442); junior synonym Pheidole megacephala r. obtusa Stitz (1917: 340, illustrated, soldier). Menozzi (1929e: 125) workers from Sinai oases at Feiran and Wadi Tarfa, collected by F S Bodenheimer. Alfieri (1931) listed one finding from Charkieh Province, Senchawa, 26.x.1925; also in Mohamed et al (2001).
Mohamad (1979) thesis had - Egypt (Det. Crawley, 1927) (Coll.Alf.) Gebel Elba, 22.i.1933 (Coll.Min.) Abu Mena, 8.iv.1954; Benha, 6.ii.1975; Cairo, 16.iii.,29.iv.1975; Alexandria, 27.iii.1975 (Coll.Ain.) Egypt (Det. Crawley, 1927) (Coll.Soc.)