Tetramorium muscorum Arnold


Type location Mozambique (Tetramorium (Triglyphothrix) muscorum, Arnold, 1926: 274, illustrated, worker) Amatongas Forest, G Arnold
worker only described (see Bolton, 1995)

.
---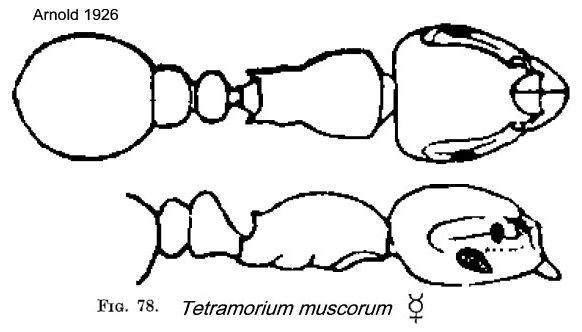 Arnold's (1926) description is at

. Bolton's modern description (1976) is at

.
WORKER - TL 1.6-1.9 mm; 11-segmented antennae, dorsum of head with numerous branched hairs and with a number of long, simple hairs which are markedly longer than the adjacent branched hairs. Colour yellow-brown, usually with the gaster darker (Bolton, 1976: 331, not illustrated; reverted to Tetramorium from Triglyphothrix by Bolton, 1985).
From forest areas across sub-Saharan Africa. Found in Ghana at CRIG by Bolton (as Triglyphothrix muscorum, Bolton, 1976); later found in leaf litter by Belshaw & Bolton (1994b), who described it as widespread, but found only 18 workers from six sites. Elsewhere in West Africa, Bolton (1976) listed findings from Ivory Coast, at Divo (L. Brader); and Cameroun, no location (G. Terron).
---
Oxford University Museum specimens
Tetramorium muscorum
B Taylor det.
Senegal
Lamine Diamé
26

2012
Thiés
14°45'N
17°03'W

Pout
Sizelec
S. seche


1

Tetramorium muscorum
B Taylor det.
Benin
J-F Vayssieres
RVA 3021

9.xi.2012
Korobourou
09°22'13'' N
02°40'16'' E


Mangifera indica

orchard
Quadrat 1, série 1, variété Gouverneur
ground nesting

2

Tetramorium muscorum
B Taylor det.

Gabon
Y Braet
Gabon 185

17-22.v.2006
Pongara
00°34' N
09°19' E

Leaf litter, winkler funnel


4

Tetramorium muscorum
B Taylor det.
Gabon
Y Braet
Gabon 232

27.vi-10.vii.2006
Pongara
00°34' N
09°19' E

Leaf litter, winkler funnel

1