Anochetus bequaerti Forel


Type location Zaïre (Anochetus Bequaerti n. sp., Forel, 1913b: 309, worker)
junior synonyms
abstracta (Anochetus bequaerti For. stirps abstracta n. st., Santschi, 1914e: worker) from South Africa
estus (Anochetus estus n. sp., Wheeler, 1922: 98, worker)
opaciventris (Anochetus opaciventris new species, Wheeler, 1922: 98, worker), both from the stomachs of toads, in Zaïre, at Akenge, by Lang & Chapin (synonymized by Brown, 1978c: 556)
all forms described (Bolton, 1995)

.
---
Forel's (1913b) description is at

. Santschi's (1914e) description of abstracta is at

. Arnold's (1915: 104) translation of Forel (1913) and descriptions of the male and female are at

. Wheeler's (1922) description of estus is at

. Wheeler's (1922) description of opaciventris is at

. Brown's (1978c: 556) description is at

.
---
Brown (1978c) referred to a more brightly coloured form from the West African forests.
From Guinea, Bernard (1952) listed one queen, from Station B 8-10, Zouépo, forest, 1215 m.
Brown reported specimens from Gabon, and Ivory Coast, at Lamto (J. Lévieux).
Collected in Ghana by Belshaw & Bolton (1994b), who described it as widespread (43 workers from 9 sites, plus 2 workers in soil samples) in their leaf litter samples from the semi-deciduous forest zone.
The specimens shown below include two queens matching the type form colouration, as described by Forela (1913b), and workers of the brighter variations.
---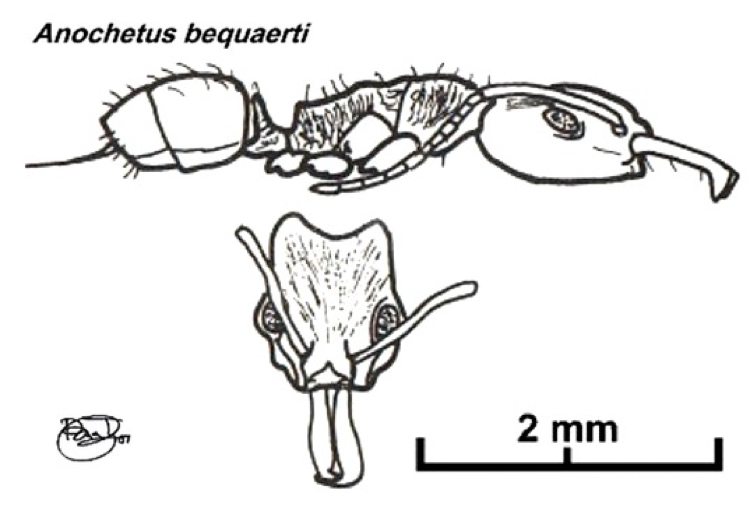 Nigeria specimens (Taylor, 1976: 13). TL 4.56 mm, HL 1.00, HW 1.00, SL 1.00 and PW 0.59
Eyes large, length 0.25 mm. Overall colour castaneous, lighter on head, legs pale yellow and shiny. Dorsum of head finely striate. Alitrunk finely rugose. Apex of petiolar node transversely rectangular. In addition to his diagnostic features, this was described by Brown (1978c) as an extremely variable species, closely related to africanus. Sizes ranging from HL 1.25 to 1.75 mm.
The drawn specimen, collected from a rotten log by Bolton at the Cocoa Research Institute of Nigeria, Idi Ayunre, appears to match what Brown (1978c) described as a "puzzling variant, very small in size...., with relatively large eyes". He thought the anomalous worker could just be a hybrid, or an undescribed species, but that it was most likely "just another manifestation of the extreme variability".
---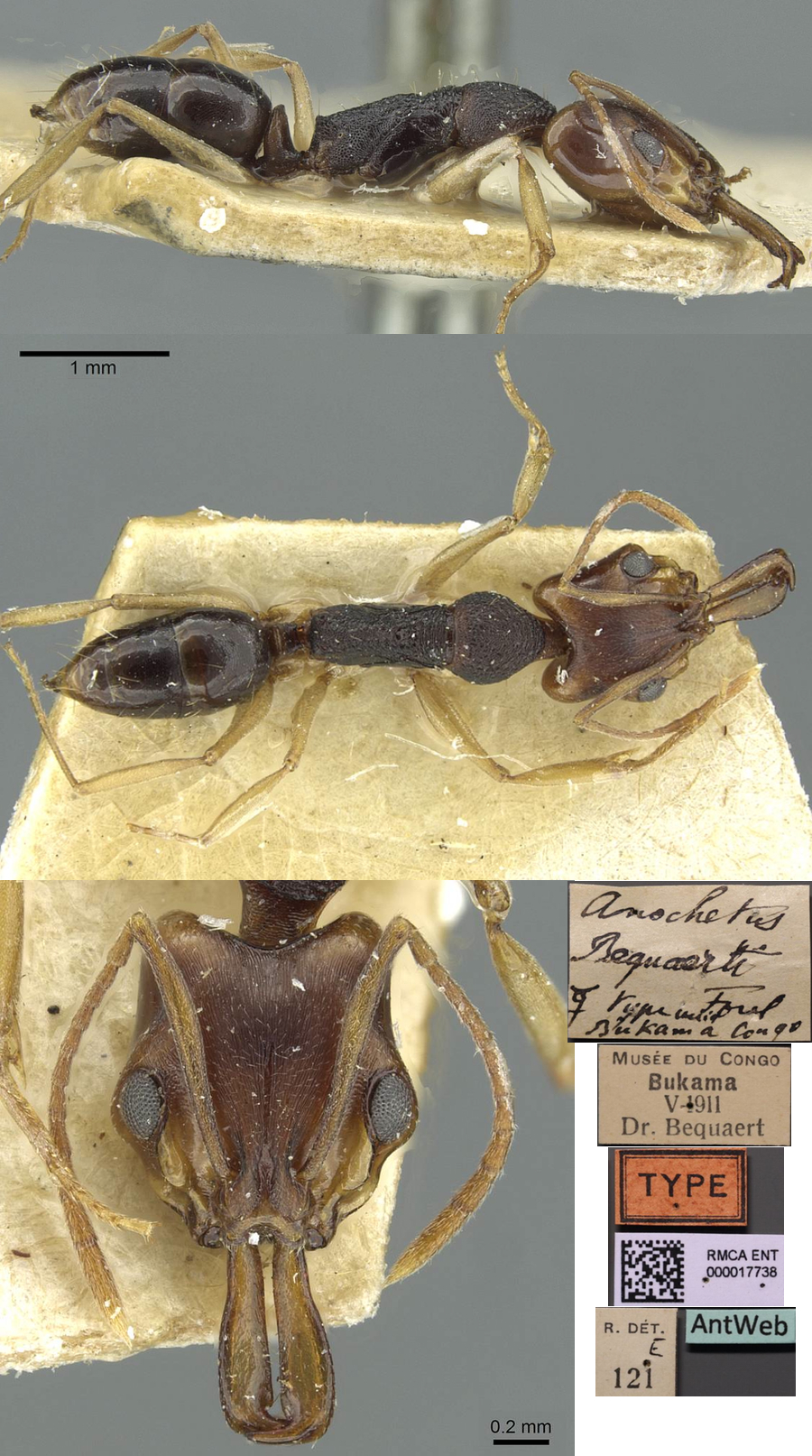 The photomontage of the type worker is collated from http://www.antweb.org/specimen.do?name=rmcaent000017738.
---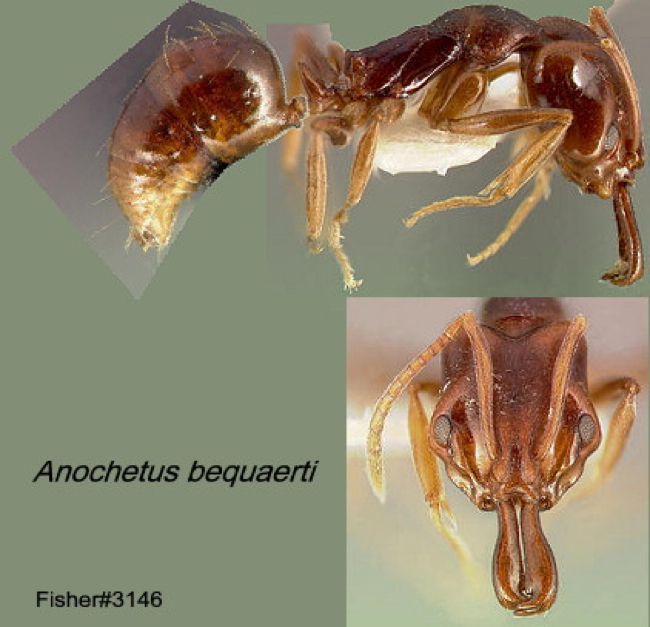 The photomontage is of the worker, in the AMNH collection, described as the holotype of estus by Wheeler (1922), at http://www.antweb.org/specimen.do?name=casent0003146.
Collection details - Locality: Akengi(e), Congo; 02°55'N 26°50'E. Collection Information: Collection codes: ANTC1091. Date: ?. Collected by: H.O.Lang. Habitat: stomach Bufo funereus.
Note that Wheeler described this as deep castaneous brown, almost black, with the appendages, sides and posterior corners of head, mandibles, clypeus and tip of gaster pale brown

---
Oxford University Museum specimens
Anochetus bequaerti
B Taylor det.
Senegal
Lamine Diamé
52

21.v.2012
Thiés
14°45'N
17°03'W

Pout
V9 pitfall 7
tube 05

2

Anochetus bequaerti
B Taylor det.

Liberia
E Poirier
Yekepa Camp 4
PF 12

6.iv.2013
Nimba County
07°33'04" N
08°33'17" E

Pitfall trap
Floodplain & marsh
501 m asl

1

Anochetus bequaerti
B Taylor det.

Benin
S Tchibozo
Benin 6

27.viii.2006
Bonou
06°50-55' N
02°20-30'E
Forêt de Gnanhouizoumè, Pitfall trap
2

Anochetus bequaerti
B Taylor det.
Benin
J-F Vayssieres
RVA 2945

7.x.2012
Korobourou
09°22'13'' N
02°40'16'' E


Mangifera indica

orchard
Quadrat 1, tube 6, variété: Kent
Ground nesting


2

Anochetus bequaerti
B Taylor det. Queen

Central African Republic
P Annoyer
HL
21.x.2008
Dzanga-Sangha
03°03'58.3" N
16°08'59.6" E
Nuit; Camp Au camp
1

Anochetus bequaerti
B Taylor det.

Cameroun
A Fotso Kuate
Anochetus sp 2
26.ix.2007
Matomb
03°54'30" N
11°25'58" E
quadrat in forest

1

Anochetus bequaerti
B Taylor det.

Cameroun
A Fotso Kuate
Anochetus sp 4
20.ix.2007
Awae II
03°54'30" N
11°25'58" E
quadrat in forest
1

---

The photomontage is of a worker from Benin; S Tchibozo (Benin 6)
---

The photomontage is of a worker from Cameroun; Matomb, Fotso Kuate (fk sp 2)
---

The photomontage is of a queen from the Central African Republic, Dzanga-Sangha Nature Reserve, collector Philippe Annoyer
---

The photomontage is of a queen from Ghana, collected by S Sky Stephens, 2006. Other images can be seen in the folder at -