Anochetus pellucidus Emery


Type location Cameroun (Emery, 1902c: 14, worker - paper incorrectly referenced in Bolton, 1995) collected by Conradt
junior synonym aurifrons (Santschi, 1910c: 351, worker) from Congo, Brazzaville, by A. Weiss
worker only described (Brown, 1978: 558; Bolton, 1995)

.
---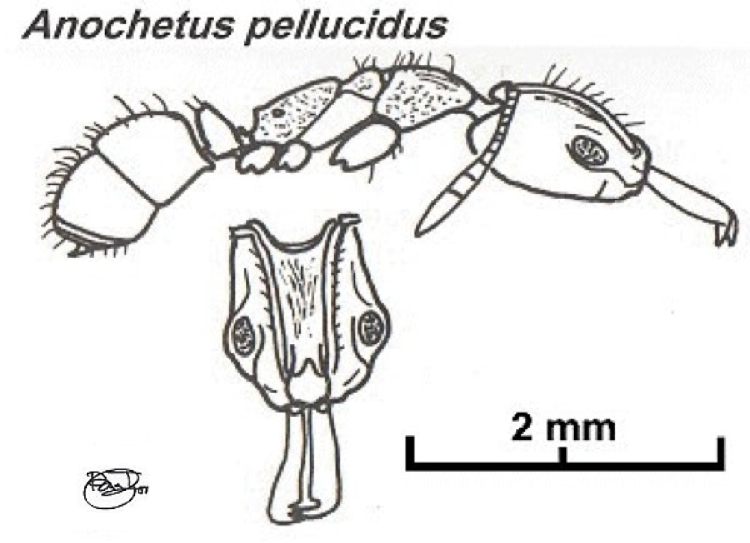 Nigeria specimens (Taylor, 1976: 15). WORKER. TL 5.07 mm, HL 1.09, HW 1.09, SL 1.09 and PW 0.59
Colour golden-yellow, with a shiny transparent cuticle. Head very finely striate, most noticeably on the dorsum. Alitrunk spiculate especially on the propodeum. Petiolar node a scale with a transversely rectangular apex. Eyes large, length 0.28 mm.
I collected it nesting in debris in a cocoa jorquette at the Cocoa Research Institute of Nigeria, Idi Ayunre.
Bernard (1952) recorded a single specimen from Guinea; from Nimba, Camp IV, 1000 m (Lamotte, vi-1942), with a slightly bifid dorsal margin to the petiole.
From Nigeria, Brown (1978c) examined a single worker from in a cocoa tree trunk at CRIN (B. Bolton),
In Ghana, collected by pyrethrum knockdown at Kade by Majer (1975, 1976b), with 27-33 workers per sample. Found in six of Room's (1971) collections from cocoa canopy in southern Ghana. Seven workers were collected by pkd from two areas of the canopy, and one worker from the ground, in a block of Amelonado cocoa by Bigger (1981a). Brown (1978c) had examined specimens from 9-10 km north of Takoradi (2 workers, E.S. Ross and R.E. Leech), Adeiso, pkd (3 workers, D. Leston) and CRIG, from under cocoa bark (1 worker, B. Bolton).
Cameroun specimens seen by Brown (1978c) came from Ekok, 30 km east of Tekmo (E.S. Ross and K. Lorenzen). He also reported findings from Banco Forest, Ivory Coast (1 worker running on a large rotten log in primary forest, W.L. Brown); Zaïre and Gabon.