Anochetus siphneus Brown


Type location Ivory Coast (Brown, 1978c: 608, illustrated, worker), from Bandama River gallery forest, Lamto, (W.H. Gotwald & R. Schaefer) worker only described. Paratypes from Banco Forest, three workers (W.L. Brown).

.
---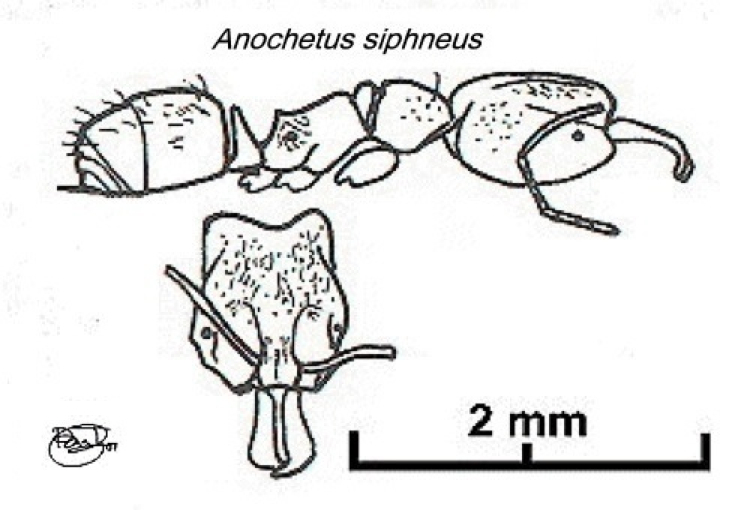 Nigeria specimens (as Anochetus jonesi, Taylor, 1976: 13). WORKER. TL 3.93 mm, HL 0.93, HW 0.93, SL 0.78, PW 0.47
Overall colour yellow-brown, shiny. Head sparsely punctate with sparse pubescence. Pronotum sparsely punctate. Propodeum lightly rugose with a pair of prominent lateral teeth. Petiolar node a scale with a distinctly concave apex, except for the Nigerian specimens which have a flat to ovoid apex. Eyes small, length 0.08 mm.
Collected at the Cocoa Research Institute of Nigeria, Idi Ayunre, under fallen banana stem (B. Bolton). The drawn specimen was collected from cocoa leaf litter at CRIN (B. Bolton).
From Ghana, at CRIG, on mud under dead leaf (B. Bolton).