The Ants of Africa
Genus Camponotus subgenus Tanaemyrmex
Camponotus (Tanaemyrmex) hannae Santschi - new status

Camponotus (Tanaemyrmex) hannae Santschi - new status



Type location Zimbabwe (Camponotus maculatus F. stirps Hannae n. st., Santschi, 1919a: 349, illustrated, range of workers) Victoria Falls, collected by G Arnold

.
---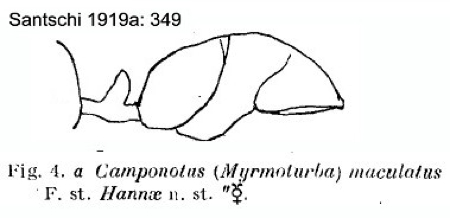 Santschi's (1919a) description is at

. Arnold (1926: 294) gave a translation, this is at

. TL 8-12 mm; major coloured like the Camponotus maculatus race cavallus but this has a shorter more convex alitrunk; the tibiae are compressed and without setae. Zimbabwe, Victoria Falls, collector G Arnold.
---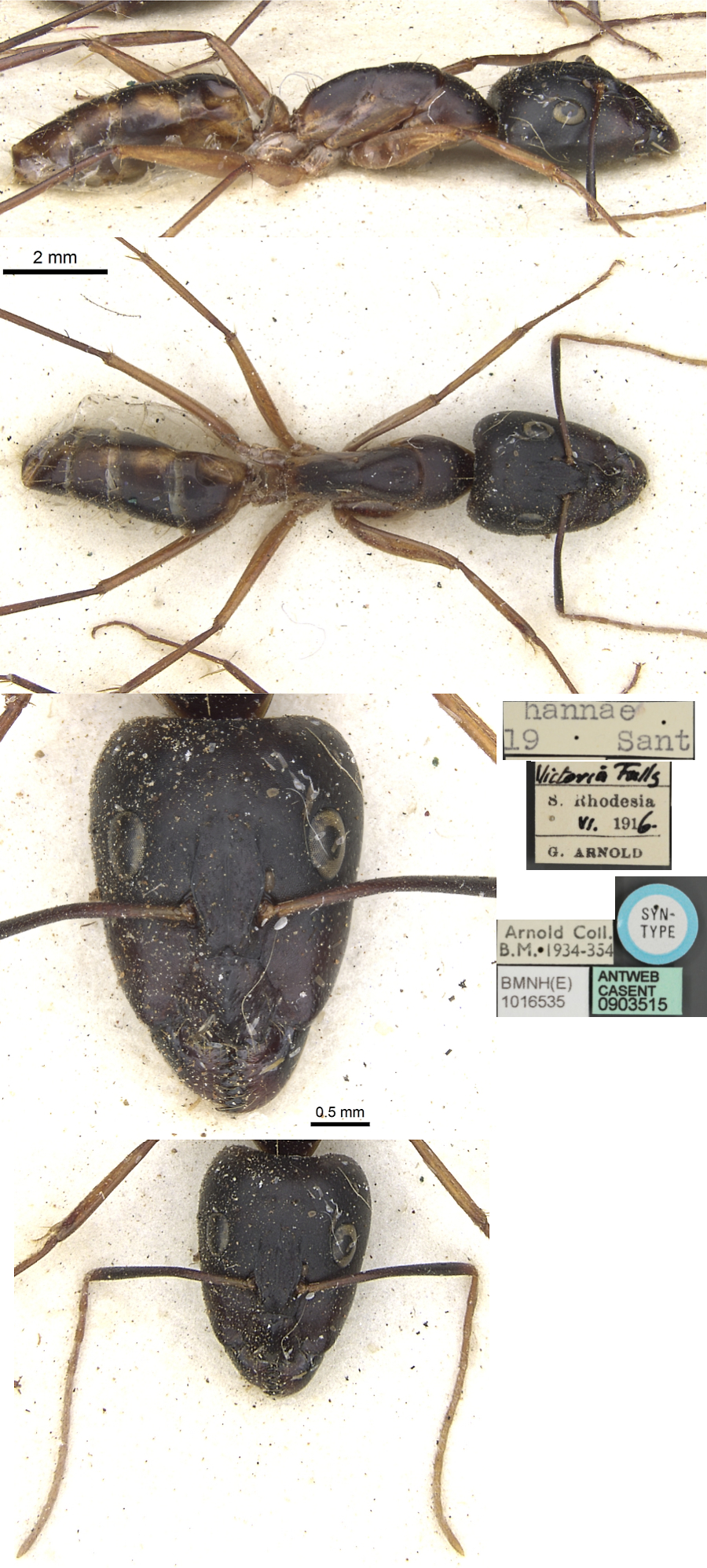 The photomontage is of a syntype major worker collated from http://www.antweb.org/specimen.do?name=casent0903515
---
Oxford University Museum specimens
Camponotus (Tanaemyrmex) hannae


B Taylor det.
Minor

Zambia/
DRCongo
H Silvester Evans

05.ii.1928
Kipushi
11°46'N
27°14'E

solitary on tree

1

---

The photomontage of what it appears may well be a minor of hannae is of a specimen from Zambia, near Kipushi (DR Congo)
11°46'N 27°14'E; 5.ii.1928 solitary on tree; OUMNH; collector H Silvester Evans.
© 2012, 2013 - Brian Taylor CBiol FSB FRES
11, Grazingfield, Wilford, Nottingham, NG11 7FN, U.K.
href="camponotus_hannae.htm"