Camponotus (Tanaemyrmex) wellmani Forel


Type location Angola (Camponotus Wellmani n. sp., Forel, 1909b: 67, major & minor workers & queen)
subspecies
gamma (Camponotus (Tanaemyrmex) wellmani Forel v. gamma n. var., Santschi, 1926b: 257, major & minor workers) Zaïre, Makanga - see http://www.antweb.org/specimenImages.do?code=casent0912079
rufipartis (Camponotus (Dinomyrmex Wellmanni For v. rufipartis n. var., Forel, 1916: 441, worker, queen & male) Zaïre, collected by Kohl - see http://www.antweb.org/specimenImages.do?code=casent0910081
all forms described

.
---
Forel's (1909b) description is at

; Forel's (1916) description of the major and of rufipartis is at

; Santschi's (1926b) description of gamma is at

; from Makanga, Zaïre.
Wheeler (1922) listed four findings of rufipartis from the Lang & Chapin expedition to Zaïre; and many reports from central Africa of the type form.
From Guinea, Bernard (1952) reported the collection of one alate queen at Nion, Mt. Nimba. He noted it as known from Cameroun and Congo.
---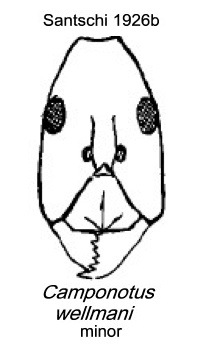 Forel's (1909b) description was -
MINOR - TL 12-13 mm, HL 3.0, SL 5, posterior tibia 5.7; mandibles smooth, with several strong, sparse puncturations; external edge near straight, convex only at the tip, with 7 teeth. Clypeus trapezoidal and carinate, with a marked anterior lobe. Frontal area transverse, rhomboid. Frontal carinae close together, sinuous and slightly divergent. Head 150% longer than anterior width, regularly narrowing from the anterior border to the articulation border, but that is not raised as a collar. Sides of head regularly but only mildly convex. Eyes large and centered at mid-length of the head. Thorax elongated and slender, mildly convex. Propodeum with declivity shorter than dorsum. Petiole scale cuneiform, convex on both faces, near truncated at the summit, slightly higher than long. Tibia slender, subchanneled, with 7-9 tiny oblique spurs and points on the internal edge. Metatarsi channeled.
Moderately shiny, transversely shagreened in a somewhat uniform fashion. With long silky, sharp, red brown hairs spaced across whole body, rising out of punctules. Pubescence sparse, fine, reddish, more abundant on the rear of the head. Tibiae and scapes with oblique short but abundant rusty pilosity.
Colour black with slight brown tint. Legs and scapes dark brown; mandibles and tarsi red brown.
MAJOR - TL 18 mm; HL 5; HW 4.8; shaped as in queen, but more impressed posteriorly; petiole scale as in minor but higher and less slender; strong puncturation spaced out.
FEMALE - TL 24 mm - mandibles strongly puncturate, 8 teeth, feebly convex along external border. Head longer than wide, elongated trapezoid, slightly widened posteriorly and occiput concave. Thorax slightly larger than head. Petiole scale biconvex, more than twice as high as long. Otherwise like minor.
Specimens - minor workers and a queen from Benguela, Angola by Creighton Wellman; single and only major from Kapema, Kipaila, south-eastern Zaïre, by Dr Sheffield Neave.
Forel commented it was the parent of Camponotus caesar but easily distinguished by the shape of the head, with larger mandibles, crossing over less and with shorter teeth.
There does not appear to be any difference between the type workers and the "varieties".