Polyrhachis laboriosa F. Smith


Type location Sierra Leone (Polyrhachis laboriosa, F. Smith, 1858b: 72, illustrated, worker petiole; Mayr, 1896: 250, queen & male), collector Rev. D.F. Morgan - see below
junior synonyms
architecta (Polyrhachis (Myrma) laboriosa Sm. var. architecta n. var., Santschi, 1924b: 224, worker) from Zaïre, Kondue, Luja - see http://www.antweb.org/specimenImages.do?code=casent0912124
hortulana (Polyrhachis (Myrma ) hortula n. sp., Arnold, 1955: 735, illustrated, worker) from Uganda, Entebbe Botanical Garden, G Arnold - no images on Antweb (December 2014)
(see Bolton, 1995)

.
---
F Smith's (1858b) description, with a drawing of the petiole, is at

. Mayr's (1896) description of the male is at

. Santschi's (1924b) description of architecta is at

. Arnold's (1955) description of hortulana is at

. Bolton's modern description (1973b: 308, illustrated, petiole only) is at

---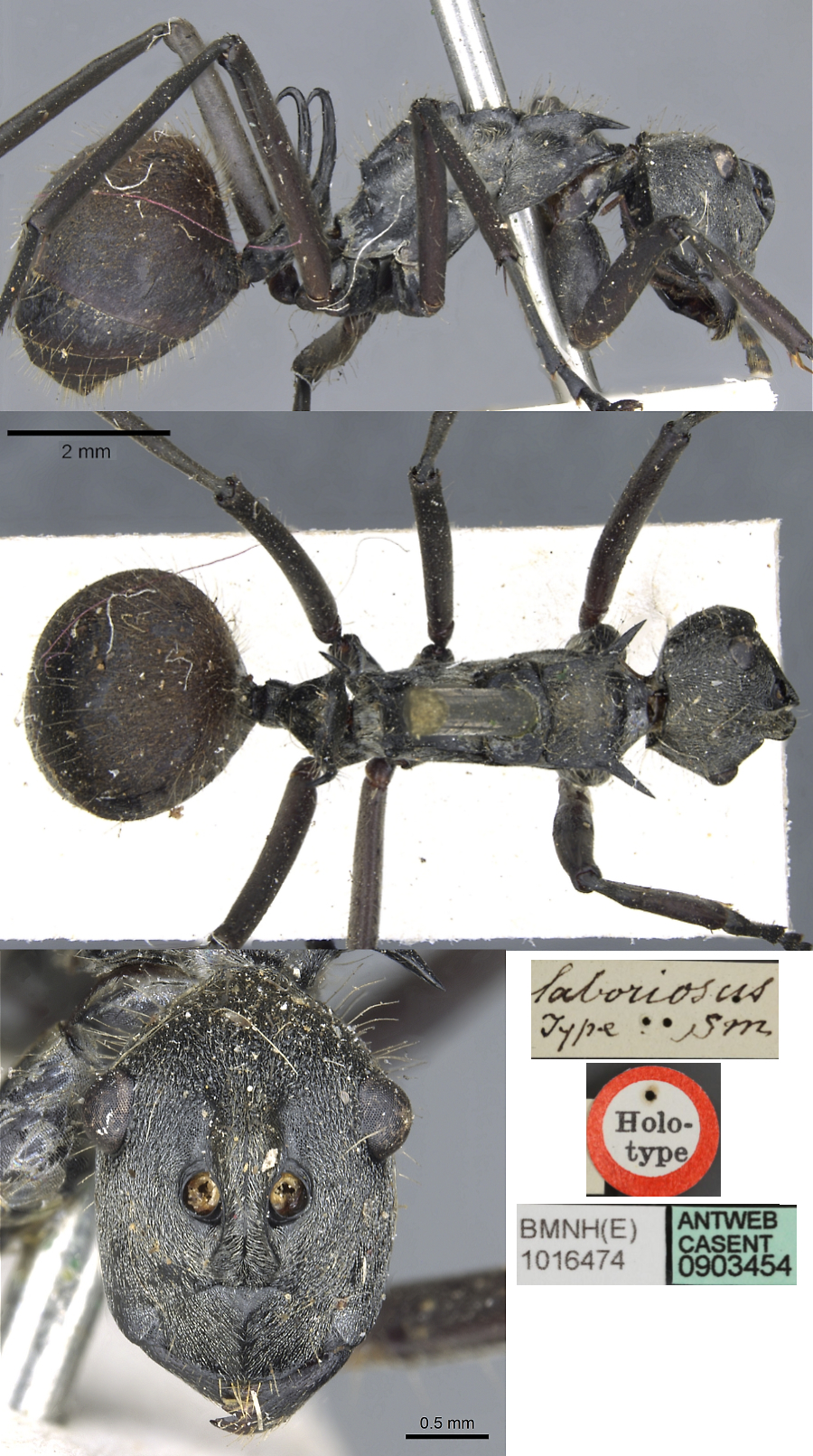 The photomontage of the holotype worker is collated from http://www.antweb.org/specimen.do?name=casent0903454.
---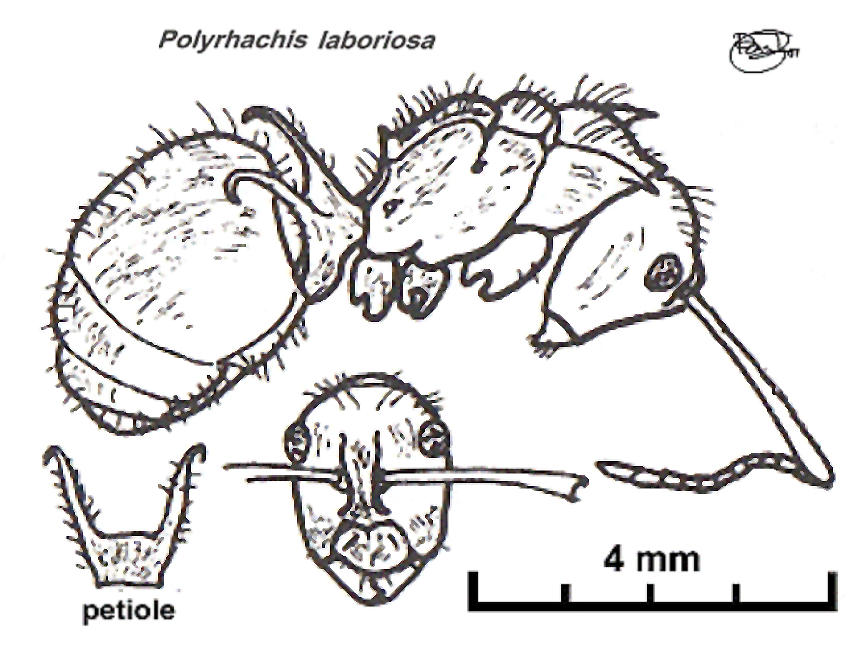 Nigeria specimens (Taylor, 1978: 19). WORKER. TL 10.2-11.6 mm, HL 2.15-2.25, HW 1.56-1.81, SL 2.85-2.3.34, PW 1.19-1.36
Distinguished by a petiole which has a single pair of long dorsal spines with strongly hooked apices. All dorsal surfaces with numerous erect hairs, varying in colour from grey to golden-yellow. Pubescence dense usually grey on the head and alitrunk, golden or bronzy on the gaster. Alitrunk marginate throughout its length, interrupted by impressions at the sutures. Pronotum and propodeum weakly concave transversely.
I occasionally found it foraging on cocoa, also on kola.
---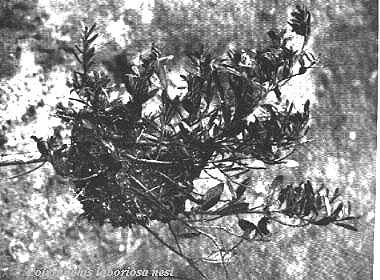 A fairly common arboreal species which constructs nests of vegetable fragments and small twigs bound together by silk and fungal hyphae and adherent to the undersides of leaves or in the fork of small branches. Appears to be restricted to forested areas, although Lenoir & Déjean (1994) noted that it lives on pioneer trees and the edge of forest tracks in Cameroun.
Wheeler (1922) listed findings from Ivory Coast (Assinie by C. Alluaud), Ghana (by Ganger), Togo (Bismarckburg, by Conradt), Nigeria (Lagos, F. Silvestri), Cameroun (Sjöstedt, H. Brauns, at Bipindi by Zenker, at Bibundi by Tessmann), also elsewhere in tropical Africa. Forel (1911f) found specimens in the Congo Museum from Zaïre, Congo da Lemba, by Mayné.
Bernard (1952) reported it from Guinea, with findings from the Mt. Nimba surveys, forest and savanna areas; Nion, N'Zo, Sérengbara, Thio, Yanlé, Yalanzou; moderately abundant, form close to the type.
In NigeriaBolton (1973b) listed his own finding at CRIN, plus others at Lagos (G. Strachan) and Itu (W.A.C. Cockburn). Earlier from CRIN, perhaps on 1-2% of cocoa in pkd collections from two cocoa blocks, W13/2 and W18/1 (Booker, 1968).
Bolton (1973b) also lists several findings in Ghana; at Bibianaha (Spurrel), Ankasa Forest Reserve (O.W. Richards), near Kumasi (B.M. Gerard), CRIG (C.A. Collingwood), Bawdna (N.D. Jago) and Adeiso (P.M. Room). Other reports are by Majer (1975, 1976b), using pkd, with 51-135 workers per sample, at Kade. Also on cocoa mistletoe and in the canopy survey by Room (1971, 1975), who found in 19/168 samples and positively associated with Tetramorium aculeatum.
Bolton's very wide listing (1973b) indicates that it can be found throughout the forests of sub-Saharan Africa.
---
Oxford University Museum specimens
Polyrhachis laboriosa
B Taylor det.
Liberia
E Poirier
Liabala
PF 1

2.iv.2013
Nimba County
07°31'06" N
08°35'34" E

Pitfall trap
Secondary forest
473 m asl


1

Polyrhachis laboriosa
B Taylor det.

Central African Republic
P Annoyer
Camp 6-01

22.ii.2005
Dzanga-Sangha
02°55'04.8" N
16°10'09.7" E

Camp 6; edge R Mossoumba; 1500 h; 450 m asl

1

Polyrhachis laboriosa
B Taylor det.
Central African Republic
P Annoyer
NQ

24.xi.2010
Dzanga-Sangha
2°28'49.5"N
16°12'55.9"E

392 m; nuit : 17h45 - 6h30, UV, Azobé, canopée (35 m), camp de base lac 1

1

Polyrhachis laboriosa
B Taylor det.
Congo
Y Braet
t-1-16

19.viii.2007
Brazzaville
4° 15' 33" S
15° 17' 5" E

24h pitfall trap; forest around the GERDIB laboratories; 317 m asl

1

---

The photomontage is of a worker from the Central African Republic, Dzanga-Sangha NP; 22.ii.2005, Camp 6; collector Philippe Annoyer
---

The photomontage is of a worker from t Congo, Brazzaville; collectors Yves Braet & Eric Zassi (t-1-16)