---
Cataglyphis bombycinus (Roger)


Type location Libya (Formica bombycina, Roger, 1859: 232, illustrated, all forms) - no images on Antweb (July 2014)
junior synonym phaeogaster (Camponotus phaeogaster, Walker, 1871: 10, worker; synonymy Dalla Torre, 1893: 217) from Saudi Arabia - no images on Antweb (July 2014)
subspecies bruneipes (Myrmecocystus (Cataglyphis) bombycinus Rog. v. bruneipes n. var., Santschi, 1911i: 287, worker) from Tunisia - see below
all forms known.
With the fresh specimens, especially a major, I have elevated Cataglyphis bombycinus subspecies sinaiticus (Wheeler & Mann, 1916: 173, soldier & worker) from Egypt to species status as Cataglyphis sinaiticus.
---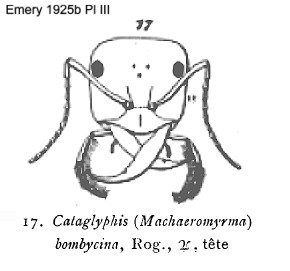 Roger's (1859) description is at

and

. Walker's (1871) description of phaeogaster is at

. Santschi's (1911i) description of bruneipes is at

.
Agosti (1990a) synonymised "Camponotus phaenogaster" (Walker, 1871: 10) with bombycinus (based on the description apparently as he did not find the original specimens in London; the name is mis-spelt, as Walker used phaeogaster.
A desert species (Finzi, 1940); Agosti (1990a) listed syntype workers from Sudan (Red Sea & Nubia, legs. Schaum, Ehrenberg, Sichel).