Crematogaster (Crematogaster) gallicola Forel


Type location Mozambique (Cremastogaster gallicola, n. spec., Forel, 1894b: 484, worker; Arnold, 1920a: 532, queen) Delagoa in a "Stengelgalle", Dr Liengme - see below
junior synonym (here) latro (Cremastogaster gallicola Forel subsp. latro n. subsp., Forel, 1910f: 6, worker) from Botswana, Kalahari, L Schultze - see below
Worker & queen described (see Bolton, 1995)

.
---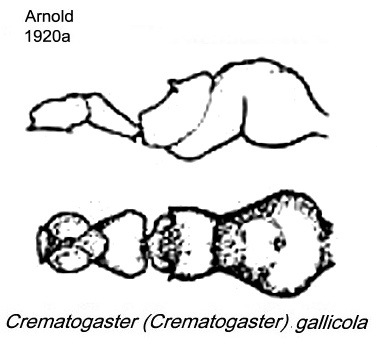 Forel's (1894b) description is at

. Forel's (1907a) description of rauana is at

. Forel's (1910f) description of latro is at

. Arnold (1920a) gave an illustrated translation of the type and latro, this is at

.
With a fresh specimen from near the type location in Tanzania, I have separated Crematogaster rauana, originally described as a variety of gallicola by Forel (1907a: 22, worker) as a distinct species.