Dorylus (Anomma) funereus Emery


Type locality Ghana (Dorylus (Anomma) nigricans Illig. variety funereus n. var., Emery, 1895j: 712, male; raised to species by Emery, 1910) - see below.
varieties
acherontus (Dorylus (Anomma) funereus Em. v. acherontus n. v., Santschi, 1937b: 97, male) from Congo - see http://www.antweb.org/specimenImages.do?code=casent0911285
pardus (Dorylus (Anomma) funereus Em. v. pardus n. v., Santschi, 1937b: 97, males) from Zaïre, Akavubi, Dr Chresty - see http://www.antweb.org/specimenImages.do?code=casent0911286
stygis (Dorylus (Anomma) funereus Em. v. stygis n. v., Santschi, 1937b: 97, males) from Zaïre, Elizabethville, Le Moult - see http://www.antweb.org/specimenImages.do?code=casent0911287
zumpti (Dorylus (Anomma) funereus Em. v. zumpti n. v., Santschi, 1937b: 96, illustrated, male) from Cameroun, collected on Mt. Cameroun, by Dr. F. Zumpt, xi.1935 - see http://www.antweb.org/specimenImages.do?code=casent0911288
male only known (see Bolton, 1995)

.
---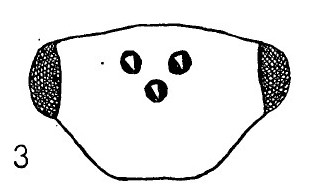 Emery's (1895j) very brief description is at

. Santschi's (1937b, illustration right) descriptions of varieties are at

and

Emery (1899e: 461) emphasised that these brown winged males had an exceptional convexity to the anterior of the face, very different to the two smoky winged species that he had seen - nigricans, in two forms - from Sierra Leone, the type location, and Cameroun-Congo; the latter he thought might be of wilverthi as it was found with workers of that species.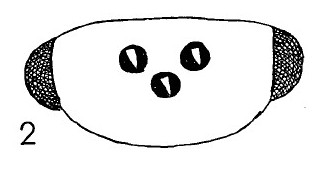 Cameroun also by Conradt (Wheeler, 1922). Wheeler also reported males from three Zaïre locations. Forel (1909b) recorded males from Sankuru, Kasai, Zaïre, collected by Luja; Cameroun, Mukonje Farm, by R. Rhode (described in his notes on nigricans as seeming to be var. funereus).
A single male was collected at Ziéla, Guinea, forest border (Bernard, 1952).
---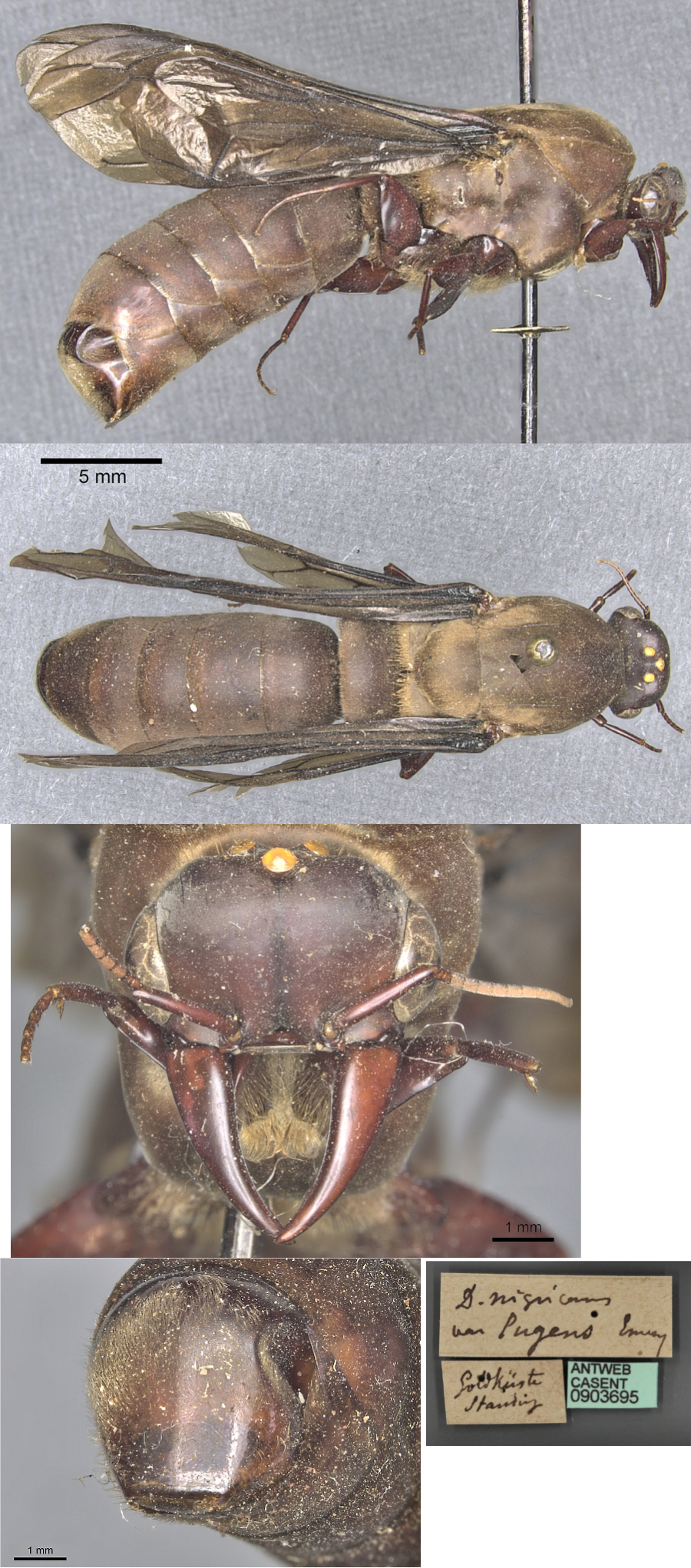 The photomontage is of a type male collated from http://www.antweb.org/specimen.do?name=casent0903695
The name on the label appears to be unpublished. Head from above as Santschi (1937b. 2)

---
Oxford University Museum specimens
Dorylus (Anomma) funereus


B Taylor det.
Male

Central African Republic
P Annoyer
1998-04


9.vii.1998
Dzanga-Sangha



Bayanga-Lidjombo; U.V. 19h-05h; LAYON PK 21 5.0 RCA
1

---

The photomontage is of a male from the Central African Republic, Dzanga-Sangha NP; collector Philippe Annoyer. Head from above as Santschi (1937b: 3) for zumpti.