The Ants of Egypt
SUBFAMILY FORMICINAE - Genus Lepisiota - Lepisiota melas (Emery)
Lepisiota melas (Emery)


Miscellaneous list


Iran list

Type location Greece (Acantholepis frauenfeldi Mayr var melas n., Emery, 1915h: 3, worker; Finzi, 1932: 25, queen; Finzi, 1939c: 158, male; stirps of frauenfeldi in Santschi, 1917d: 44; raised to species by Agosti & Collingwood, 1987a: 57, name only) Rhodes - see below.
---
Emery's (1915h) description is on


TL not stated; alitrunk minutely transversely striated and more or less flat; petiole with sharp spine like teeth.
---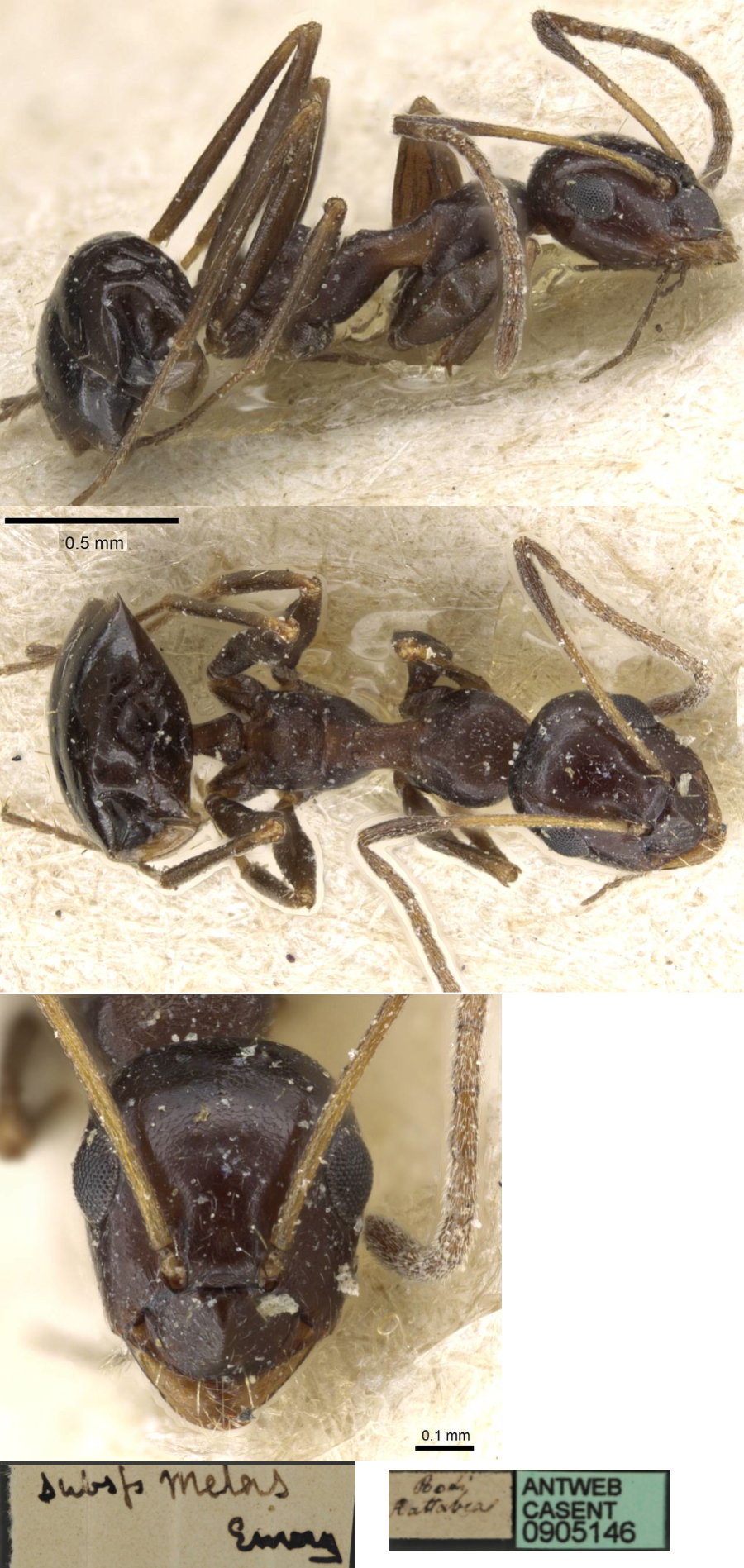 Photomontage of holotype collated from http://www.antweb.org/specimenImages.do?code=casent0905146

A fresh specimen can also be seen on https://www.antweb.org/specimenImages.do?code=casent0179894
Other specimens on Antweb appear to be misidentified, as the colour is too bright and they lack the distinct very fine spiculate sculpture..
---
Oxford University Museum specimens
Lepisiota melas
B Taylor det.


Tunisia
T Stalling
MYR0726


10.iv.2010
Nabeul
36°27'03.4" N
10°34'14.5" E

Bir Bou Rebka
50 m


1

---

The photomontage is of a worker from Tunisia, collector Thomas Stalling.
©2016, 2017 - Brian Taylor CBiol FRSB FRES
11, Grazingfield, Wilford, Nottingham, NG11 7FN, U.K.
href="lepisiota_melas.htm"