Miscellaneous ants - Israel
SUBFAMILY MYRMICINAE - Genus Messor
Messor luridus Santschi
Messor luridus Santschi

Miscellaneous list

Type location Turkey (Messor luridus n. sp. Santschi, 1927c: 245, workers; first description was unavailable name Stenamma (Messor) barbarus L. subsp. caducus Motsch. var. lurida Emery, 1898c: 139, workers) Biledjik, Dr Escherich - no type images on Antweb (January 2016).
Subspecies virginalis (Messor luridus emery v. virginalis n. var. Santschi, 1927c: 245, major worker) from Syria, Latakia (Lattaguiech) by Gribodo - see below
---
Emery's (1898c) description is at


Santschi's (1927c) description is at

.
---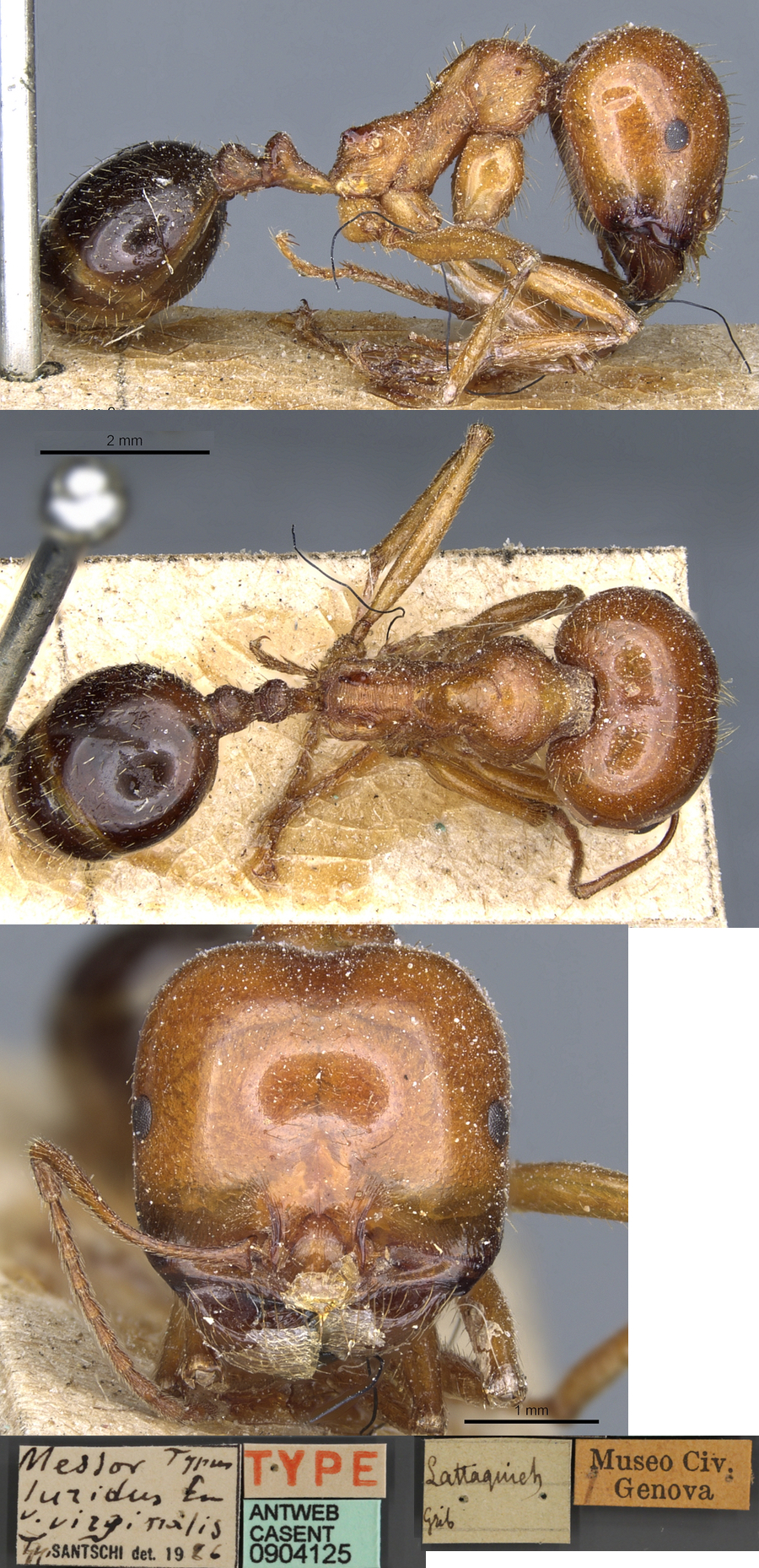 The photomontage of the virginalis type major worker is collated from https://www.antweb.org/specimenImages.do?code=casent09041252 .
---
Oxford University Museum specimens
Messor luridus
B Taylor det.


Jordan
T Stalling
MYR0237


29.v.2009
Ajloun
39°19'21.5" N
35°43'03.5" E

Ajloun governorate, Ajloun
900 m
minor worker

1

---

Major - The photomontage is of a minor worker collected in Jordan by Thomas Stalling.
©2016 - Brian Taylor CBiol FRSB FRES
11, Grazingfield, Wilford, Nottingham, NG11 7FN, U.K.
href="messor_luridus.htm"