The Ants of Africa
Genus Monomorium
Monomorium vonatu Bolton
Monomorium vonatu Bolton


Type location Ghana (Bolton, 1987: 420, not illustrated) at Mampong (P.M. Room, 10.ii.1970), holotype worker only

.
---
Bolton's description (1987) is at

.
WORKER - TL 2.0 mm; clypeal carinae sharp and conspicuous, widely divergent anteriorly and with enclosed area flat; petiole and postpetiole both with a high narrow node with a sharp edge where the anterior and posterior faces meet; colour glossy black (Bolton, 1987).
---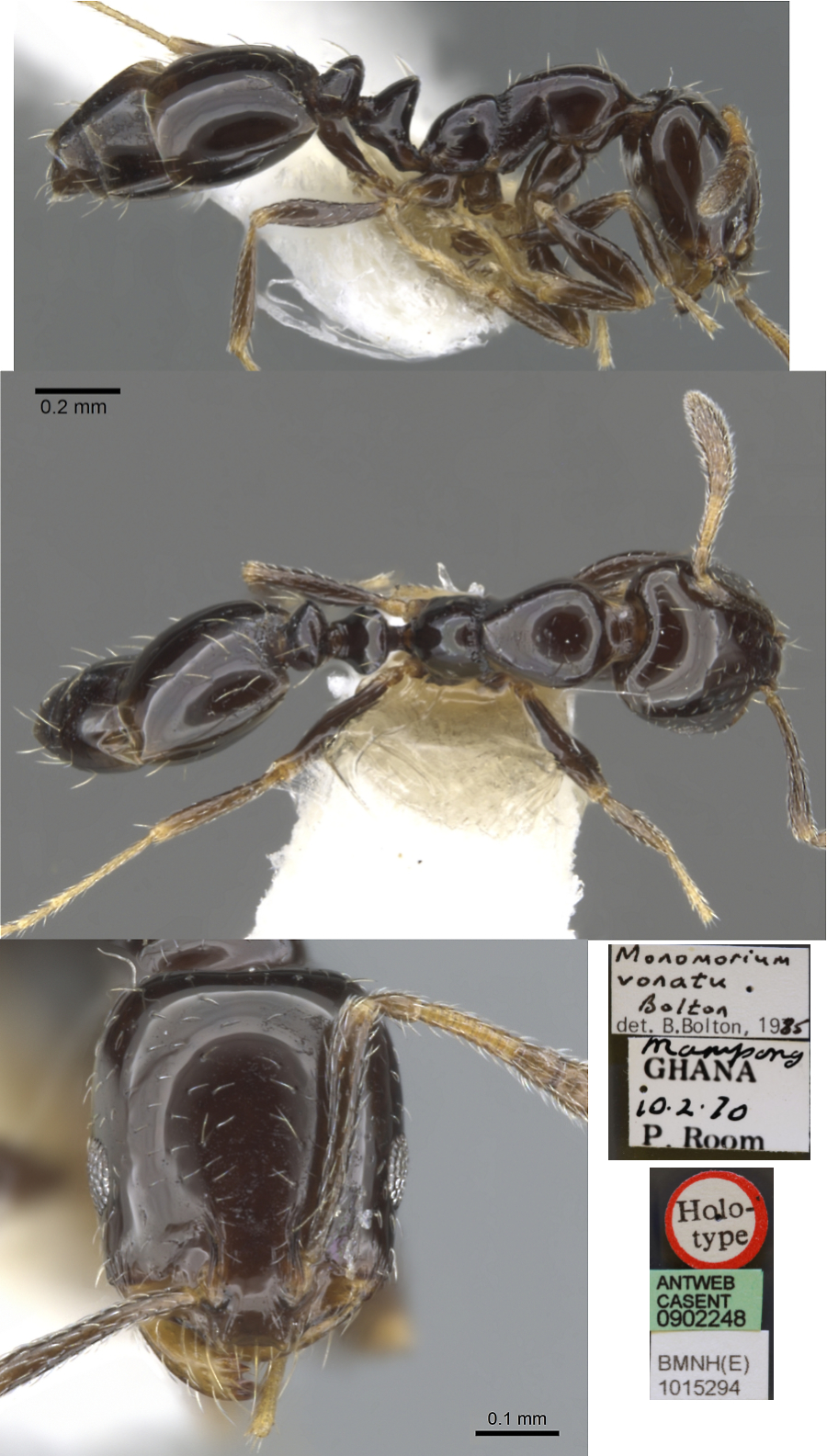 The photomontage is of the holotype worker collated from http://www.antweb.org/specimen.do?name=casent0902248
---
Oxford University Museum specimens
Monomorium vonatu


B Taylor det.
Senegal
Lamine Diamé
04


2012
Thiés
14°45'N
17°03'W
Pout
S. saiche


5

---

The photomontage is of a worker from Senegal, collector Lamine Diamé (04)
---

The photomontage is derived from that shown on http://sifolinia.blogspot.com/2007/11/monomorium-vonatu.html, taken by Mike Lush, Gambia, 3.iv.2007. If the scale is right, the specimen seems rather small (TL < 1.4 mm)

© 2007, 2008, 2013, 2014 - Brian Taylor CBiol FSB FRES
11, Grazingfield, Wilford, Nottingham, NG11 7FN, U.K.
href="monomorium_vonatu.htm"