Camponotus (Tanaemyrmex) oasium Forel


Iran list

Type location North Africa oases (Camponotus rubripes r C. oasium n. stirps, Forel, 1890a: lxv, major & minor workers & queen; Forel, 1902a: 158, male, record no description; revived status as species Collingwood, 1961a: 75) - queen shown below

---
The type location is unclear but Forel (1886f) has the Oasis de Bahrych as the first site on his list and later (1890a) wrote of the ant of African oases.
In THE NATURALIST. ILLUSTRATIVE OF THE ANIMAL, VEGETABLE, AND MINERAL KINGDOMS. WITH HIGHLY-FINISHED COLOURED ENGRAVINGS AND WOOD CUTS - CONDUCTED BY B. MAUND, F.L.S., and W. HOLL, F.G.S. VOL. I. LONDON: R. GROOMBRIDGE, PATERNOSTER ROW. M.DCCC.XXXVII. http://www.archive.org/stream/naturalistmaundh12lond/naturalistmaundh12lond_djvu.txt
There is a short paragraph -
"EXTRACTS FROM FOREIGN SCIENTIFIC JOURNALS. 1. — Mr. M. A. Lefebvre, in a memoir contributed to the Entomological Society of France, mentions having observed, while travelling in various parts of Egypt, particularly in an excursion to the Oasis of Bahrych, an orthopterous insect, which lives in the sands perfectly destitute of vegetation. He examined several species, each differently coloured according to the nature of the soil, which they so exactly resembled that it was difficult to perceive them. What, therefore, is the nourishment of animals like these, organized to exist upon living prey? They are found in localities in which no herbivorous insect could exist, and Mr. Lefebvre has never discovered the slightest vestige of vegetable or animal matter with them. On the other hand, their elytrae and wings, being ill adapted to flight, prevent the idea of their migrating like Crickets. Are they, then, reduced to subsist upon the prey conveyed to them occasionally by the winds? or do they live by devouring each other ? These are the questions which he has not been able to resolve, notwithstanding his most patient and minute observations of this singular insect. He has named it Eremiaphiles, from its peculiar habitat : some species have already been figured in the great work on Egypt, but without descriptions. Lefebvre has added several others, one particularly remarkable in the articulations of the tarsi, which are four in number on the anterior feet, and three on the two other pairs. This fact is extremely important, and offers a new objection to the classification of entomology by the tarsi, which has also been shaken by several analagous facts, and must ultimately be abandoned, notwithstanding its convenience. The above observations have induced Lefebvre to constitute of this species a new genus, which other general characters tend to induce. We regret extremely that we are not, at this moment, able to give a more detailed description of this extraordinary paradox in entomology."
---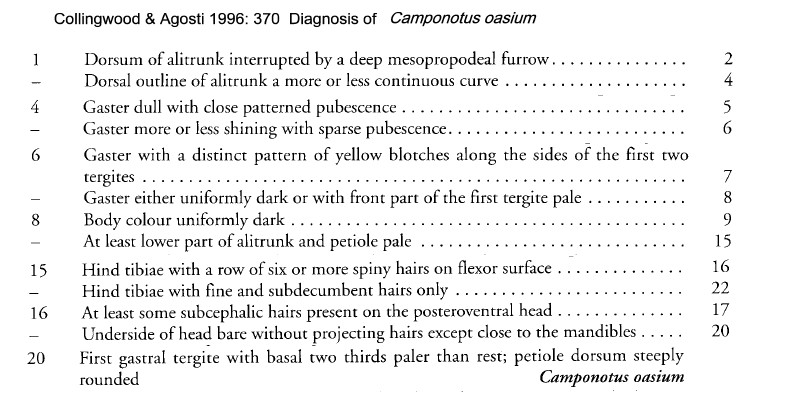 The poverty of Forel's descriptions make it difficult to know if the specimens below actually are C. oasium, not least because Forel stated it was smaller than a minor of C. maculatus. However, the size range he gave was TL 7-16 mm and this within that range. Camponotus maculatus was given a size range of 8-16 mm by Mayr (1862). Specimens of maculatus I have seen fit that range. Additionally, Forel wrote "les (workers) minor sont plus claire que les (workers) major". Resolution requires major workers.
Distinctive features of these minors are the near rectangular anterior margin of the clypeus, bearing a fringe of strong setae; the longitudinal flat or medianly impressed area of the dorsal propodeum; the petiole profile with a convex anterior and vertical flat posterior; a line of short setae on the ventral face of the hind tarsi. The angular propodeum would place the species in the pompeius-group.
This appears to meet the criterion of Collingwood & Agosti (1996: 370) in their key to species from Saudi Arabia (extracted right).