Pheidole orientalis Müller - new status

Egypt list


Iran list

Type location "the Orient" (Pheidole pallidula Nyl., subsp. arenarum Ruzsky var. orientalis n., Emery, 1915j: 230, the pallidula of Ruzsky, 1905: 643, illustrated, all forms; Pheidole pallidula orientalis (Emery), emend., Müller, 1923: 69, soldier & worker).
Separated here from Pheidole pallidula and Pheidole arenarum

---
Ruszky's (1905) description orientalis (as pallidula) & arenarum is at

. Emery (1915j) gave an illustrated note on orientalis & arenarum, this is at

.
Mayr (1880: 38) wrote in his note on "Pheidole pusilla" how he regarded P. pallidula as known from southern Europe and Algeria, whereas P. pusilla was cosmopolitan into the south European peninsulas, with soldiers that had long propodeal spines being P. pusilla; the note is at

.
---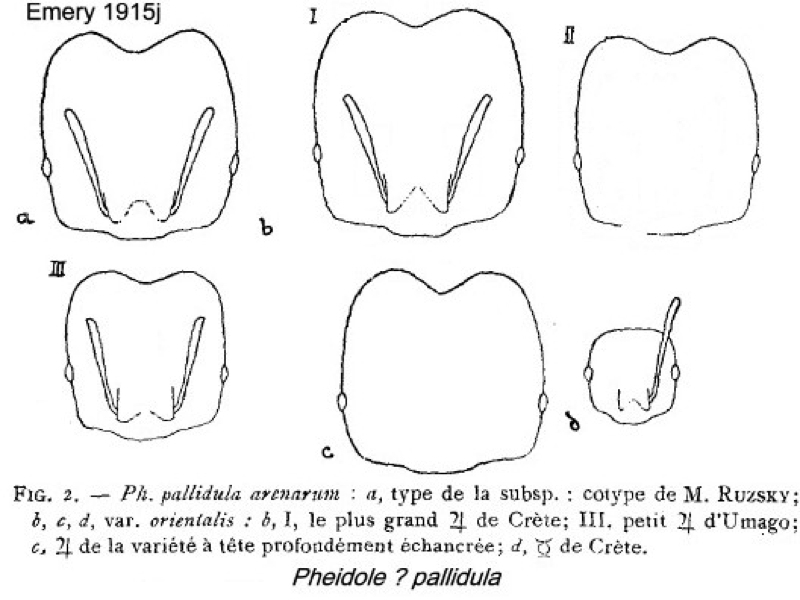 Emery (1915j: 229) emphasised that the type form was not found in Asia, and Ruszky was wrong, what Ruszky described as pallidula was an undescribed form. Emery called that orientalis and regarded it as very close to the Ruszky subspecies arenarum. He noted also the identity of "Pheidole pusilla" of Mayr (1877, 1880, Fedtschenko voyage to Turkestan) and megacephalo-pallidula of Emery & Forel (1979) were probably of this eastern form. Emery had not seen those reported from Egypt or from the Balkans.
Emery (1915j) noted the minor of arenarum and its variety orientalis had the head widely truncate posteriorly, with more rounded posterior angles; the scape surpassed the occipital border by one-third of its own length, e.g. much more than in the type form minor. The pedicel was like the type but sometimes the propodeal spines were longer. Dark brown or chestnut brown; the major head was lighter, brownish yellow-red. On orientalis he drew attention to the sides of the head being more cuvred than in arenarum,
Specimens from the "Orient" were all or the "plus claire" paler orientalis variety. He reported specimens sent to him from the Adriatic are by Dr K Wolf, where the paler type form was found in the northern Trieste area but specimens from the southern Umago and Rovigno were all of the dark orientalis variety
---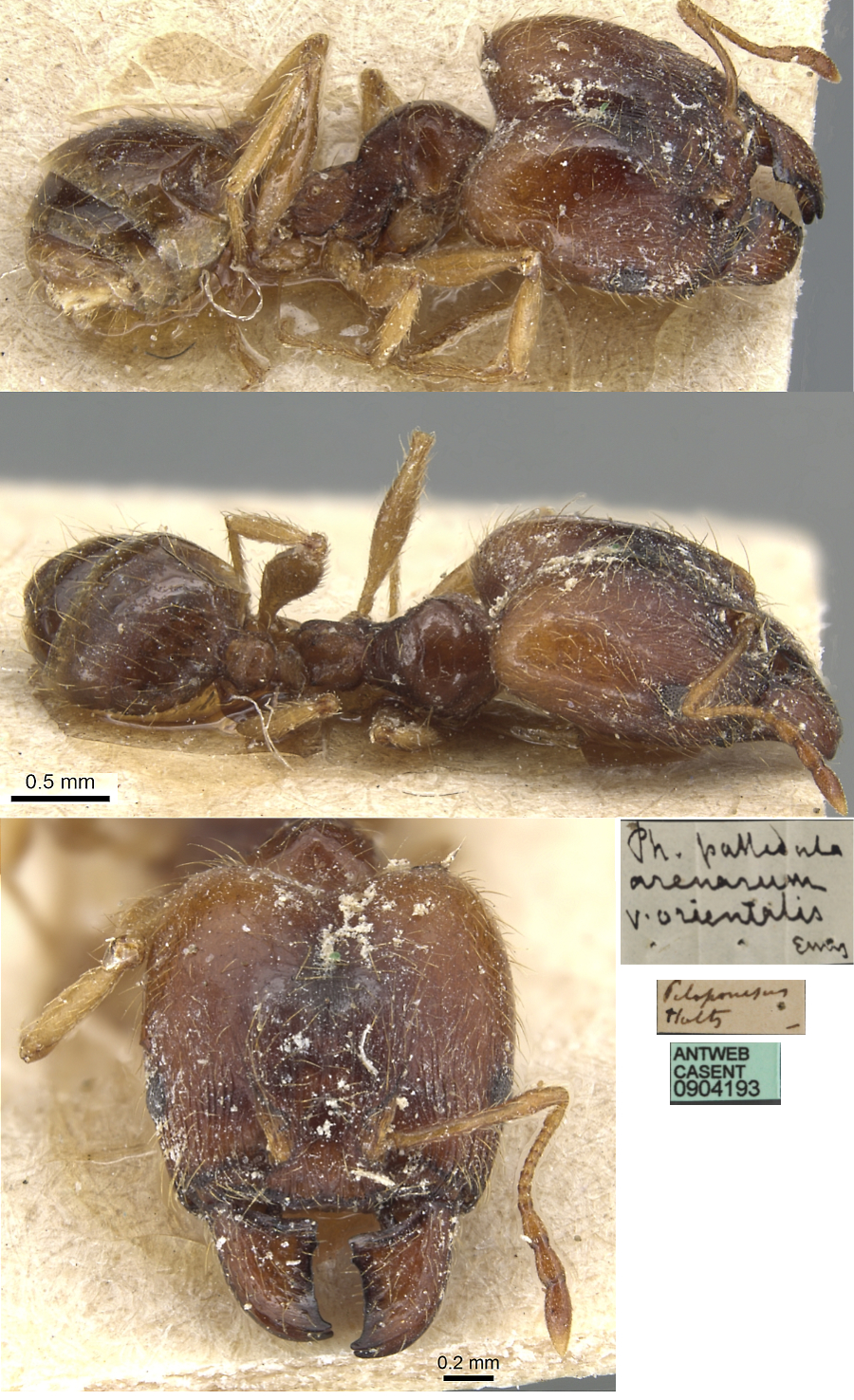 The photomontage of a major worker, from among those listed by Emery (1915j), is collated from http://www.antweb.org/specimen.do?name=casent0904193.
---
With the availability of fresh specimens from Israel and Saudi Arabia, the link pages give fresh photographs and descriptions of
Major workers; Minor workers
---
Oxford University Museum specimens
Pheidole orientalis
B Taylor det.


Israel
A Ionescu



23.iii.2007
Shoham
30°39' N
34°26' E

hand collected
majors & minors

8

Pheidole orientalis
B Taylor det.



Saudi Arabia
M Sharaf


1.iv.2004
Abha
18°12'59" N
42°30'19" E

Wadi Abha
majors & minors

4

Pheidole orientalis
B Taylor det.

Saudi Arabia
M Sharaf



10.i.2008
Abha
18°18' N
42°44' E

Abha Khamis Road
majors & minors

2

Pheidole orientalis
B Taylor det.



Saudi Arabia
M Sharaf


15.iv.2008
Dalaghan-Asir
18°05' N
42°43' E

major

1

Pheidole orientalis
B Taylor det.
Iran
S Moradloo
12

2.v.2013
36.61°N
48.28°E

Gholi Kandi
1911 m 27°C
Forest, on trees
Major worker, body and head separate

1

Pheidole orientalis
B Taylor det.
Iran
S Moradloo
13

2.v.2013
36.61°N
48.28°E

Gholi Kandi
1911 m 27°C
Forest, on trees
Major & minor workers

7

Pheidole orientalis
B Taylor det.
Iran
E Aram
30


16.vii.2012
37.27°N
48.17°E
918 m

Mazraeh
918 m
hand collected, village riverside
major worker

1