Pheidole providens (Sykes)


Type location India (Atta providens Sykes 1835: 103, illustrated major worker; in Pheidole, Westwood, 1839: 219; possible senior synonym of P. indica, Bingham, 1903: 220, footnote) from Poona, collector Sykes - no images on Antweb (November 2014)
junior synonym indica (Pheidole indica n. sp., Mayr, 1879: 679, soldier, worker & queen; Forel, 1902c: 199, male; see also Bingham, 1903: 263; Menozzi, 1939a: 298; and, Ogata, 1982: 196) from India, new synonymy - shown on linked major and minor pages (see below)
subspecies
coonoorensis (Pheidole indica v. coonoorensis n. var., Forel, 1902c: 185, major) from India, Coonoor, collector Wroughton - see http://www.antweb.org/specimenImages.do?name=casent0907895
himalayana (Pheidole indica r. himalayana n. subsp., Forel, 1902c: 185, major, 199, minor worker & male; raised to species by Bingham, 1903: 264; subspecies of indica in Emery, 1921f: 91 (catalogue), Menozzi, 1939a: 298, and Pisarski, 1967: 385) from India, Cachemire, collector Lorinere - see http://www.antweb.org/specimenImages.do?code=casent0907897
rotschana (Pheidole indica r. rotschana n. subsp., Forel, 1902c: 185, major; raised to species by Bingham, 1903: 264; subspecies of indica Forel, 1909e: 394, and, Forel, 1911i: 222) from India, Poona, collector, Wroughton - see minor at http://www.antweb.org/specimenImages.do?code=casent0907900


.
Ogata also listed Pheidole striativentris Mayr, 1879: 678. INDIA, Calcutta, as a new synonym of P. indica. Ogata, however, listed only apparently self-collected specimens from Japan as those he examined. Mayr (1879: 675) clearly set out the separation of the major workers in his key and in his description gave the gaster as with the basal third sculptured with striations. Mayr (1879) gave the sizes as: major worker, TL 4.5-5.5 mm; minor worker, TL 2.9-3.0 mm; queen, TL 8.5 mm.
---
Sykes's (1835) description of providens is at

. Mayr's (1879) description of indica is at

. Forel's (1902c) descriptions of coonoorensis, himalayana and rotschana, all minor workers, plus a male of rotschana, are at

. with his key separation of majors at

. Bingham's (1903) description is at

. Menozzi's (1939a) record and key is at

. Ogata's (1982) key is at

.
---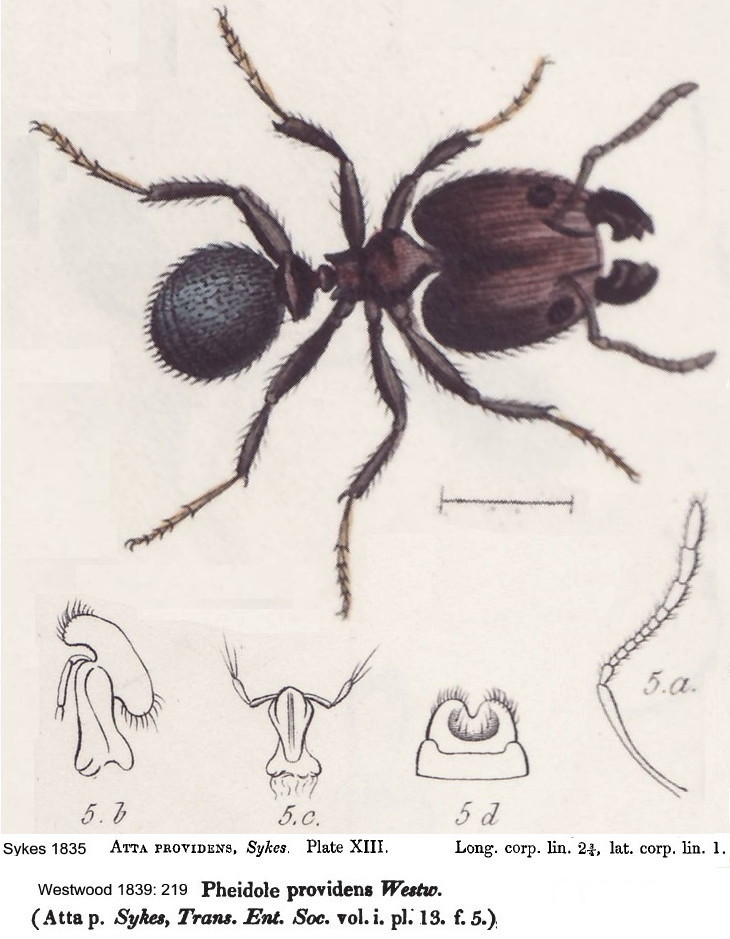 Atta providens Sykes 1835: 103, illustrated major worker, type location India, Poona.
Bingham (1903: 220, footnote) stated - "Neither Sykes's original description nor subsequent descriptions by Westwood or Jerdon are sufficiently detailed to allow of the species named "providens" by Sykes to be discriminated from "indicus", Mayr, but it probably was "providens" that Mayr re-named".
It seems from his comments that Bingham had not seen the original Sykes publication, as the illustration on Plate XIII, albeit wrongly labelled in the original text section, is very good. The photographs of majors we show on the linked page are near identical. Sykes's measurements of TL 2¾ lines, head (lat.corp) width 1 line, i.e. 5.8 mm, 2.1 mm, perhaps are larger than usually reported.
From the Latin, the description is - Black, head "magno", mandibles and antennae blackish, tarsi yellowish. Head very large, squarish-oblong, occiput emarginate, piceous black. Mandible widely arcuate, apex truncate, two major teeth, other teeth minute. Antennae black, 3-segmented club. Alitrunk short, sub-bipartite, convex in front and posterior bispinose. Petiole node squamate, apex transverse. Postpetiole raised in profile, laterally produced sharply. Gaster globose. Legs with femora and tibia piceous, tarsi pale.
Thus, we are confident in regarding Pheidole indica as a junior synonym of providens.
A search in the Oxford University Museum of Natural History did not find any Sykes' specimens among those in the Westwood collection.

---
With the availability of a reasonable quantity of fresh specimens from Egypt and Israel, the link pages give fresh photographs and descriptions of
Major workers and Minor workers
Revisionary notes on "teneriffana", fervens and providens (j. syn. indica)
---
Notes. From the very short description, key and illustration, we surmise this is the species reported as P. teneriffana from Saudi Arabia by Collingwood (1985) and Collingwood & Agosti (1996).
---
Oxford University Museum specimens
Pheidole providens
B Taylor det.


Egypt
M Fadl Ali



2008
El Minia
28°05'N
30°45'E

major & minor workers




Pheidole providens
B Taylor det.
Egypt
M Sharaf


1.i.2002
Qaliobyia
30°15' N
31°21' E

Abuzabal
major & minor

2

Pheidole providens
B Taylor det.
Israel
A Ionescu

20.iii.2007
Tel Aviv
32.0666667 N
34.7666667 E

Tel Aviv Zoo
major & minor

2

Pheidole providens
B Taylor det.
Israel
A Ionescu

20.iii.2007
Tel Aviv
32.0666667 N
34.7666667 E

Tel Aviv University, Sherman
major & minor

2

Pheidole providens
B Taylor det.
Iran
O Paknia
ZMGU 1353







Pheidole providens
B Taylor det.
Iran
G Abolfathi
38

31.vii.2014
33.894276°N
48.757303°E
1567 m

Ghiam Sq., Borujerd
hand collected
city
2 majors, 2 minors

4

Pheidole providens
B Taylor det.
Iran
R Afshari
61


17.viii.2014
31.25°N
51.33°E
2493 m

Semirom, Isfahan
hand collected
city, on wall; 1327h
major worker

1

Pheidole providens
B Taylor det.
Iran
F Borjali
31

28.iv.2014
37°4724 N
49°4587 E
-22 m

Anzali
hand collected
city park, soil, 1030h
major & minor workers

2